STORY: After he's nearly crippled as a Marine in Afghanistan in 2003, Jack Ryan (Chris Pine) is recruited to the CIA by Thomas Harper (Kevin Costner). Jack's first assignment? To work covertly in Wall Street as a finance analyst. There, he uncovers a Russian terrorist plot to trigger another Great Depression. Jack flies to Moscow to learn more, and hopefully, foil the scheme of oligarch Viktor Cherevin (Kenneth Branagh).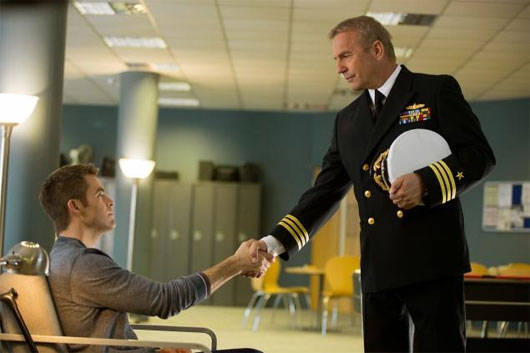 PLUSES
Chris Pine as Jack Ryan. With the success of the rebooted Star Trek saga under his belt, Chris Pine was handed another golden ticket to revitalize another ailing Paramount Pictures franchise. As a thoughtful and quiet CIA recruit who relies more on his number-crunching skills than on arrogant macho bravado, there's no confusing Pine's more muted portrayal of John Patrick Ryan with his flashier, star-making turn as Star Trek's James Tiberius Kirk. As a much younger Ryan than the one created by the late novelist Tom Clancy, Chris Pine does a fine job personifying the beloved character for a younger generation of moviegoers.
ADVERTISEMENT - CONTINUE READING BELOW
Kenneth Branagh as the Russian baddie. Branagh's work as the villainous Viktor certainly supports the cliché, "Villains have more fun." As a Russian banker scheming to bring America to its knees, Branagh is as scary as Javier Bardem's Silva from Skyfall, the kind of bad guy who won't think twice about beating an aide to a bloody pulp for incompetence. Kenneth Branagh-the director of Shadow Recruit-even gives Kenneth Branagh the actor a more intriguing introduction than the one he gives the movie's titular hero.
The film's second half. Though a lot happens in the first half of Jack Ryan: Shadow Recruit, most of it is exposition to show how Ryan ended up in the CIA, and later, in a job on Wall Street. And it's while analyzing a client's deposits that Ryan uncovers the plot that sends him to Russia. It's all well and good, but not really compelling. In the second half, however, the movie tightens the screws beginning with a gripping sequence set in "the finest restaurant in Moscow." (Who knew that Moscow's finest dining establishment had techno music blaring from speakers like it was a disco for socialites?) As Ryan, his fiancée Cathy Muller (Keira Knightley) and Viktor Cherevin try to "enjoy" their meal, the film grips the viewer in a vice and doesn't let go until it all ends some thirty minutes later.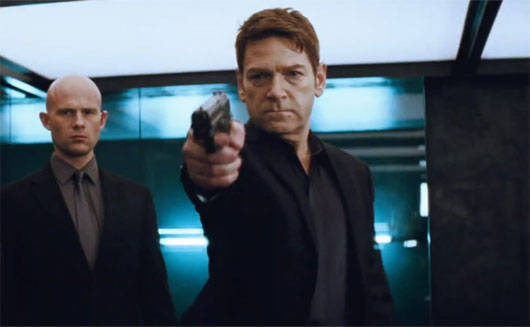 MINUSES
The close-ups. There are two problems with the close-ups in Shadow Recruit: first, quite a few of them are out of focus; second, there are too many of them in the action scenes.
I counted at least three shots of Chris Pine that were out of focus in the scene where he's talking to Kevin Costner during his first night in Moscow. Later, it's Keira Knightley who's victimized by the focus-puller with failing eyesight. Such visually apparent mistakes are unforgivable in a major Hollywood production, especially in one that's also being exhibited on IMAX screens!
As for the action scenes, director Kenneth Branagh and cinematographer Haris Zambarloukos would have done well to add more wide angle shots for their coverage. For instance, in the helicopter assault over Afghanistan that ends Ryan's stint as a Marine, the absence of wide angle shots prevents viewers from appreciating the gravity of the attack. The same goes for a later scene where Ryan is running after the vehicle of Cherevin-it's simply not clear what happens when Ryan catches up with the vehicle because wide angle shots that would give the action beats more context are absent.
(Another example of bad camerawork is a 360-degree shot of Moscow seen from Ryan's point-of-view, shown as he's brought from the airport to his hotel. It's the single most dizzying and ineptly executed travelogue shot I've ever seen.)
The mediocre script. It will be apparent to spy thriller fans watching Jack Ryan: Shadow Recruit that the movie is a Skyfall wannabe. The Moscow action sequences of Recruit, for instance, have the sleek look and nail-biting tension of Skyfall's spectacular Shanghai set piece. Sadly, though, the Jack Ryan reboot doesn't even come close to approaching the flawless execution of 007's Oscar-winning, billion-dollar grossing escapade. And why? Because the sometimes indecipherable screenplay for Recruit isn't as elegant or as smart as the one written for Skyfall. For starters, Shadow Recruit writers David Koepp and Adam Cozad don't even bother to make the initial babble about Turkish oil pipes and Russian money markets understandable to the layman. It's only when Kevin Costner's character asks Chris Pine to explain it to him "like I'm an idiot" that the scheme becomes clear. The acronym FSB is also mentioned a couple of times, but no one explains what it is. (It was through Wikipedia that I discovered that the FSB is Russia's new KGB.)
ADVERTISEMENT - CONTINUE READING BELOW
And some of the dialogue is downright icky. When Ryan and his fellow college students at a London school see the 9/11 attacks unfold on TV, a guy actually turns to Ryan and says, "You're an American...I'm sorry." Ewww!
IN BRIEF: Jack Ryan: Shadow Recruit is no Skyfall but it's an entertaining enough spy thriller, one that successfully reintroduces Tom Clancy's most famous creation to a more computer-dependent generation of moviegoers.
Rating: •••. 3½ out of 5 spots
Share this story with your friends!
---
Help us make Spot.ph better!
Take the short survey
More Videos You Can Watch
Load More Stories