10 of the Mushiest, Cheesiest Quotes from Local Leading Men
Sweet, sweet words from manly men!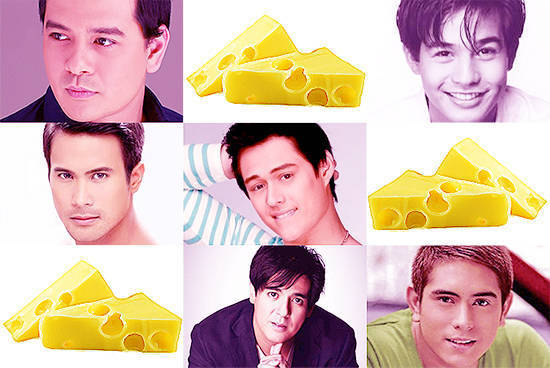 (SPOT.ph) The cat is out of the bag: guys have feelings. We all know it and we're thrilled that mushy men are becoming a trend. It's not that the macho image has gone soft because, if anything, (some) men are finally growing up and acknowledging emotions as a part of life.
ADVERTISEMENT - CONTINUE READING BELOW
CONTINUE READING BELOW
Recommended Videos
Here's proof that having feels is the new cool. We're picking 10 romantic lines, delivered by manly men! (Yes, Robin Padilla is there!)
Check them out and share your favorite cheesy quotes from guys in the comments below!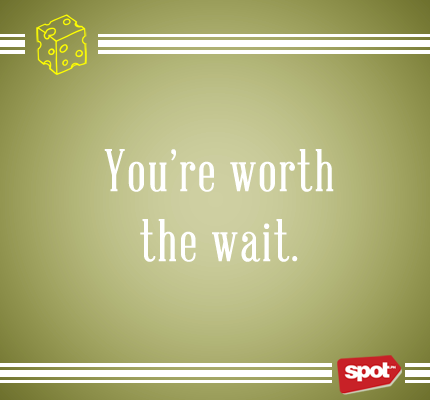 10. "You're worth the wait"
Cheese source: Tristan Harris (Sam Milby) in Four Sisters and a Wedding
ADVERTISEMENT - CONTINUE READING BELOW
Right after Bobbie Salazar (Bea Alonzo) apologizes for making him wait while she was resolving issues about herself and her family, Tristan cements his status as a keeper by letting her know he understands her value.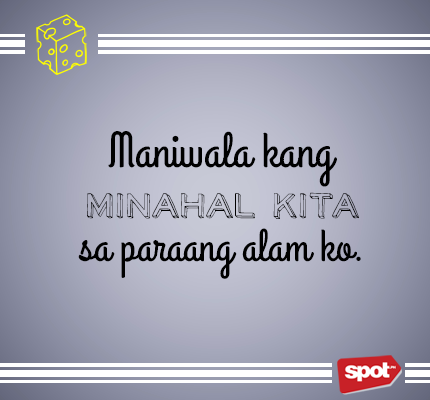 9. "Alam ko, dahil buong buhay ko sinubukan ko mahalin ang sarili ko nahirapan din ako. And I'm sorry if I didn't love in the way at the time that you did...pero maniwala ka, maniwala kang minahal kita sa paraang alam ko. I'm a work in progress, Laida. Ngayon ko pa lang nararamdaman na pwede pala akong mahalin kahit ganito ako. Ngayon ko pa lang natututunan na kaya ko pala magmahal kahit na ano. So please, please don't give up on me."
ADVERTISEMENT - CONTINUE READING BELOW
Cheese source: Miggy Montenegro (John Lloyd Cruz) from A Very Special Love
Miggy is a piece of work, but that's his appeal (we're assuming here) and it's hard not to melt when you see a crack in the exterior of a cold-hearted bastard. (What? He admits it!)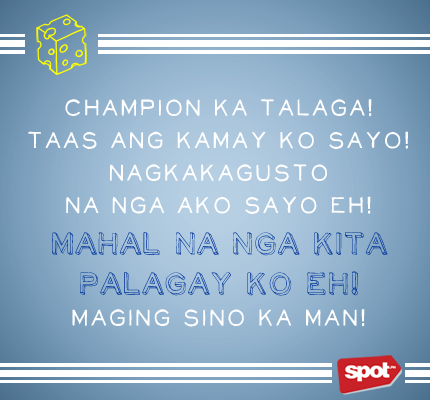 ADVERTISEMENT - CONTINUE READING BELOW
8. "Champion ka talaga! Taas ang kamay ko sayo! Nagkakagusto na nga ako sayo eh! Mahal na nga kita palagay ko eh! Maging sino ka man!"
Cheese source: Carding (Robin Padilla) from Maging Sino Ka Man
Daniel Padilla is cute and all, but he's got some ways to go before he fills the shoes of the original bad boy, Robin Padilla. He's an action star who never forgets to romance the ladies and, in his signature style, he delivers lines that smell like blue cheese and taste just as good.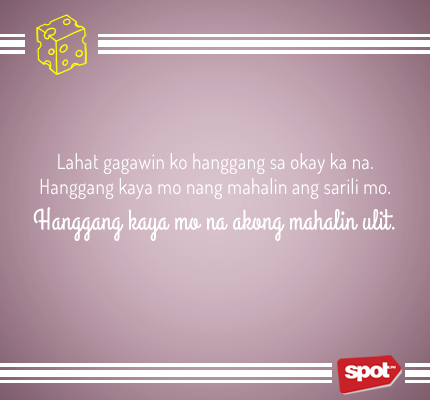 ADVERTISEMENT - CONTINUE READING BELOW
7.  "Mae, magtulungan tayo. Ako magpupuno sa lahat ng kulang. Ikaw ang maging Bogs, ako ang dating Mae. Maghihintay ako, magtiyatiyaga ako. Lahat gagawin ko hanggang sa okay ka na. Hanggang kaya mo nang mahalin ang sarili mo. Hanggang kaya mo na akong mahalin ulit. Ibalik natin lahat sa dati, Mae"
Cheese source: Bogs Marasigan (Gerald Anderson) from Paano Na Kaya
There are girls worth wooing, and when you feel in your heart that she's more than just a pretty face, it pays to tell her that you're not going to give up on her even when she's giving up on herself. However, it's nice if you're not the initial source of her insecurity-as Bogs was for Mae. (Tsk, tsk.)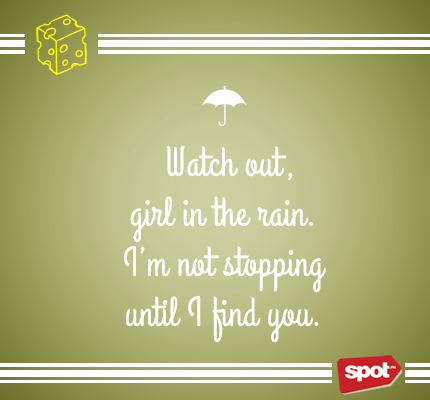 ADVERTISEMENT - CONTINUE READING BELOW
6. "Watch out, girl in the rain! I'm not stopping until I find you!"
Cheese source: David (Enrique Gil) from She's the One
A little on the foolish side, but we'll take it! David, completely smiten when he saw Cat (Bea Alonzo) in the rain, goes mildly bonkers (it's cute because he's cute and fictional; in real life, his actions border on creepy) in his quest to find her.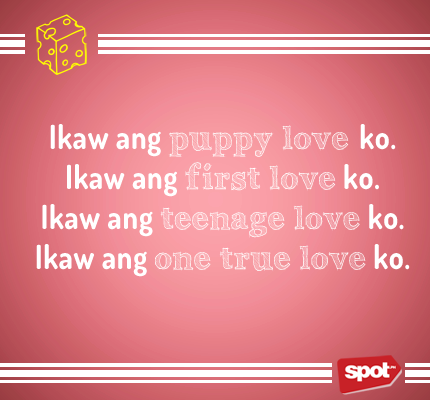 ADVERTISEMENT - CONTINUE READING BELOW
5. "Ikaw ang puppy love ko, ikaw ang first love ko, ikaw ang teenage love ko, ikaw ang one true love ko."
Cheese source: Bong (Vhong Navarro) from My Only U
In short: Winona is everything to Bong. It's relatively a simple story of boy next door falling in love with girl next door and the two of them are just happy with each other.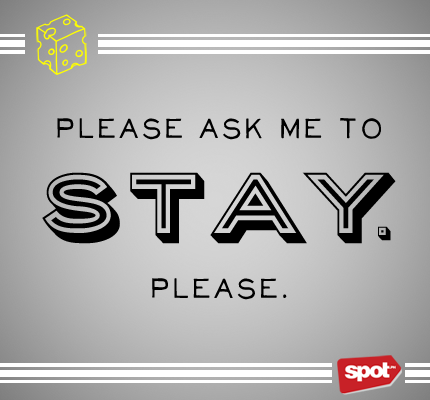 ADVERTISEMENT - CONTINUE READING BELOW
4. "Please ask me to stay. Please."
Cheese source: JB Roxas-Berenguer (Sam Milby) from Maging Sino Ka Man (TV)
Well, we just turn into mush. JB wants to let go of Celine because it makes her happy but, in a moment of sweet desperation, pleads to her to hold on to him even as he is walking away. Some men might flinch from the apparent lack of pride but to balance that out, some women's knees go weak when a man's feelings are on his cheeks (in the form of tears).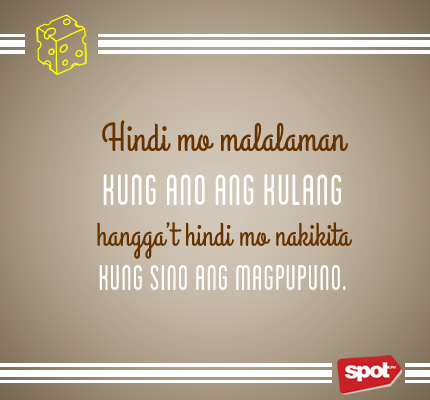 ADVERTISEMENT - CONTINUE READING BELOW
3. "Hindi mo malalaman kung ano ang kulang hangga't hindi mo nakikita kung sino ang magpupuno"
Cheese source: JD Torres (John Lloyd Cruz) from The Mistress
Even the most beautiful girl in the world can doubt her worth when paired with a douchebag, and when you're insecure, it's so easy to feel like you deserve the bad hand that you're playing with. In a moment of dashing clarity, JD Torres tells Sari the seamstress that maybe she doesn't know what she's missing. Lesson: never settle.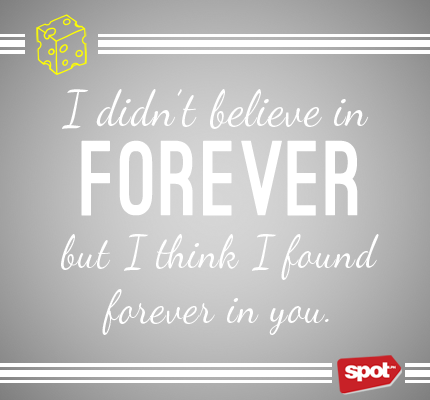 ADVERTISEMENT - CONTINUE READING BELOW
2. "I didn't even believe in forever, Toni, but I think I found forever in you. Toni,  hindi ko pinagpipilitan ang sarili ko sa iyo ok? Huwag mong isipin yun. Gusto ko lang malaman mo. Gusto ko lang malaman mo na mahal kita. And I'm so sorry."
Cheese source: Lorenz (Rico Yan) from Got 2 Believe
Who says this in real life? If you have someone who spews out these lines (that could instantly turn you diabetic from all the sweetness), hold on to them! Never, ever let them go. Oh, and be kind to them. Love has limits, you know. Don't keep testing it.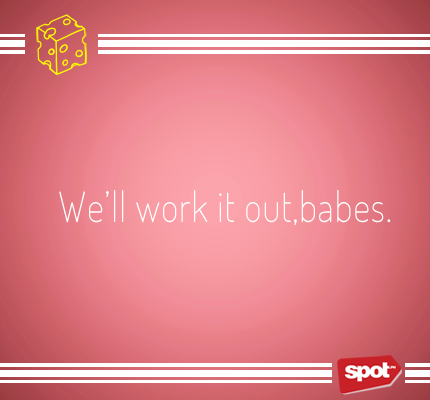 ADVERTISEMENT - CONTINUE READING BELOW
1. "We'll work it out, babes"
Cheese source: Jerry (Aga Muhlach) from Sana Maulit Muli
When we said cheesy, we meant cheesy. "Babes" is one of the most annoying pet names out there but nothing is annoying when love is true. It's simple, trivial, mushy reassurances like this (coupled with hand-holding) that beat grand gestures. Love in small doses is the best.
Suggested Reads:
Quotable Quotes from 10 Quirky Romantic Movies
SPOT.ph's 30 Most Memorable Sawi Lines
Load More Stories