MOVIE REVIEW: All is Lost
Surprisingly, man-in-boat makes for a good story
(SPOT.ph) The real tragedy in All is Lost is that most people won't be excited to see it. Robert Redford isn't exactly dashing and haven't we all seen Cast Away and Captain Phillips (and The Life of Pi)? Here is where we say that those films look like child's play in contrast with the depth and maturity in All is Lost. This is the perfect companion to Cuarón's Gravity, which actually seems a little loud in comparison.
All is Lost is extremely simple: man and boat. For 106 minutes, you will be watching an unnamed man (Robert Redford) and his boat. In the first 20, you will watch him try to fix his boat, which collided with a shipping container adrift in the Indian Ocean. He's not going to talk at all while he moves around. He's not actually going to talk much in the movie. If our memory serves us right, he had about three lines: an SOS call over the radio, a curse word, and "I'm here!"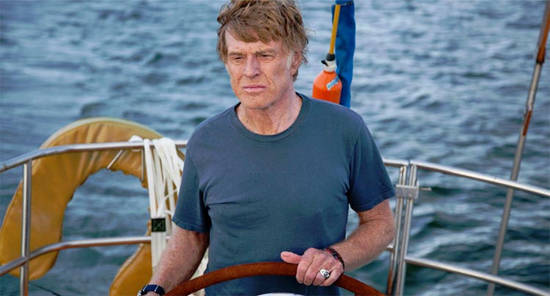 ADVERTISEMENT - CONTINUE READING BELOW
We want to say Robert Redford was robbed of an Oscar but he doesn't need it. He wins as Our Man.
It doesn't seem exciting but Robert Redford manages to hold your interest by being the calmest man in survival film history. Hole in my boat? Fix it. Storm coming? Brace for it. Boat sinking? Abandon it. Shark in the water? Don't provoke it. No potable water? Deliver the best "Fuck!" in recent cinema history and then make own water from condensation.
Here is an actor in his prime. Redford's control in this film is astonishing-especially in scenes where you would expect utter despair from a man who loses pretty much everything. His composure in the face of the might of nature is a lesson in humility. Here we see a man who doesn't try to win against a storm or conquer the ocean. Instead, he reacts to it with respect. He even shaves before he faces the storm.
CONTINUE READING BELOW
Recommended Videos
It is these trivial details that make All is Lost an experience worth having. The unnamed man moves with such precision that you never question what he's trying to do. He knows what he's doing and even when he hits a wall, he finds a way around it. Writer and director J.C. Chandor washes away the bearded man cliché and along with it, cheap thrills that come with shark attacks or 50-foot waves paired with dramatic musical score. Heck, he doesn't even rely on a back story for the character to make you care. We don't know this man. Why should we care about him?
ADVERTISEMENT - CONTINUE READING BELOW
The film offers no explanation and even his boat is stripped of any sentimental markings. The stress you feel as Robert Redford not fights but works to survive will depend on how much you can empathize with complete strangers. Are you the ship filled with cargo that simply passes him by? Was that a metaphor for people too caught up in their own drama that they don't see someone right beside them needs help?
If who this man is matters to you, then you might fall asleep while watching the film. Maybe he's a douche bag and he deserved it, yeah? Even Jordan Belfort (Leonardo Dicaprio from The Wolf of Wall Street) was trapped in his yacht during a storm.
But for anyone out there who has ever wondered what it's like to be depressed, here is a film that might help. The internal struggle that is often masked by external equanimity will resonate to anyone who has ever had "a hole in the boat" to fix or who has ever had to "weather a storm" on their own. There is no desperation in the unnamed man, only acceptance. He frequently reflects-he returns to the shipping container that damaged his boat after some deliberation, he abandons his ship but returns for practical reasons, and he holds on to his message in a bottle for as long as he can.
The serenity in his face as he resigns his fate to the ocean is something that will feel familiar to those who know what emptiness looks like. The opening line-which is the contents of the letter he placed in the jar-is a testament to the strength of people who live with depression:
ADVERTISEMENT - CONTINUE READING BELOW
"I'm sorry. I know that means little at this point, but I am. I tried. I think you would all agree that I tried. To be true, to be strong, to be kind, to love, to be right. But I wasn't."
RATING: ••••• 5 out of 5 Spots
Catch All is Lost starting February 5 in select SM Cinemas (Fairview, North Edsa, Marikina, Megamall, and Mall of Asia).
---
Help us make Spot.ph better!
Take the short survey
Load More Stories