Top 10 Red Hot Chili Peppers Songs We Can't Wait to Hear at 7107
We've already got "Californication" stuck in our heads.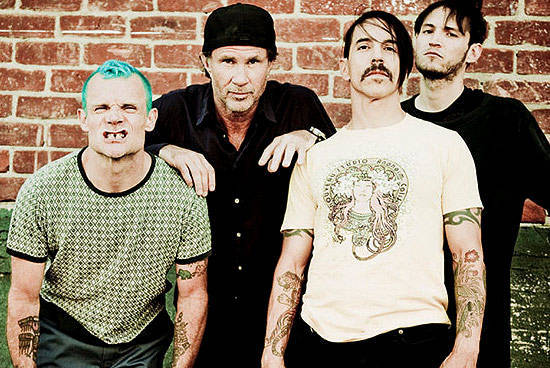 (SPOT.ph) The rumors started to swirl in November, and in December it was finally confirmed: the Red Hot Chili Peppers would be headlining the first 7107 International Music Festival, taking place from February 22 to 23 at the Global Gateway Logistics City in Clark. As a band that formed nearly 30 years ago, there's a vast catalogue of material-10 studio albums' worth-to mine. Having been promised a 90-minute set on Day Two of the festival, here's what we're hoping to hear.
10. "The Adventures of Rain Dance Maggie"
Hey, let's give the new guy a break. "The Adventures..." is the first RHCP's single featuring Josh Klinghoffer on guitar, replacing Frusciante, who departs for the nth time. Longtime fans of the band have seen Josh before though, as he'd joined the band on tour and in the studio several times since 2007. The youngest member of the band, he was only four-four!-when the Chili Peppers formed in 1983. Giving the band a shot in the arm, he supplies the song's deliciously slinky guitar licks, perfect actually, given the racy lyrics (Rain dance Maggie/ Advances to the final/ Who knew that she had the goods/ Little did I know her body/ Was warm delicious vinyl/ To your neck of the woods/ I want to lick a little bit) while Flea lays down a funky porno bass line that spells pure S-E-X. "I want to make it rain somehow," what do you think that means?
9. "Show Me Your Soul"
ADVERTISEMENT - CONTINUE READING BELOW
Remember when Julia Roberts was hot? Actually neither can we, but she did star in 1990's Pretty Woman, which featured this trippy funk/rap/alt rock ditty on its soundtrack. We're including this on our list because, well, they haven't played it live in more than 20 years. The chances of this finally happening at 7107? Next to none.
8. "Otherside"
There used to be this dubiously named music bar somewhere in Makati called Club Sex, seriously, and they had this band that churned out great RHCP covers. This, along with "By the Way" was on the usual Saturday night playlist. Who knows where that band is now, but "Otherside" from Californication has aged particularly well, still being played regularly on the band's tours. Flea tones down the theatrics and lays down a superb bass line throughout the track, while Kiedis sings about the lingering temptation of heroin. The accompanying video is dark, atmospheric, brilliant. MC Escher fans, rejoice.
CONTINUE READING BELOW
Recommended Videos
7. "Fortune Faded"
Drummer Chad Smith is often overlooked due to the massive talent around him, but he gets his chance to shine with the machine gun snare drum intro to this track--for maybe 10 seconds. Then the melodic guitar line kicks in and the spotlight is quickly back on the guitar. Sorry, Chad. Frusciante steals this thing from Kiedis, too, as his falsetto back-up vocals are such a key element to the feel of the song. But back to Chad, his running online battle with supposed doppelganger Will Ferrell provides even more punch line material. Ferrell recently called him out: "I will face off with you in the greatest drum vs. cowbell showdown the world has ever seen. We can do it on stage at a Red Hot Chili Peppers concert or in front of a mutually convenient public library. Your call. Also, would you rather fight a hundred duck sized ducks or one horse sized horse?" Oooooh. Who'd like to see that cowbell battle?
ADVERTISEMENT - CONTINUE READING BELOW
6. "Zephyr Song"
Maybe they should pair this with "Universally Speaking," another song from the By The Way album. Both fan favorites, the choruses sound kind of similar and share a few themes. Lyrically, the song is a happy one, maybe the result of Kiedis being clean at the time. "Fly away on my zephyr/ I feel it more then ever/ And in this perfect weather/ Well find a place together..." But even if you don't like the song, watch the video for a psychedelic LSD trip, complete with '60s style go-go dancers. Groovy, man.
5. "Give it Away"
This sounds like an answer to a trick question, but which RHCP song gets played the most live? Apparently it's this one, played over 700 times since being recorded for Blood Sugar Sex Magik. One of their trippiest performances must be the one from Woodstock '94 - wow, has it really been 20 years? - wearing silly giant lightbulb costumes. But, hey, at least they weren't butt-naked or wearing just their tube socks. "New" guitarist Dave Navarro (Jane's Addiction, Ex-Mr. Carmen Electra) becomes visibly annoyed, having to constantly adjust the thing on his head. It didn't matter, he was gone after one album (One Hot Minute), splitting due to "creative differences."
4. "Californication"
When Led Zep received their Kennedy Center Honors in 2012, Jack Black roasted them a bit for singing "songs about love, about Vikings, about Vikings making love." Critics of the Chili Peppers whine that their songs are always about California. What's their problem? Here, the band writes about the seedy side of Hollywood, plastic surgeons, porn (yes!), and earthquakes, of course. But the chorus is just tops, tailor-made for these stadium and arena tours: "CREAM OF CALIFORNICATION! CREAM OF CALIFORNICATION!" Yeah!
ADVERTISEMENT - CONTINUE READING BELOW
3. "Soul to Squeeze" ­
The Coneheads movie from 1993 was a major suckfest, but at least it had this on its soundtrack. The fact that it was originally recorded for, but not used on, the Blood Sugar Sex Magik album, makes it especially awesome-rejects can become cool, too. And seriously, how could you not love Anthony Keidis rapping: "Do do do do dingle zing a dong bong Ba di ba da ba zumba crunga cong..." Best lyrics, ever.
2. "Scar Tissue" ­
As the 1990s were drawing to a close, the Chili Peppers dropped Californication, their seventh and arguably best album yet. Their sound was evolving noticeably too, with the funk and punk of their earlier efforts exchanged for more melodic hooks. Hell, just listen to the exquisite slide guitar solo on this track for proof.
1. "Under the Bridge" ­
There was no escaping this song if you were alive in 1992. We'd like to think that a Red Hot Chili Peppers concert ending without this having been played would have the same effect as having FPJ die in one of his movies-full-blown riots and blood on the streets. From the "Little Wing"-inspired guitar intro to the uplifting gospel-like choir at the song's close, it's pure aural magic.
---
Help us make Spot.ph better!
Take the short survey
Load More Stories