10 Harold Ramis Moments
The writer, director, and <em>Ghostbusters</em> star left an impressive body of comedy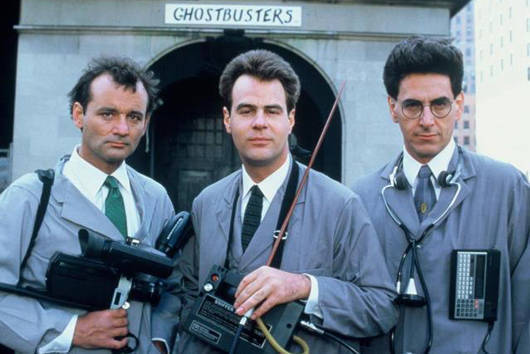 Bill Murray, Dan Aykroyd, and Harold Ramis in Ghostbusters. Photo from Facebook
(SPOT.ph) His peers in Hollywood fondly remember Harold Ramis, who died February 24 at the age of 69, for his inventive, spontaneous genius and delirious humor as an actor, screenwriter, and film director. He may not yet be remembered in the same terms as Hitchcock and Orson Welles-but Ramis had his own distinct niche in the film community, as a comedian and also as a pictorialist (the many sight gags he's contrived should qualify as visual work).
ADVERTISEMENT - CONTINUE READING BELOW
CONTINUE READING BELOW
Recommended Videos
Not a few among today's comic actor-writer-directors (Judd Apatow, Adam Sandler, Jay Roach, to name some) readily cite his influence on their work. (Check out this tribute story by the Chicago Tribune.) Ramis' colleague, the great Bill Murray, apparently prefers to remember him simply: "He earned his keep in this planet." Here are 10 memorable Harold Ramis moments.
1. Ghostbusters (1984). Peter Venkman (Bill Murray) may have been the smart mouth, but Egon Spengler (Ramis) was the brains behind this supernatural extermination operation. In addition to playing the mild-mannered scientific straight man, Ramis also helped rewrite the script to make the always-funny Murray even more hilarious. And his geeky good looks made every girl growing up in the '80s swoon like Janine (Annie Potts).
2. Groundhog Day (1993). This movie, one of Ramis' widely celebrated directorial efforts, is one you should keep on auto-repeat, not least because of the protagonist's perpetually looped life as plot conceit. Another Ramis-directed Bill Murray vehicle, the film is an existential comedy that plays (deliberately or otherwise) with time-tested tropes of film genres. It also has a groundhog named Punxsutawney Phil.
ADVERTISEMENT - CONTINUE READING BELOW
3. Caddyshack (1980). Frantic sit-com relocated to the golf course marks Ramis' directorial debut and flaunts his humor and knack for insight as a pop sociologist (presumably with liberal leanings). The perfect movie to put off certain (class) sensibilities.
4. National Lampoon's Animal House (1978). To anyone who grew up in the Seventies-Eighties, this film (co-penned by Ramis), along with Fast Times at Ridgemont High (featuring Sean Penn before he became a Serious Actor), set the bar on exalted low comedy that remains offensive to anyone who pretends disgust at all this. Time, of course, has been kind to this film's star, the late great John Belushi, and the National Lampoon franchise, both of them now pillars in American pop culture.
5. Meatballs (1979). Many would associate this with Bill Murray (his first appearance as a lead actor) but it has Ramis' humor written all over it. You won't see him in the film, and three other writers worked with him on the screenplay, but Meatballs is an undeniable classic and it wouldn't be one without Ramis' affinity with wacky hijinks.
ADVERTISEMENT - CONTINUE READING BELOW
6. Stripes (1981). Following the success of Meatballs, Ramis again worked with Ghostbusters director and long-time associate Ivan Reitman (and with co-writers Len Blum and Dan Goldberg) for Stripes. This time, he stars alongside Billy Murray in a comedy about war, marking his debut as an actor. The studios were reportedly apprehensive about letting him act, but Murray was quoted as saying that he wouldn't do the film if Ramis didn't perform with him. The result? Stellar reviews from major critics, with the Chicago Reader praising the young Ramis for his performance.
7. Knocked Up (2007). In this quirky rom-com by Judd Apatow, Ramis has a small part as Seth Rogen's father. The role was definitely small, but it wasn't minor. Certainly not in the hands of an adept improviser like Ramis, who knows that greatness is best appreciated in moments. Here, he's the kind of father everyone should have...maybe not in the occasionally stoned parts, but the unconditionally loving and supportive part is a definite must.
ADVERTISEMENT - CONTINUE READING BELOW
8. Analyze This (1999). Arguably the best of Ramis' later work and, hands down, the most sophisticated of his comedies. Here, the actor-director crosses over into Woody Allen territory. Robert de Niro and Chazz Palminteri are as sharp as ever in their comic variation on the gangster stereotype. With Billy Crystal and Lisa Kudrow joining this gang, it all becomes a riot.
9. Bedazzled (2000). Ramis tackles the "devil is a woman" theme in this rom-com (updated from a 1960s film) that is not quite on a par with the rest of this list, but still a surprising diversion from his body of work. Elizabeth Hurley is an inspired casting choice as the Devil.
10. Year One (2009). Or what has now turned out to be Ramis' finale. The film tells the story of Zed and Oh (Jack Black and Michael Cera), who get kicked out of their village for eating from the Tree of Knowledge. As outcasts, the two meet satirized versions of biblical characters (Hank Azaria as Abraham, who would've thought?), and though critics dismissed it as a poorly executed idea, Year One offers some laughs from its simpleminded goofiness.
ADVERTISEMENT - CONTINUE READING BELOW
Load More Stories