(SPOT.ph) A man confesses to his friend that he is in a relationship with his operating system. He blushingly admits to being a "freak" for having such a peculiar affair, but his friend cuts him off and says, "anybody who falls in love is a freak."
Her jokes about love being a form of socially accepted insanity, and weaves a story to support that claim. Spun by Spike Jonze (Being John Malkovich, Adaptation), this meditative drama is as soft as a whisper but as agonizing as needle piercing your sternum.  Jonze tries to prove that yes, love sometimes robs people of logic. It changes the way we think, act, eat, and sleep...and we tend to go even more bonkers when things start falling apart.
Why then do we pounce on romance the second an opportunity for it reveals itself? There's so much madness in it, it's starts to feel like Sparta.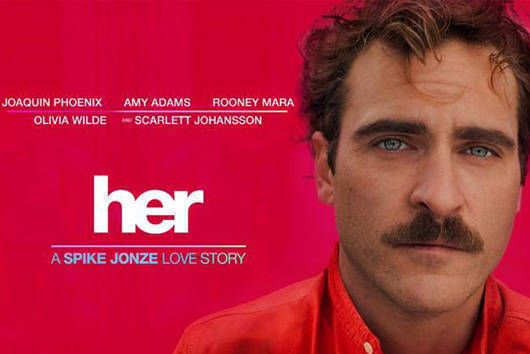 ADVERTISEMENT - CONTINUE READING BELOW
Poster conveys the complexity of the film's mood. Images from the movie's Facebook page.
The film begins with one Theodore Twombly (Joaquin Phoenix), a soulful man whose gift for poetry shines whenever he writes love letters for people who weren't blessed with eloquence. But like everyone else, Theodore is lonely. He laments his failed marriage and engages in depressing phone sex with strangers to fill an unacknowledged void in his life. Things change when he decides to purchase a highly-intuitive artificial intelligence that manages all his virtual needs. Think of a cuter, nicer version of HAL 9000 from 2001: A Space Odyssey.
After answering a series of questions, an operating system (O.S.) catered to his needs virtually "shows up." And just like that, Samantha (voiced by Scarlett Johansson) becomes a part of Theodore's life. Soon enough, their closeness-encouraged by Samantha's insatiable curiosity-develops into love. But as their relationship grows, so does Samantha's intelligence.
Through Theodore and Samantha's unconventional bond, Spike Jonze constructs a thoughtful exploration of all the things we associate with love. Jonze utilizes a beautifully rendered, pastel-colored Los Angeles to leave subtle yet effective hints that something isn't quite right. After all, Theodore lives in a society where machines "handwrite" our most intimate love letters, and operating systems get aroused.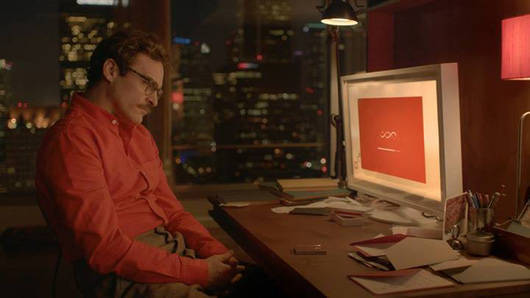 Like Johnny Cash adrift, Joaquin Phoenix portrays another complicated outsider.
Phoenix as Theodore fills every frame with sincerity, playing the notes of a flawed human being perfectly. Theodore loves the idea of being in love, but is too scared to make an acual connection. Reality hurts, and Theodore prefers not to have it.
Johansson as Samantha is a delightful revelation. Her talent has been eclipsed by her gorgeous looks, but with a role that removes her voluptuous body from the screen, Johansson's skill as an actress finally receives the attention it deserves. Samantha is a complicated system and Johansson manages to express that through her voice alone.
Amy Adams (as Amy) gives another notable performance, arguably better than her lead stint in American Hustle. It's a small role but she lends dimension to Theodore's character-which is exactly what a supporting actress is supposed to do.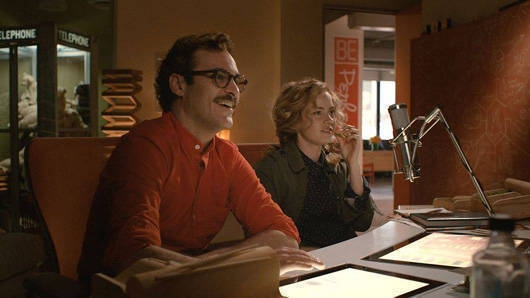 Amy Adams turns in another nuanced performance as Phoenix's confidante.
ADVERTISEMENT - CONTINUE READING BELOW
Jonze's trademark use of solemn musical score (pay attention to Arcade Fire's amazing compositions) does not serve as mere cinematic accessory. The soundtrack greatly influences the plot and matches the film's poetics about companionship, intimacy, memories, and love.  Only in Jonze's world do we see a piano compositionbecome a photograph.
That's the genius of Her. We see a computer develop emotions, and we actually relate to it. We see what it is like to be in love-the happiness, the disappointments, and the pain that come with it. It follows the story of a person who could be us. It has been said that the true purpose of film is to bring us closer to our humanity. And if any film in recent memory can bring any truth to this premise, it is this writer's opinion that it is definitely Her.
Rating: ***** 5 spots out of 5
Her is currently showing in cinemas.
Share this story with your friends!
---
Help us make Spot.ph better!
Take the short survey
More Videos You Can Watch
Load More Stories