10 Best Oscar-Winning Moments
Some of Oscar's unforgettable moments, including Lupita Nyong'o's triumphant, touching speech.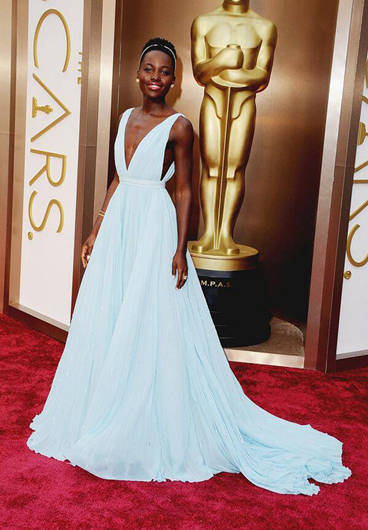 Lupita Nyong'o won an Oscar and sartorial praise as well. Photo from her Facebook account.

(SPOT.ph) This year's Oscar ceremony kicked off with lots of fun and bantering, alternating with earnest relevance. Here are some Academy Award highlights that have made this very occasion worthy of its own Oscar, beginning with this year's Oscar Night.
1. "No matter where you're from, your dreams are valid."

Although she's from Kenya, Lupita Ngyong'o's win for Best Supporting Actress (for her performance in 12 Years a Slave) complements the lengthening track record of African-American actors winning at the Academy Awards. Denzel Washington and Halle Berry won the top acting awards in 2002-a historic year, in that it was a further step from Sidney Poitier's record 38 years earlier as the first African-American Best Actor. This groundbreaking night would be followed by Oscars for Jamie Foxx and Forest Whitaker. And, indeed, by then, the Oscars was already veering away from its token appreciation for African-American actors.
ADVERTISEMENT - CONTINUE READING BELOW
2. The Only Tie in Oscar Memory.
For her performance in the period drama The Lion in Winter, Katharine Hepburn was widely anticipated to be the Best Actress of 1969. But there were other exceptional performances as well-particularly Barbra Streisand's vigorous turn in the musical-comedy Funny Girl. Ingrid Bergman, who presented this award, expressed surprise as she announced the winners. Streisand was, of course, thrilled to find herself in the same roster as Hepburn.
3. The Godfather Refuses an Offer.
George C. Scott is the first Academy Award winner to reject his Oscar (which he won for his flamboyant turn in the 1970 bio-pic Patton). But at least he had the decorum to have an associate receive the award on his behalf. Marlon Brando, a previous Oscar winner, would take his turn rejecting the trophy two years later, outstepping Scott by sending a Native American woman to speak up on the plight and cause of her people. Of course, this "stunt" drew mixed responses right on stage.  To Brando's skeptics, who were typically put off by what Elizabeth Taylor, in particular, describes as his "nonsense," his advocacy may have been sincere but not its timing.
CONTINUE READING BELOW
Recommended Videos
4. The Shortest Acceptance Speech Ever.
"It's my privilege. Thank you." This one by Joe Pesci, honored for his brilliant supporting-role performance in Martin Scorsese's Goodfellas. We don't think he ever daydreamed about this moment.
5. Roberto Benigni Goes Wild.
Watch this comedian-filmmaker, the third Italian actor to win an Oscar, startle the audience with his euphoria over his win.
ADVERTISEMENT - CONTINUE READING BELOW
6. Adrian Brody's Stolen Kiss.
Whether you're a guy or a girl, this is the only way, really, to accept an award, if your presenter is Halle Berry.
7. For Nicole Kidman, Life Is Happy, Sad, Wonderful.
It was in the aftermath of her breakup with Tom Cruise-a devastating episode for Nicole Kidman-that her career took off like a rocket with a series of exciting, energetic performances (Moulin Rouge, Birthday Girl, The Hours, and The Others). Until this point, the Australian star had always made it clear that all she ever wanted were a stable marriage and happy obscurity. Kidman's acceptance speech for her Best Actress win in The Hours touched on the political (because this Oscar night happened to be on the eve of the Iraq War) but more so on the personal, and it's a heartfelt moment.
8. Michael Moore Goes Ranting.
The controversial filmmaker also won an Oscar that same night of #7. As expected, he couldn't resist bashing George W. Bush before global television. Moore was alternately praised and criticized for his impromptu speech-the most eloquent commentary perhaps being host Billy Crystal's quip, "The teamsters were helping Michael Moore into the trunk of his limo." This was certainly an occasion of politics eliciting unconventional behavior-that milieu being always more farcical than anything in entertainment.
9. Ingrid Bergman's Exile and Comeback.
At the height of her fame, the Swedish actress Ingrid Bergman, who had already won an Oscar for the suspense thriller,Gaslight, suddenly provoked a scandal when she left her doctor-husband and ran away with Italian director Roberto Rossellini. She was promptly ostracized from Hollywood (and even denounced right in the halls of the US Congress) and spent years of obscurity in Europe, making art films with Rossellini that were critically derided in the wake of the scandal. Bergman had no regrets about her exile from Hollywood, describing this episode in her memoirs as a much-needed respite. Then Hollywood beckoned anew, and Bergman found herself acting in a mainstream picture again, but deemed it best to be absent from the Oscars when she was accorded her second trophy (for her work in Anastasia). It was her dear friend Cary Grant who accepted the award in her behalf. Time has been kinder to the Rossellini-Bergman films like Voyage in Italy-which are now considered masterpieces-than to her Oscar-winning work.
ADVERTISEMENT - CONTINUE READING BELOW
10. Philip Seymour Hoffman.
This great actor, already gone too soon, had portrayed a lot of tough guys before his sensitive take on Truman Capote, for which he won Best Actor in 2006. We're not aware of any other Oscar acceptance speech that references Van Morrison, the iconic Irish troubadour. Hoffman was fondly remembered in this year's Oscar night.
Share this story with your friends!
---
Help us make Spot.ph better!
Take the short survey
Load More Stories