10 Fresh Tunes to Listen to This March
Your summer playlist featuring Coldplay, Haim, Justin Timberlake, Up Dharma Down, and more!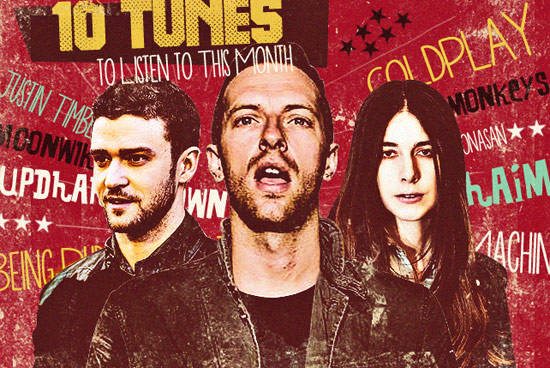 (SPOT.ph) This March, we bring you Coldplay's latest ambient release, Haim's irresistible dance video, Justin Timberlake's pop-R&B throwback track, Arctic Monkey's new rock single, and The Pains of Being Pure at Heart's summer offering. Plus, listen to new songs by Up Dharma Down, 6cyclemind, Moonwlk, Kai Honasan, and Rusty Machine.
Song: "Magic"
Artist: Coldplay
The new single off Coldplay's forthcoming album is a chill, romantic tune with a more atmospheric vibe. Watch for Chris Martin's falsetto aided by rich acoustic guitar in the middle of the song. Some say this is a bit different from their usual sound, but we welcome it nonetheless.
Fun fact: Ghost Stories, the band's sixth album, will be out on May 19.
Song: "New World"
Artist: Up Dharma Down
Everyone was pumped when Up Dharma Down released this new, feel-good track. "New World" is an absolute summer anthem with its catchy opening guitar and Armi Millare's sweet-sounding "ooh." The band's signature electronics take the spotlight, too, in this dance-y ditty.
Fun fact: "New World" is part of Globe Telecom's new campaign.
Song: "If I Could Change Your Mind"
Artist: Haim
The Haim sisters are out with a new music (and dance) video. In "If I Could Change Your Mind," the girls showcase their dancing skills to accompany their fun, pop-rock sound. Here, Danielle once again takes the lead with her edgy vocals.
Fun fact: The Haim sisters (Alana, Danielle, and Este) are joined by Dash Hutton (guitars), son of Irish-American singer Danny Hutton.
ADVERTISEMENT - CONTINUE READING BELOW
Song: "Good by Sunday"
Artist: 6cyclemind
6cyclemind's "Good by Sunday" is slowly climbing local charts. The guitar-heavy track is an emotional piece of work that's truly Pinoy rock in sound.
Fun fact: 6cyclemind is composed of Tutti Caringal (vocals), Rye Sarmiento (guitars), Herbert Hernandez (guitars), Bob Canamo (bass), and Vic Aquino (drums).
Song: "Not a Bad Thing"
Artist: Justin Timberlake
"Not a Bad Thing" reminds us of JT's boy band days, and we're happy about it! The pop-R&B number is easy to sing along to. The simple melodies, clean vocals, and cheesy lyrics make this an LSS-worthy throwback track.
CONTINUE READING BELOW
Recommended Videos
Fun fact: Justin Timberlake is set to headline the V Festival in UK this year along with The Killers.
Song: "Paper Heart"
Artist: Moonwlk
Moonwlk's "Paper Heart" is a synth-heavy delight. The sound is unpredictable throughout the song, but it will keep you moving. No part of it is weak, thanks to the intensity of the electronics and vocals.
Fun fact: Gabbi Buencamino (vocals) and Nicholas Lazaro (synths and vocals) make up the Moonwlk duo.
Song: "Arabella"
Artist: Arctic Monkeys
Arctic Monkey's latest track from their 2013 album titled AM is big on rock and roll. Frontman Alex Turner croons his way through the lethargic opening verse and picks it up along the way with spunky guitar buildups. Everything explodes toward the end with a short yet massive guitar solo.
Fun fact: Arctic Monkeys recently bagged five awards at the 2014 NME Awards: Best British Band, Best Album, Best Live Band, Best Fan Community, and Hero of the Year for Alex Turner.
ADVERTISEMENT - CONTINUE READING BELOW
Tongue Tied by Kai Honasan from Jason Magbanua on Vimeo
Song: "Tongue Tied"
Artist: Kai Honasan
Kai Honasan's sweet and cutesy track is too good not to share. The snaps, claps, and refreshing vocals make this a must in your summer playlist.
Fun fact: Among Kai Honasan's musical influences are Sara Bareilles, Ingrid Michaelson, Brooke Fraser, Lenka, and Tristan Prettyman. She will be launching her album, In Your Face & Other Songs About Other Faces, on March 22 at B-Side, Makati.
Song: "Simple and Sure"
Artist: The Pains of Being Pure at Heart
The jangly guitars, laidback vocals, and bubbly overall feel of this Pains track are difficult to resist. Falsetto and female harmonies wrap up the song, and they leave you with an itch to press to the replay button.
Fun fact: Their forthcoming album titled Days of Abadon is set to drop on April 22.
Song: "The Morning"
Artist: Rusty Machine
There's an interesting contrast in this track by Rusty Machines. The catchy guitar hooks, jangles, and drums are met with gloomy lyrics. The latter part of the single is a prolonged instrumental worth sticking around for.
Fun fact: Iggy San Pablo (vocals and guitar), Joshua Andres (guitar), Miko Miso (drums), and Patrick Caberte (bass) make up Rusty Machines.
Share this story with your friends!
---
Help us make Spot.ph better!
Take the short survey
Load More Stories