(SPOT.ph) "I always said, you'll never know when the next Muhammad Ali is going to walk through your door", said Boxing Hall of Fame trainer Freddie Roach as he remembers his first encounter with the 8-division champion and cultural icon Manny Pacquiao.  He said that the moment Manny's thunderous left cross collided with his mitt, he knew with absolute certainty that the Filipino fighter is the one true successor to the throne of Muhammad Ali. And Manny, a documentary directed by Academy Award-winning director Leon Gast and debuting director Ryan Moore, weaves a fine tale to support this claim.
Narrated with erudite appeal by Liam Neeson, Manny is a well-paced chronicle of how the humble fighter rose from poverty to reaching an iconic status worth citing alongside all-time greats like Ali. And who else can capture this than Leon Gast? The New Jersey native is a visionary filmmaker who won the Oscar for his Ali-inspired documentary When We Were Kings (1997), presenting the sport of boxing as a socio-political vehicle that can bring the world to racial unity. So what does he, with the help of Ryan Moore, have in store for us that we haven't seen yet in an average HBO countdown special? Quite a lot, surprisingly.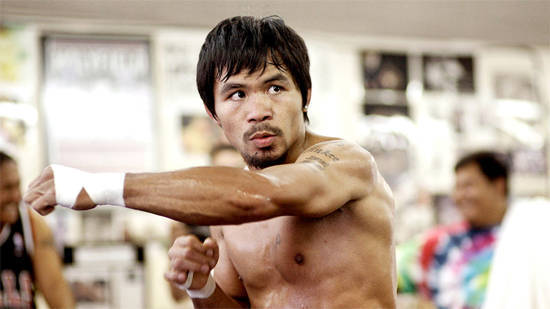 ADVERTISEMENT - CONTINUE READING BELOW
You think you can anticipate everything it has to say but the documentary delivers an unexpected blow
One of the strongest elements of the film is the depth the filmmakers are willing to take to advance the plot. Filmed within a span of three years, Gast and Moore had to go through more than a thousand hours of footage and hundreds of archived videos to find the perfect moments that can effectively tell the story. And with a somewhat overfamiliar tale of a young boxer fighting his way out of poverty, it takes a good eye for detail and a natural gift for storytelling to make a documentary stand out. Gast and Moore did a remarkable job at this. The film captures the nuances of the sport, while simultaneously creating a sensible profiling of a man who is as well-known to the public some of the most legendary athletes in less recent history.
Another commendable aspect of Manny is the choice of people to interview. Gast and Moore did well on choosing the right personalities to provide layers to the one of the most well-documented boxers right now. Aside from the expected ones such as Freddie Roach, Manny's wife Jinky, boxing promoter Bob Arum, and the Filipino champion himself, the film benefits largely from the poignant and substantial opinions of people who truly matter. Some of the film's best quotations are from a number of respected personalities such as the late boxing historian Burt Sugar; respected British journalist Gareth Davies; Filipino political analyst and TV host Winnie Monsod; and renowned boxing expert Larry Merchant, just to name a few. All of whom provide intelligent commentary on the massive influence Pacquiao has had not just on the sport, but on modern popular culture as well.
Liam Neeson with Jimmy Kimmel, talking about Manny Pacquiao
The film's finest achievement, however, is the spot-on musical score by Lorne Balfe (The Dark Knight Rises) and Fil-Am musical fusion artist Chad Hugo (the other half of the Grammy-winning duo The Neptunes). The way they score the action in and out of the ring cannot be described simply as "complementary". The compositions transform the entire film from a collection of footage to a full-blown cinematic experience. Balfe, who worked much of his career as assistant to celebrated composer Hans Zimmer, comes out of his shell and provides his best performance with undeniable command over the narrative. Even Pacquiao's crashing knockout loss to Juan Manuel Marquez felt like the fighting congressman's crowning achievement-that's how powerful the soundtrack is.
And for many years, a select number of film and boxing enthusiasts have waited for Leon Gast to make a follow up to When We Were Kings. There was a hint that the American filmmaker was just waiting for another transcendental boxer like Ali to make a profound statement in the sport again. And now he has found that fighter. Manny is a man whose style of fighting greatly represents an entire culture, and whose ideals echo the values of a nation. The film never downplays the ferocity of the Sarangani representative while inside the ring, but never fails to show his jovial, fun-loving side beyond it. And despite the fact that the film tends to meander at some parts, Gast's unflinching talent for social commentary and Ryan Moore's youthful dedication to the craft manages to bring us one of the better sports documentaries of recent times.
ADVERTISEMENT - CONTINUE READING BELOW
RATING: •••. 3 ½ spots out of 5
Share this story with your friends!
---
Help us make Spot.ph better!
Take the short survey
More Videos You Can Watch
Load More Stories