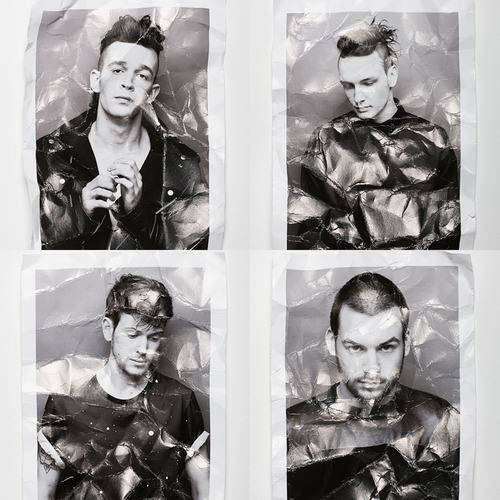 (Clockwise L-R) Matt Healy, George Daniel, Ross MacDonald, and Adam Hann. Photo from the The1975.com

(SPOT.ph) Matt Healy, Ross MacDonald, Adam Hann, and George Daniel all met in school and since then, they've been writing songs mainly about Manchester. They tirelessly toured the UK under a variety of band names until they found not only their name, The 1975, but their sound. Producer Mike Crossey (Arctic Monkeys, Foals) has described the group as a cross between electro, R&B, and '80s pop. Their single "Chocolate" charted at #19 in the UK Singles Chart last year, and soon enough was voted the #1 Hottest Record of 2013 by BBC Radio 1 listeners.
The UK quartet recently met with the press and here are a few things the band members shared:
On their real life experiences in their songs' lyrics:
Matt: It's all real life experience. Our album is just kind of like a diary, a scrapbook of ideas. We're defined by being very honest, so all of our music and all of our lyrics are as honest as possible.
ADVERTISEMENT - CONTINUE READING BELOW
On their musical style and influences:
George: The one thing we always have had in the back of our minds is that we've created quite a cinematic sound....We've been quite inspired by Peter Gabriel, Talking Heads, Boyz II Men.
Matt: We've always been very open that we love Boyz II Men, we love Ashanti, BrianMcKnight....We love kind of '90s R&B music. We like metal as well, we like quite heavy music. Now that would probably surprise people more that we grew up listening to that. I don't know if you've ever heard of the band called Glassjaw. You should listen to Glassjaw.
On writing their second album:
Matt: Well, we're writing it now at the moment. So we're kind of writing on the tour bus, in the Philippines. I can't say how [the writing style] will change. "Girls," for example, when I was writing that, it was something that was happening to me at the time. I have to live in the moment and kind of write in the moment. So, we just see what happens.
ADVERTISEMENT - CONTINUE READING BELOW
Recommended Videos
On a song of theirs that's closest to their hearts:
Matt: For me, it's "Is There Somebody Who Can Watch You." It's the last song on the album. It's about my little brother and I love him. I don't get to see him and it's kind of about guilt and parents. So, that one's very close to my heart.
Ross: It changes all the time, to be honest, but I'd say "Menswear."
George: I'd say "M.O.N.E.Y" for me.
Adam: I think for me it's probably "Chocolate," because it's definitely the oldest song we've got and I'm still not bored of it at all.
Matt: It's like our song, "Chocolate," isn't it? It's like our thing.
On what's changed and what's stayed the same with the band's dynamics:
George: We weren't really the same people when we started the band. We've grown together and the band's grown.
ADVERTISEMENT - CONTINUE READING BELOW
Matt: When we were 13 years old, there's a big difference to being 25. So, I've been in this band since I was 13. We've all been together, so as we've grown up, our musical vocabulary, our social vocabulary, et cetera, et cetera's all kind of become one and the same thing. We're very much a unit. It's just about loving each other and the pursuit of happiness.
On rumors of collaborating with One Direction:
Matt: We're not collaborating, we're writing a song for them. They asked us and we said yes. We went to the studio and we met them and just started playing around with ideas.
On what they like to do on their downtime:
Ross: Jet skis.
Matt: That's true. We actually like jet skis. We're quite good.
Ross: We've been twice. That's the only downtime we've had.
ADVERTISEMENT - CONTINUE READING BELOW
Matt: We don't have much downtime, if I'm honest. We never have any time off, and when we do have time off, we're working on the new album and we're kind of just hanging out. We're quite boring.
On challenges they've overcome and what they've learned:
Matt: We used to think that you need a big record label in order to be a big band, but that's not true. There's no such thing. You just need to be a really good band. Everyone chases record deals, but nowadays, it's 2014, you don't need, like, a big record label.
George: We are signed to Universal.
Matt: Yeah, we are signed to Universal, so that's a slight contradiction. In early days, it took us a long time. Before we got signed-we've been a band for 10 years-we kind of famously not got signed. We went through a period of everyone saying, "yeah, yeah, yeah," and then it was a "no." So we then did all of our EPs and we put "Chocolate" out, and "Chocolate" went onto the radio and then all the labels came and we signed on to Universal. But, all the initial hard work was done by ourselves and that's what I think you need to do. Otherwise, you're not going to get signed. Labels don't sign like, tiny, little bands anymore. You need to be doing something.
ADVERTISEMENT - CONTINUE READING BELOW
On what advice they'd give to those who want to start a band:
Matt: Don't take advice from guys in bands, that would be my advice. Stay in school. We're lucky, we know how lucky we are. We're very, very forunate, but my advice would be just to pursue things for happiness as opposed to ego.
On why they put slashes in front of their Tweets:
Matt: It's because, when we started the band, we didn't want to be really exposed. We wanted everything to be slightly odd. So, we put a space in between every letter, and then we started doing the slashes. And then, we quickly realized that people started copying them. It became, like, a thing. It doesn't really have any significance, it's just weird.
The 1975 will perform on March 28, 4:00 p.m. at Market! Market! and 7:00 p.m. at Glorietta Activity Center, and on March 29, 4:00 p.m. at Fairview Terraces and 7:00 p.m. at Trinoma Activity Center. For more details and contact information, visit the Ayayla Malls website.
ADVERTISEMENT - CONTINUE READING BELOW
Share this story with your friends!
---
Help us make Spot.ph better!
Take the short survey
Load More Stories