DEAR XEREX: Miss Delish Part 2
My first F2M: I don't know how he moved in on me quick! He really had me completely defeated! (Warning: Adult content)
Warning: Content is intended for adult audiences only. By opening this article, you confirm that you are over 18 years of age.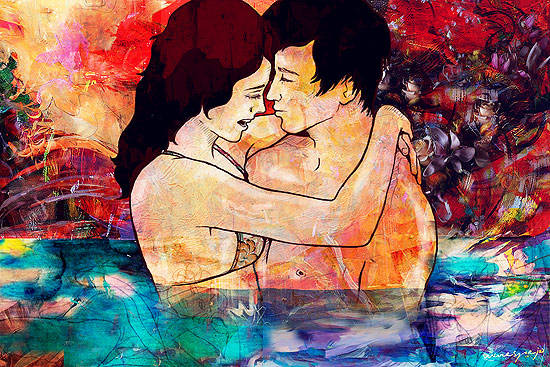 Artwork by Warren Espejo
(Continuation ng liham ni Miss Delish.)
Hanggang noong magkaroon ako ng boyfriend, na may tunay na Wow! Ang sarap. Sarap!
My first boyfriend (let's call him Shaun) was so cute and so polite. I was 18 then and he was, like, 20-ish. One day, Shaun invited me to his house. I thought he was going to introduce me to his family. It turned out walang tao sa bahay, kami lang! Nasa bakasyon daw ang family nya.
ADVERTISEMENT - CONTINUE READING BELOW
CONTINUE READING BELOW
Recommended Videos
He invited me to swim sa pool, and he opened a bottle of red wine. Hindi ako sanay sa wine, tatlong baso pa lang lasheng na ako hahahahaha!
He started acting sexy with me. Hinihimas himas nya ang baywang at likod ko. Yumakap siya sa akin at halos mag- cross ang legs namin. Gosh, naramdaman kong dumidikit sa puson ko ang bukol na bukol niyang pagkalalaki. Parang may kahoy siya sa loob ng swimming trunks. Kinilig ako!
He began rubbing his stiff thing against my va-jay-jay, and every time he rubbed against my clit it sent electricity up my spine! (Ayan, wet na wet na ako habang sinusulat ito. Shet.)
And to think that before this, F2F porn action lang ang nae- enjoy ko hahahahaha! No offense to my lesbie friends, you are all delish too, but my gosh, the experience of having a real pecker probing into my regions was...heaven!
ADVERTISEMENT - CONTINUE READING BELOW
Ikanga ng isang sineng napanood ko, sex like that is nothing less than a sacrament, Xerex!
At ang bilis niya sa akin. I don't know how he moved in on me this quick! He really had me completely defeated!
By then, I just realized that I was grinding and heaving and rubbing against Shaun's body. The water in the pool was cold, the night air was cold, but I was burning hot inside! The things he made me do, Xerex! The electricity shooting up my spine with every rubbing was too much for me.
I started grinding faster and faster, it-was-so-glorious!-until I couldn't handle it any more. Gosh, Xerex, naaalala ko pa ang first orgasm ko with a male partner. Napayakap ako nang mahigpit kay Shaun at nanginig ang buong katawan ko.
When I opened my eyes, Shaun looked so worried. Ilang sandali pa muna bago ko naintindihan ang sinasabi niya. Ano daw ang nangyari sa akin?
ADVERTISEMENT - CONTINUE READING BELOW
Wow! I guess I passed out. And my body was still trembling after my big O because my clit was still rubbing against his legs! I kissed Shaun passionately.
Umahon kami sa pool. Niyaya ako ni Shaun sa room nya. That time, nanginginig pa ang tuhod ko after my glorious experience....
(Itutuloy)
Dear Readers,
Do you have any comments on Miss Delish's story? Do you have a similar sexperience? How was your first big O? Do you want to share your story?
Please write about it and send it thru orig.xerex@gmail.com
xoxo,
Xerex
Load More Stories