10 Things You Should NOT Expect While Watching Game of Thrones Season 4
Escape the summer heat with Jon Snow
(SPOT.ph) Here we go again. The long wait is over, but are we prepared for it? We're still somewhat scarred by "The Red Wedding"...but hey, at least we made it out alive. The new season of Game of Thrones is upon us and the coming winter in Westeros is just the thing we need to fight heat-induced stress and frustration this April.
We've given you a guide to the bloody series (so far), but here are a few more reminders, to help you cope with the boobs and brutality that define GoT.  So that we may properly brace ourselves, here are 10 things that will definitely not happen this season.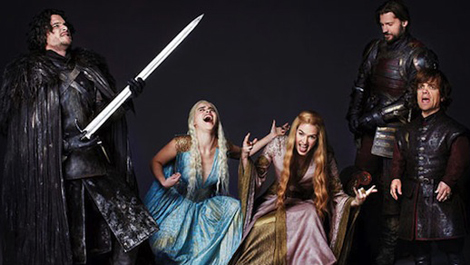 1. People are dressed decently.
Clothes are scarce. There will be sex.
Drinking game suggestion: One shot for scenes with butt, two for each pair of breast. Three for intercourse.
2. King Joffrey doing nice things.
He's sadistic, but if you had to sit in such an uncomfortable chair for the rest of your rule as king, you would be pretty pissed too. Why is there no cushion on that chair? (Is this linked to the scarcity of fabric for clothes?)
ADVERTISEMENT - CONTINUE READING BELOW
Drinking game suggestion: One shot each time King Joffrey smirks, two for each snarl.
3. People are sober.
Water doesn't seem to be something people like drinking in Westeros. But then again, you will want something harder than plain old H2O if you want to cope with the insanity happening everywhere (all the time).
Drinking game suggestion: One shot each time anyone in the series takes a sip of alcohol. Good luck!
4. Daenerys Targaryen giving up her quest to rule Westeros (or, at least, stops talks about reclaiming what is rightfully hers).
The woman has dragons. We think that the woman with dragons should rule the universe.
Drinking game suggestion: One shot each time Jorah Mormont offers to help her. Two when she rejects the help.
5. Tyrion Lannister suddenly stops being everyone's favorite smartass.
Unless he suffers an injury that will render him mute, this will never happen.
Drinking game suggestion: One shot each time Tyrion is right about something. Two shots each time this is overlooked by people in the series.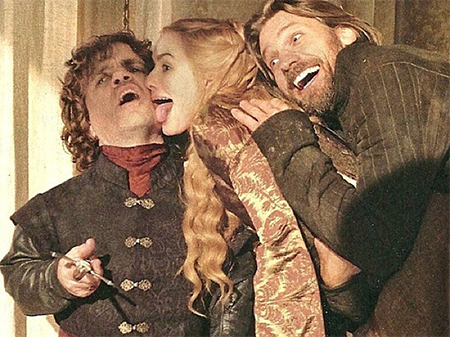 ADVERTISEMENT - CONTINUE READING BELOW
6. Theon Greyjoy's suffering ends.
His penis is in a box. The suffering will never end. We're not sure if it's great that he's still alive, because it seems more fun to be dead than to have nails driven into you.
Drinking game suggestion: Take as many shots as you need to help endure the scenes with Theon Greyjoy and torture.
7. People say things they mean and keep their promise.
What show are you watching? Lord Varys will scheme, Littlefinger will betray someone for sure, and alliances will be broken in the blink of an eye.
Drinking game suggestion: One shot for each betrayal. (In the series, not your life.)
8. The Houses make a sensible plan, which benefits the Kingdom, and everybody wins.
Who in Westeros thinks of economics? It seems like everyone else is busy trying to rule, but nobody actually develops the land or anything. Everyone looks like they need a bath (except maybe Bran), so they can't even progress towards... you know, hygienic waste disposal or showers. Oh well, that's what happens when people want power more than anything.
Drinking game suggestion: Two shots for each time someone in Westeros reminds you of an evil politician.
9. Hodor says something other than Hodor.
HODOR.
Drinking game suggestion: Three shots for each "Hodor."
10. An episode where nobody dies.
Hahahahaha. Yeah. Right.
Drinking game suggestion: One shot when someone loses a limb, two shots for each death.
Also read:
Fake It Like You Know Game of Thrones: The SPOT.ph Guide to the Bloody Series (So Far)
ADVERTISEMENT - CONTINUE READING BELOW
Catch Game of Thrones Season 4 on Sunday, April 13 at 10 p.m., exclusively on HBO / HBO HD
Load More Stories