10 Foreign-Language Songs That Conquered the Philippines
Je t'aime, te amo, I love you (with apologies to Nonong Pedero and Leah Navarro). Here's a playlist we love that takes us beyond American pop.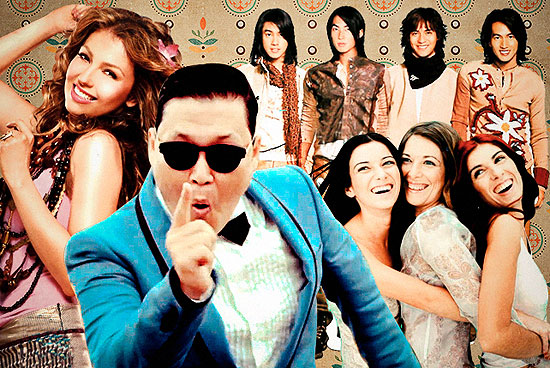 (SPOT.ph) We're sure there is a world of foreign-language songs beyond this list that won us over. Because much of our collective story is about foreign domination, after all. It's a complicated story to say the least, but it has also yielded many of our diversions that we still enjoy. Aside from the influence of el mundo hispanohablante (the Spanish-speaking world), the very region we live in has delighted us with their art-and with their pop. It used to be said that the Philippines is in but not of Asia. But that's changed. Here are 10 songs keeping us in the loop of the entire planet.
ADVERTISEMENT - CONTINUE READING BELOW
CONTINUE READING BELOW
Recommended Videos
10. "¿Donde Esta Santa Claus?" by Augie Rios
All right, we're cheating a little with this "Spanglish" novelty number from 1959. But this quaint Yuletide ditty recorded by Augie Rios-the only major contribution to music by this 12-year-old (at the time) Hispanic-American-has since inspired several equally eccentric remakes, entirely in Spanish. Alt rock bands like Guster have recorded this tune, and it amazes grandparents today that not a few children have heard this song, whereas they might regard a group like Black Sabbath as an oldies band.
9. "Una Noche Mas" by Jennifer Lopez
JLo made "Waiting for Tonight" (not her original) her own launching pad, as her career skyrocketed in time for the millennium. Her breakout video as well as this Spanish version, also on heavy rotation here, further secured her association with that song by the dance-pop group 3rd Party.
ADVERTISEMENT - CONTINUE READING BELOW
8. "Can't Lose You" by F4
Fiction became reality when this Taiwanese boy band took off from  their fictional counterpart in the pioneering Asianovela Meteor Garden, which ABS-CBN has rerun, more than a decade after its widely received broadcast. This song is one of their top hits on the heels of their Meteor success. And the band further secured this region's pop-cultural appeal to its most westernized nation, our country.
7. "Sweet Soul Revue" by Pizzicato 5
Probably the hippest entry in this list, Pizzicato 5 was a Japanese variation on the retro-'60s trend influencing Nineties Brit pop. This 1993 video is full of Sixties references (including its dedication to the Staple Singers), and its featured song dominated the Philippine airwaves like a swinging fighter robot.
ADVERTISEMENT - CONTINUE READING BELOW
6. "Marimar" Theme by Thalia
The breakout telenovela of 1994 was part of a trio of successful hit soaps in Mexico, and it made actress-singer-songwriter Thalia a global phenomenon at 22. Two years later, the Marimar craze caught on within our shores and endured long enough to inspire a Filipino remake about a decade later, a Regine Velasquez version of the Marimar theme, and the soap's continuous rerun until recently on the Telenovela Channel. If our memory serves us well, the last time there was any semblance of Philippine-Mexican ties was the Galleon Trade. Thalia almost singlehandedly reinforced that connection, even coming out with an OPM-themed album.
5. "Nobody" by Wonder Girls
This pioneering K-pop girl band conquered Asia and the world with this and other hits. After the predominance of Japan and China in Asian pop culture, it was their turn, and the rest of the region, to soak in Korean pop. And, yes, they caught on in Manila-gearing up the kitsch in our variety shows and also inspiring a Visayan variation. In hindsight, they might have opened the door wider for our Number 1 foreign act in this list.
ADVERTISEMENT - CONTINUE READING BELOW
4. "Sukiyaki" (Ue o Muite Aruko) by Kyu Sakamoto
"Ue o Muite Aruko," which somehow became renamed "Sukiyaki" for better recall, was a truly groundbreaking recording, because it was an Asian artist who broke into the Billboards charts and even soared to the top in 1963. Beatlemania was just taking off at the time. Check out the song and you'll hear at once its direct connection with American R&B, which explains its climb too in the R&B charts. Thanks partly to that exposure, "Sukiyaki" became popular here. Other Asian artists since then would draw our fascination without any referencing by the US music industry.
3. "Asereje" by Las Ketchup
¡Ay caramba! The Spanish are back! Just kidding. The amazing thing about the success of this sister act here is that we took to their music without any cue from America. Because they became a phenomenon in Europe but not in the US, despite the song's loose association with Sugarhill Gang's "Rapper's Delight." There had been a lot of talk about what this song-story means-whether Diego really stands for the Devil. It's just a great dance ditty. That's everything.
ADVERTISEMENT - CONTINUE READING BELOW
2. "Macarena" by Los Del Rio
They've been around since the Sixties, but this Spanish duo went global with this breakout hit in the Nineties. It's beautiful how this song began life as a compliment (by Antonio Romero Monge, one of the duo) to a dancer whom they saw perform at a party. Monge soon found himself spinning out a song with the working title "Madalena." Their recording became a hit in Spain, but the song underwent a few more tweakings in the club circuit before it emerged as this Spanglish global hitmaker. Monge and Rafael Ruiz Perdigones, also 48, found belated success with this tune that seemed to fit any place where it became a hit-in the Middle East, in Europe, and here in the Philippines.
1.  "Gangnam Style" by Psy
To go viral at 36 and draw the attention of world leaders must have blown his mind more than Psy's music has provoked excitement and outrage in equal measure. "Gangnam Style" and its zany video reminded the world what it was coming to-it was orbiting away from America and swinging to the backbeat of the "Korean Wave." US President Barack Obama himself has affirmed this trend, besides referencing Psy, whose song complements but still stands apart from K-Pop. All told, "Gangnam Style" signaled a brave new world.
ADVERTISEMENT - CONTINUE READING BELOW
Load More Stories