MOVIE REVIEW: Rio 2
SPOT.ph blogger Paul Daza on this colorful sequel: entertaining or unimaginative?
STORY: Rio 2 is a wholesome, feathery sequel to the high-flying computer-animated hit from 2011. This time around, endangered blue macaws Blu (voice of Jesse Eisenberg), wife Jewel (Anne Hathaway), and their three chicks fly from Rio de Janeiro to the Amazon to verify reports that they have relatives thriving in the rainforest. Unknown to Blu's family, however, the vengeful cockatoo Nigel (Jemaine Clement) has followed them there and is plotting to kill Blu. But even Nigel is unaware that greedy humans are hatching an illegal logging scheme that could doom not only the blue macaw but hundreds of other rare species to extinction in the Amazon jungle.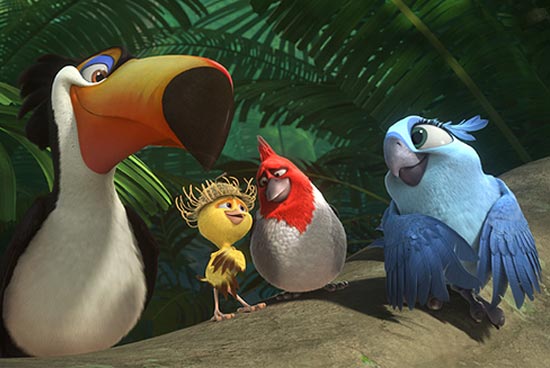 ADVERTISEMENT - CONTINUE READING BELOW
CONTINUE READING BELOW
Recommended Videos
The relocating birds are happy with the menagerie. Images from the film's website.
PLUSES
The festive, vibrant visuals. Though the first Rio already had sumptuous shots of thousands of Brazilians partying under the watchful gaze of the Christ The Redeemer statue, the reappearance of these signature elements in Rio 2 is still very much welcome. Among the bits of re-engineered sights that will have you grinning from ear to ear and gaping in wonder throughout Rio 2 are the dazzling New Year celebration sequence that opens the film and another kaleidoscopic, electrifying air dance involving hundreds of birds. As for what's new, look no further than the charming, pop-up book inspired travelogue that depicts Blu's family's trip from Rio to the Amazon, and a hyperkinetic game that looks like a cross between Quidditch and soccer that's played by two warring bird clans. Making it all even more spectacular is the tactile 3-D which puts you right in the middle of these wondrous, fanciful worlds.
ADVERTISEMENT - CONTINUE READING BELOW
"Amazon Untamed." Rio 2's plot has Blu's feathered friends Nico (Jamie Foxx) and Pedro (will.i.am) tagging along to discover new talent for the next Carnaval. And so, Nico and Pedro hold their "South American Idol" auditions in the Amazon, attracting a menagerie of showbiz-obsessed creatures in montages that provide Rio 2 with many of its most sidesplitting gags. Among the many inspired moments are Nigel's sinister, over-the-top take on Gloria Gaynor's classic anthem "I Will Survive" and the slow-motion antics of a pair of Capoeira turtles.
The Broadway-esque production numbers. A soothing lullaby from Les Miserablés Oscar winner Anne Hathaway called "Don't Go Away." A deceptively cute rendition of "Memory" from Cats, featuring a deadly cat. A sidesplitting, Phantom of the Opera-esque song about the forbidden love between a frog and a bird that's even funnier than Olaf's "Summer" song from Frozen. These are just three of the musical showstoppers that make Rio 2 a joyously jampacked sight-and-sound experience like no other.
ADVERTISEMENT - CONTINUE READING BELOW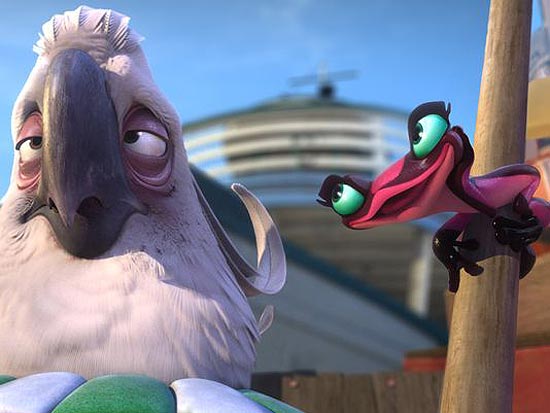 Nigel the cockatoo becomes an unlikely object of affection to Gabi the frog.
MINUSES
The impressive but not-quite-maximized voice cast. Blue Sky, the studio behind the Rio and Ice Age movies, has sadly acquired Dreamworks Animation's wasteful habit of hiring A-list entertainers for their CG features, only to underutilize them in the end. Of the returning cast members from the first Rio, only Jemaine Clement's performance as the alliteration-loving villain Nigel makes an impression. Among the newcomers, it's only Kristin Chenoweth's turn as the pink and purple frog Gabi that will stay with you after the movie's over. "Poisonous Love," her paean about her unrequited feelings for Nigel, is a priceless rib-tickler.  Andy Garcia as Jewel's father? Meh. Grammy-winning singer/songwriter Bruno Mars as the manly bird who makes Blu jealous? Largely untapped. As we Pinoys are fond of saying, sayang.
ADVERTISEMENT - CONTINUE READING BELOW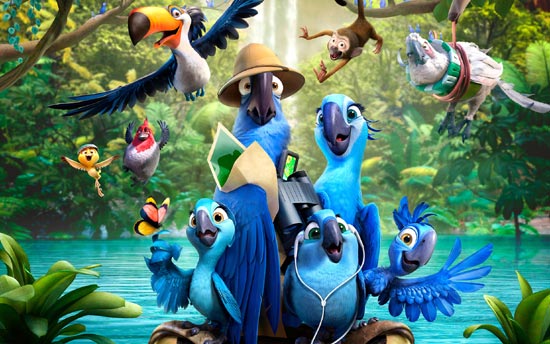 Embarking on an adventure in the Amazon.
The by-the-numbers script. Though Rio 2's production values are at par with the best animation that their rivals in both Pixar and Dreamworks have conjured, the movie's inability to surprise viewers with an inventive story or an unexpected narrative twist is troubling. Enjoyable as Rio 2 is, there's nothing about its story and script that will prompt anyone to declare it to be the next winner of the Academy Award for Best Animated Feature. This is because its formulaic plotting doesn't have qualities like, say, the game-changing irreverence that won Shrek the Oscar in 2002, or the unpredictable but inevitable and ingenious denouement of Ratatouille. Want another example of how incomplete the script for Rio 2 seems? Observe how hazy the characterization of the human villain is.
ADVERTISEMENT - CONTINUE READING BELOW
IN BRIEF: Exquisite animation, colorful creatures and delightful songs make Rio 2 rise above its generic script and underutilized voice cast. Despite its problems, it's still a buoyantly entertaining, high-flying extravaganza the whole family will enjoy.
Rating: •••• 4 spots out of 5 for 3-D release; •••. 3½ spots out of 5 for 2-D release
Load More Stories