Top 10 Attention-Grabbing Perfume Ads
Who cares if they smell any good? These dazzling ads have us sold.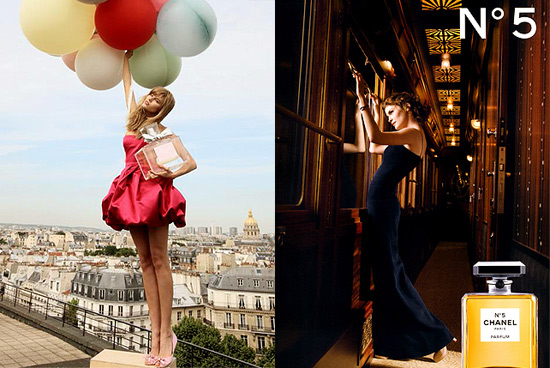 (SPOT.ph) It's scientifically proven that the sense of smell is intimately linked with memory. The scent of coffee reminds some of pleasant mornings- though it's cranky Mondays for others-The smell of sunblock takes us back to that one blissful weekend at the beach.
Perhaps that's why fragrance brands put so much effort into producing incredible ads, many of which are directed by award-winning filmmakers, featuring Hollywood's hottest names. They want us to believe that spritzing some Chanel will automatically transport us to a day of biking through Paris and munching on macarons...there's little chance of that happening, but who knows-these adverts are entertaining enough with their gorgeous scenery and romantic short stories for us folks sitting behind our desks, where the stars, come to that, had been, once upon a time.
10. Miss Dior Chérie
Sweet, colourful, playful-are you surprised Sofia Coppola (Marie Antoinette, The Virgin Suicides) is behind this ad? Strolling around Paris, fitting pretty gowns, dropping in at patisseries, and with Brigitte Bardot's "Moi je joue" playing in the background, it's a fun little ad to kickstart your day.
9. Calvin Klein, "Downtown"
David Fincher (Fight Club, The Social Network) is infamous for his precision when it comes to filmmaking, so it's no surprise that this ad for Calvin Klein is a stunner. Rooney Mara, who previously worked with Fincher in The Girl with the Dragon Tattoo, appears to be playing herself-or at least the public's idea of her-an often detached and unsmiling young woman. Yet, here, Fincher show the more private, playful side of Mara, who delights in cute dogs and incognito subway rides.
ADVERTISEMENT - CONTINUE READING BELOW
8. Leowe, "Quizás, Quizás, Quizás"
Eugenio Recuenco is quite the visionary. His ad for Leowe fragrances, set to the classic "Quizás Quizás, Quizás," is purely magical, a tad tragic, but totally hypnotizing short film.
7. Dior Homme, "Un Rendez Vous"
Pardon our French, but damn, what a freakin' ad for a fragrance. Guy Ritchie (Sherlock Holmes) outdoes himself with this riveting short film starring Jude Law. We think that the idea behind this ad and the twist halfway through deserves its own full length feature film.
6. Coco Mademoiselle, "She's Not There"
CONTINUE READING BELOW
Recommended Videos
The exquisite Keira Knightley has long been the face of Coco Mademoiselle and her latest ad proves why Chanel loves her. This short is basically one big "I'm too good for you" to all the men out there. Also, a lesson on how to maintain fabulous hair while speeding away on a boat.
5. Dolce & Gabbana The One, "Street of Dreams"
Martin Scorsese rejoins the fragrance ad bandwagon (his first was for Bleu de Chanel starring the incredibly suave Gaspard Ulliel) with a glamorous black-and-white short featuring Scarlett Johansson and Matthew McConaughey. Unlike most perfume ads-little to no dialog, over the top lights and music-Scorsese brings a bit of storytelling into the mix. Johansson and McConaughey reunite like a pair of old pals in New York City and while there doesn't seem to be anything fragrance-related in these two-and-a-half minutes, it's still quite a charming piece of film.
ADVERTISEMENT - CONTINUE READING BELOW
4. Prada, "Candy L'Eau"
What else would you expect from long-time collaborators Wes Anderson and Roman Coppola (both writers of The Darjeeling Limited and Moonrise Kingdom), but a colorful and comedic ad for a Prada perfume? Aptly named "Candy" (the short film and the fragrance), Anderson and Coppola amusingly pit two friends against each other over the striking and spunky Lea Seydoux (also named Candy in the film).
3. J'adore Dior
The statuesque Charlize Theron arrives backstage for a Dior show and as she gets fitted and sits down for hair and makeup, she receives a few smiles and nods from icons of Old Hollywood glamor-Marilyn Monroe, Marlene Dietrich, and Grace Kelly. It might be all CGI, but it's undoubtedly entrancing.
2. Guerlain, "The Legend of Shalimar"
You'll forget this is an ad for a fragrance once you hit play. Based on the legend of the love story between Persian emperor Shah Jahan and his wife, Mumatz Mahal, the ad might as well be a trailer for an epic movie.
1. Chanel No. 5
We're afraid we've come to a tie in choosing the most impressive perfume ads ever produced, though both are for the same fragrance-Chanel No. 5. Director Baz Luhrmann (Moulin Rouge!, The Great Gatsby) was certainly a perfect choice to direct a dramatic, three-minute ad for the fragrance, which mirrors his hit film Moulin Rouge! (a dancer trapped in a forbidden love affair). Chanel spared no expense for the lavish production, that Nicole Kidman was paid a cool $12 million to appear in the ad. In 2009, Audrey Tautou replaced Kidman as the fragrance's new spokesmodel. Director Jean-Pierre Jeunet reunited with his Amélie star for a short film, rich in detail and color, which takes us on a romantic and mysterious journey around France by train and boat. It's clear that Chanel takes the cake when it comes to captivating audiences for a bottle of fragrance.
ADVERTISEMENT - CONTINUE READING BELOW
Special mention: Chanel No. 5-"There You Are"
Brad Pitt standing with his hands in his pockets, babbling about journeys and dreams for 30 seconds in black and white...it doesn't make any sense, but it sure did get a lot of buzz when it premiered last year (just search YouTube for a ton of parodies, including one featuring Jack Sparrow) and we suppose that's the entire point of marketing a brand.
---
Help us make Spot.ph better!
Take the short survey
Load More Stories