Top 10 Dance Scenes in Philippine Cinema
As in real life, film characters break into song and dance at any given moment in our movies. These are the ones that got us swinging.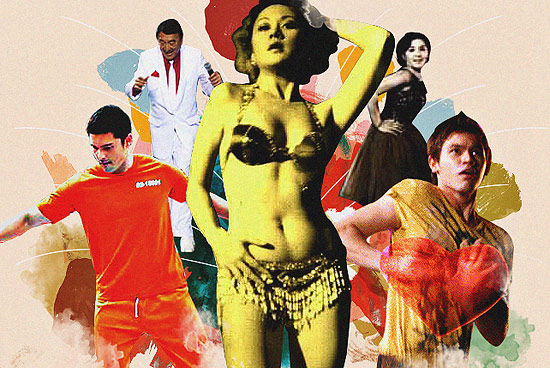 (SPOT.ph) Filipino movies are not complete without their song-and-dance numbers-a lot of them appearing in films that aren't even musicals. For that and other reasons, Philippine cinema has been derided by the snootier segment of its own public. But to paraphrase one of Pete Lacaba's essays on pop culture, we whistle a tune, or break into song and dance at any given moment, and that's how it happens too in our cinema. The same essays also pointed out that we're light years ahead of the French when it comes to spontaneous dance numbers. For one thing, the classic Madison Dance scene in Jean-Luc Godard's Bande à part came a decade after Dolphy's out-of-the-blue song and dance in Jack and Jill. Dolphy would thereafter bring his dancing to greater heights. So here he is, together with the other swinging icons of our filmdom, in this list compiling the top 10 Dance Scenes in Philippine cinema.
ADVERTISEMENT - CONTINUE READING BELOW
CONTINUE READING BELOW
Recommended Videos
10. Martin Escudero in Zombadings I: Patayin sa Shokot si Remington (2011)
Philippine cinema found a startling chimera in this acclaimed high camp, inspired by the flourishing LGBT milieu. And a star is born in Martin Escudero, whose breakout performance as a homophobic who crosses over to the very sector he derides earned him critical praise and a pair of acting awards. A delightful romp of a movie, which had to call for a dance scene, certainly-and Martin makes an instant hit of that moment.
9. Yul Servo, Jaycee Parker, and Bella Flores in Ilusyon (2005)
It's a joy to find some dancing even in independent cinema-such as this playful homage to the era of LVN and Sampaguita Pictures, co-directed by Paolo Villaluna and Ellen Ramos. The homage also extends to Sampaguita mainstay Bella Flores, whose villainess persona is literally given a twist here. Mike de Leon's Kakabakaba Ka Ba? may have also influenced this indie, except that de Leon's faux musical had turned that genre against itself (with that film's excellent production but routine dance numbers). If this scene in Ilusyon could also use a little more pluck, it more than compensates in terms of vision-by having Bella Flores and Viva Hot Babe Jaycee Parker swing to a different beat.
ADVERTISEMENT - CONTINUE READING BELOW
8. Dingdong Dantes and the inmates of the Cebu Provincial Detention and Rehabilitation Center in Dance of the Steel Bars (2013)
In 2009, the year of Michael Jackson's death, inmates of the Cebu Provincial Detention and Rehabilitation Center held a surprise dance ensemble that paid tribute to the King of Pop and made the global headlines via YouTube. To be sure, they already had a similar video two years earlier, as posted by prison head Byron Garcia. In any case, their performance thrilled the world, inspiring as well last year's social drama Dance of the Steel Bars, by journalist-filmmaker Cesar Apolinario and documentarian Marnie Manicad. The film has a vigorous dance finale, made all the more electric because it is led by Dingdong Dantes. Here he is in this clip, reuniting and dancing again (at 2 minutes into this video) with his fellow performers.
ADVERTISEMENT - CONTINUE READING BELOW
7. Gary Valenciano and Dayanara Torres in Hataw Na! (1995)
Here's an overlooked gem from the multifaceted work of Jose Javier Reyes. (Remember, he wrote Peque Gallaga's masterpiece, Oro Plata Mata, and also directed the surprisingly sophisticated Ara Mina starrer Phone Sex. ) For its youthfulness and energy, Hataw Na! deserves a place alongside the now-venerable Bagets. Gary Valenciano's agility finds the perfect stage in this movie. The same goes for Dayanara Torres (Gary V's compatriot from Puerto Rico where his mother hails from), who became an instant dance sensation in our showbiz scene. Another pop film classic that deserves restoration. Its stills, as posted by Star Cinema, look better.
6. The all-star street party in Swing It...Baby! (1978)
This one's an insanely cheerful dance number, one that merits inclusion for its rampant fun. From Al Quinn's Manila Sound musical comedy, here are Tito, Vic & Joey, together with their VST & Co. barkada, holding an impromptu dance party in Makati's Central Business District (when it still had an open field and a bird sanctuary) and joined by Vilma Santos, Romeo Vasquez, Amy Austria, and other stars. Enrique Gil remade this hit recently.
ADVERTISEMENT - CONTINUE READING BELOW
5. Lorna Tolentino and Aga Muhlach in Bayarang Puso (1996)
Aga Muhlach's exciting dance number in Bagets should be on this list. (Check out Spot.ph's 10 Memorable Highlights of Bagets. ) But we reserve this entry as Aga's space, to include his other great dance number in his film body-the foreplay dance scene with Lorna Tolentino in Bayarang Puso. In this zeitgeist drama by Jose Javier Reyes, referencing the ballroom craze of the '90s, Lorna T's dancing hints at the mananayaw phase of her early film career, before she moved on to the resplendent melodramas that made her a critically acclaimed star. But her allure never left LT, and this scene qualifies as a seminar on the fine art of the kembot.
4. Vilma Santos in Burlesk Queen (1977)
We talk about dancing in Philippine cinema, and surely we need to cover its sexier realm. With this film, Vilma Santos makes a big leap from her bubblegum-pop period and takes a confident stride on the path of her complex adult persona. Her dancing in Burlesk Queen became an iconic image. But the film is also a vehicle for its brilliant director, Celso Ad. Castillo-who depicts the world of 1950s Manila as a bizarre circus, peopled by violin-playing beggars, dapper-looking pimps, and burlesque shows that actually rival those of Dita von Teese. Time has toned down the risqué character of this classic, but its murky print cries out for a long overdue restoration.
ADVERTISEMENT - CONTINUE READING BELOW
3. Dolphy, Aruray, and Teroy de Guzman in Sa Isang Sulyap Mo Tita (1953)
Almost any performance by the late great Dolphy is a visual delight. After all, much of comedy is a spectacle, and Dolphy learned that insight from his personal idol, Charlie Chaplin, with whom he was often compared. The legendary British comedian-filmmaker knew the impact of a sight gag, or any striking visual expression for that matter-such as that celebrated parody dance from The Great Dictator. Dolphy was a great dancer too-showing his top form in this scene from Sa Isang Sulyap Mo Tita. Assisting Dolphy here are fellow comedians Aruray and Teroy de Guzman, who demonstrate the compatibility of all their talents, which rely on timing. One wishes Bayani Casimiro-the Fred Astaire of the Philippines-were also here. He and Dolphy did a lot of terrific work, together with Panchito.
ADVERTISEMENT - CONTINUE READING BELOW
2. Nestor de Villa and Nida Blanca in Anak ni Waray vs. Anak ni Biday (1984)
Beginning as a love team in the early '50s, Nestor de Villa and Nida Blanca quickly secured their distinction as the most widely referenced terpsichorean pair in Philippine cinema. Didn't Bella Flores call Yul Servo and Jaycee Parker "Nestor and Nida"? They remain fondly remembered by cineastes-Joel Torre, for example. Unfortunately, their movies-as with much of our cinema-have been rendered precious, to say the least, by time and neglect. So it's wonderful to encounter even just a fleeting glimpse of Nestor and Nida, as in this clip (rendered into black and white from the original colored film) of Anak ni Waray vs. Anak ni Biday. (That film also stars Nida's cinematic daughter, Maricel Soriano-who's widely known to be a great dancer herself, as we've featured in another list.) Here, the Nestor-Nida pair does a very agile swing number, followed by a sharp mambo by that other classic love team, Luis Gonzales and Gloria Romero.
ADVERTISEMENT - CONTINUE READING BELOW
1. Nora Aunor in Bongga Ka 'Day (1980)
We top this list with a star who is better appreciated for her acting and singing. But, girl, does she deliver on Vilma's domain-the dance floor. Maryo J. de los Reyes' dance-themed movies in the late '70s to early '80s served as blueprints for the pop masterpiece to come that was Bagets. And these films became Nora Aunor's vehicle for showing off her dancing prowess. In this clip from Bongga Ka 'Day, we find La Aunor in sensual form, glammed up to the beat of the Hotdog's Manila Sound. She changes partners with Lloyd Samartino and Rez Cortez as the other actors also cut loose, especially the adorable comedienne Chichay. Also check out Nora grooving to another Hotdog hit, "Beh Buti Nga," in Maryo J.'s Ibalik ang Swerti! (1981).
Load More Stories