10 Fresh Tunes to Listen to This April
Your April playlist featuring Daft Punk with Jay Z, Sam Smith, The Black Keys, Johnoy Danao, and more!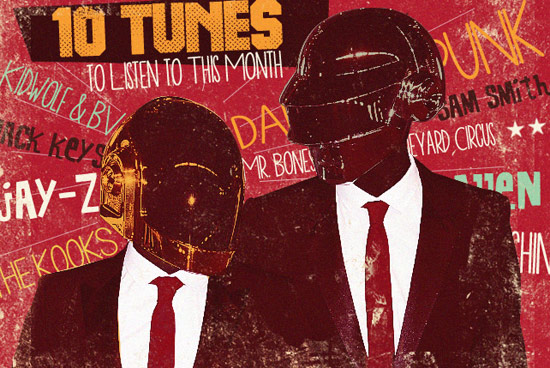 (SPOT.ph) We've got a good mix for you this month. Hear Daft Punk and Jay Z's electro-rap collab, Sam Smith's soulful single, The Black Key's garage-psychedelic song, Lily Allen's electro ballad, and The Kooks' reggae-inspired track. Our very own Johnoy Danao, Abra, Chito Miranda, Mr. Bones and The Boneyard Circus, Kidwolf, Bea Valera, and Tres Marias all have crowd-pleasing tunes for you, too. Take a listen below!
Song: "Computerized"
Artist: Daft Punk featuring Jay Z
The authenticity of this collab between French electro duo Daft Punk and American rapper Jay Z was initially questioned by fans and critics. Real or not, we can conclude "Computerized" is epic. The robotic elements and snappy verses blend just fine, and the buildups are smooth.
Fun fact: Upon release, rumors came out that Kanye West produced this track.
Song: "Kung 'Di Man"
Artist: Johnoy Danao
Pinoy crooner Johnoy Danao is coming out with a new album, this time under Universal Records, titled Samu't Sari. The album contains some old, some new, and some covers. One you need to hear is "Kung 'Di Man," a love song with playful guitars and gentle vocals that will linger in your memory. Skip to 2.41 of the sampler for a snippet of the song.
Fun fact: "Kung 'Di Man" was Johnoy Danao's entry to PhilPop Music Festival 2013.
Song: "Stay With Me"
Artist: Sam Smith
Sam Smith has got to be the most happening act from the UK today. His soulful sound, remarkable vocal range, and compelling lyrics create their own hype. In this new track, Smith captures the pain of loneliness and how we just need someone to stay sometimes, even for a bit. The gospel choir adds more soul to the single (which, in our opinion, needs to go on longer).
ADVERTISEMENT - CONTINUE READING BELOW
Fun fact: Smith is also known for his active collaboration with the Disclosure brothers, an English electronic music duo.
Song: "Diwata"
Artist: Abra featuring Chito Miranda
Rapper Abra and Parokya ni Edgar frontman Chito Miranda joined forces to produce "Diwata." The single is surprisingly cutesy and with a bit of spunk, thanks to Abra's perfectly timed verses. The jangly guitars and cheery piano add a lot of mush to the track.
Fun fact: According to Miranda, he and Abra had been planning to collaborate since 2006.
Song: "Fever"
Artist: The Black Keys
If "Fever" is representative of the Ohio rockers' sound in their forthcoming album, then fans have nothing to worry about. "Fever" features the band's well-loved garage sound with an added psychedelic kick, making any listener want to move and groove to the hypnotic sound.
CONTINUE READING BELOW
Recommended Videos
Fun fact: The Black Keys' new album Turn Blue is out on May 13.
Song: "Ghost Train"
Artist: Mr. Bones and The Boneyard Circus
You can always count on Mr. Bones and The Boneyard Circus to please your eardrums. Their very own brand of scrapmetal horror can be experienced in "Ghost Train." The track starts slow with eerie and whimsical melodies and then escalates into exploding goth rock.
Fun fact: Mr. Bones and The Boneyard Circus are Bones Frankenstein (vocals), Lipstick (guitars), Doc Chan (guitars), Rubbeface (bass), Wolf (keyboards), Beast (drums), Jester (percussion), and DJ Xombie (technology).
Song: "Our Time"
Artist: Lily Allen
Lily Allen's "Our Time" is an electro ballad with a slightly strange music video to boot. The electronic tweaks in the vocals stand out, but we know Allen can really sing, so we'll forgive her. We can imagine ourselves blasting this song while on a long night drive.
ADVERTISEMENT - CONTINUE READING BELOW
Fun fact: Allen's forthcoming album titled Sheezus drops on May 5.
Song: "Free"
Artist: Kidwolf & BV
Kidwolf and Bea Valera's "Free" has summer written all over it. The upbeat and pulsating synth-filled EDM anthem demands to be added to your beach playlist. The catchy ooh-whoa and lingering free-e-e are bound to get stuck in your head.
Fun fact: "Free" is the official anthem of the Summer Siren Festival 2014.
Song: "Down"
Artist: The Kooks
The kooks have been getting mixed responses for their latest release. "Down" is a step towards a new direction for the band. The track features reggae and funk elements and is far from the indie rock sound for which they've become known. We're waiting to hear more before we make any conclusions.
Fun fact: The Kooks are Luke Pritchard (vocals and guitar), Hugh Harris (lead guitar), Alexis Nunez (drums), and Peter Denton (bass guitar).
Song: "Sana"
Artist: Tres Marias
The blending of Cooky Chua, Lolita Carbon, and Bayang Barrios will leave you in awe. In this rendition of Florante's "Sana," the three showcase their already well-known vocal prowess. There's been a lot of talk lately about what OMP really is; this track, in our opinion, perfectly embodies local music.
Fun fact: Tres Marias was formed after the three kept bumping into each other at rallies they attended and performed at separately. They then started doing shows as one "just for kicks" until they decided to make the group official in 2012.
ADVERTISEMENT - CONTINUE READING BELOW
---
Help us make Spot.ph better!
Take the short survey
Load More Stories