MOVIE REVIEW: The Grand Budapest Hotel
Prison breaks, pretty pastries, shootouts, teenage romance-what's not to love?
(SPOT.ph) Wes Anderson's The Grand Budapest Hotel is definitely grand-not to mention decadent, lavish, and beautiful. It's like watching a time bomb tick away while inside an intricately designed multi-tiered cake. Utilizing a rare aspect ratio of 4:3 with limited depth of field, Anderson's unique visual take creates a storyland view of sorts-and yet manages to elicit contemplation by its undeniably mature content. Narrated with a stylishly odd pace, this topsy-turvy comedy/caper film infuses his penchance for dollhouse-like vibrancy with a rather refreshing dose of emotional resonance.
The Texas-born Anderson (Moonrise Kingdom, The Darjeeling Limited) displays his trademark cinematic playfulness in Hotel, from the elaborate escapes to the deadpan gags to the French literary device Mise en abyme (story within a story, within another story). We start with a young lady visiting the tomb of a celebrated man known simply as The Author. After some pondering in front of The Grand Budapest Hotel, the young lady opens a book bearing the same name (presumably written by The Author) and starts reading an excerpt from one of the chapters.
Then cut to the year 1985, where The Author (Tom Wilkinson) continues the excerpt, relaying the story of that fateful day when he stayed in the titular hotel. Then cut to the year 1968, where a younger version of The Author (Jude Law) is nursing a nagging curiosity towards the elusive owner of The Grand Budapest Hotel, a harrowing old man named Zero Moustafa (F. Murray Abraham). They share dinner over Moustafa's tale of how he came to acquire ownership of such an old and expensive institution.
ADVERTISEMENT - CONTINUE READING BELOW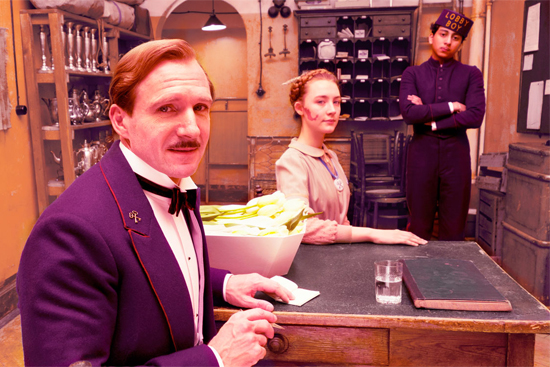 Checking in?
CONTINUE READING BELOW
Recommended Videos
And so we cut to the year 1932 (the screen noticeably changes to a more storybook-like cinematography) and we follow the exploits of the young Moustafa (Tony Revolori), working as a lobby boy under the tutelage of the legendary concierge Monsieur Gustave H. (Ralph Fiennes). You will notice the fluidity of Fiennes and Revolori's on-screen chemistry right away. Toying with the "boy meets world under the wings of an old mentor" trope with comic panache, these two lead characters serve as the glue that holds the plot together, no matter how zany or bonkers things might get-and they will.
With the death of an 84-year-old admirer named Madame D. (Tilda Swinton), Gustave and his willful young cohort travel across the fictional European republic of Zubrowka in the midst of war to pay their respects. What follows is a thrilling adventure featuring stolen Renaissance art, contract hits, prison breaks, hotel shootouts, and buckets of slapstick comedy.
ADVERTISEMENT - CONTINUE READING BELOW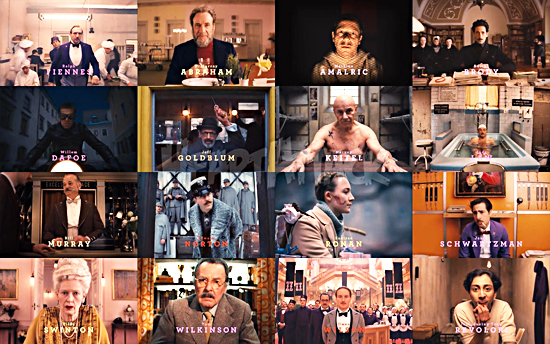 A constellation of stars
Fiennes' comedic prowess is something to behold.  His sensational performance as Gustave exudes zealous charm and an athletic command over dialogue and timing. Anderson wisely surrounds Fiennes' character with a motley crew of lovers, criminals, liars, and degenerates. And it just so happens that all these characters are played by acting powerhouses: Jeff Goldblum, Edward Norton, Bill Murray, Owen Wilson, Saoirse Ronan, Adrien Brody, Harvey Keitel, Willem Defoe, and the list goes on.
The American director loves to pack his movies with color and in Hotel, the palette is composed of a regal splash of purple, an elegant shade of pink, and just the right amount of blood red. The early shots of the hotel interior echoes the illusory atmosphere of the Overlook Hotel in Stanley Kubrick's The Shining, which, ironically, makes Anderson's canvas a warm painting to look at-so warm that the prettiness helps establish the thoughtful message looming underneath the paint. And that message is simple: the past will always hold a firm grip on who we are today.
ADVERTISEMENT - CONTINUE READING BELOW
The characters are not playing for laughs and we never feel that they are joking, which makes the humor-anchored by Anderson's precise and constricted camerawork-all the more effective. Hotel's brand of laughter is reminiscent of the black-and-white classics of Ernst Lubitsch. You catch a whiff of scholarly silliness here and there.
And as the film nears its conclusion, the old Moustafa reflects on his mentor's affairs: "To be frank, I think his world had vanished long before he ever entered it. But, I will say he certainly sustained the illusion with a marvelous grace!"
And the same can be said about Anderson's ballsy attempt to conjure a style that is utterly his own.
RATING: ••••• 5 out 5 spots
Also Read:
Top 10 Scenes from Wes Anderson Films
Share this story with your friends!
---
Help us make Spot.ph better!
Take the short survey
Load More Stories