Top 10 Funniest Sex Scenes in Movies and TV
Here's a checklist of the silliest sexy times on screen. Which ones have made you LOL?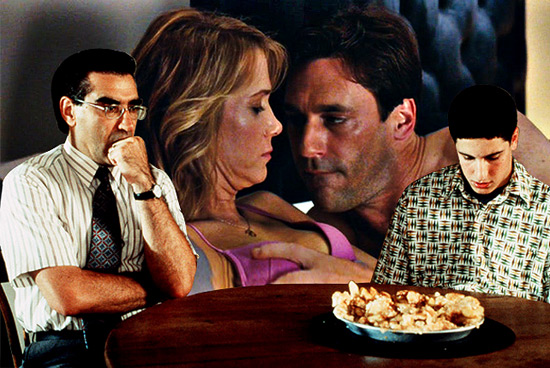 (SPOT.ph) In the early days of romance in cinema, audiences were only granted passionate kisses that would end in slow fades to black. It's the 21st century now, and the movie industry is more (all right, very) liberal when it comes to portraying sex scenes. Not that we mind a well-choreographed scene of intimacy between two consenting adults-but sometimes, an awkward O-face or bizarre dirty talk will elicit laughs from moviegoers. We've selected our picks among the most hilarious sex scenes on film and television. And it goes without saying that some of these clips are NSFW (not safe for work).
10. Community-Episode title: "Advanced Dungeons & Dragons" (2011)
The study group plays a round of Dungeons & Dragons and a seduction scene suddenly comes into play. In the midst of their make-believe quest, the gang encounters a maiden. "Hector the Well-Endowed," ironically played by one of the girls, Annie (Alison Brie), bravely takes on the sexual encounter. It's 55 seconds of sweet melodies over some incredibly strange gestures between Annie and Abed, the game's Dungeon Master.
ADVERTISEMENT - CONTINUE READING BELOW
9. Broad City-Episode title: "What A Wonderful World" (2014)
This hit YouTube series created by comediennes Abbi Jacobson and Ilana Glazer was picked up as a regular series on Comedy Central. The very first scene of the first episode seems like a regular Skype session between the two best friends, until Abbi realizes Ilana has been straddling her friend, Lincoln, that entire time. In Ilana's words, "It was like a threesome, in a way."
8. Her (2013)
Theodore Twombly (Joaquin Phoenix) is a lonely writer fresh from a breakup. One night, he seeks a bit of company from other lonely souls in the city. One of them (voiced by Kristen Wiig) just so happens to have a strange fetish for asphyxiation and cats.
CONTINUE READING BELOW
Recommended Videos
7. The To Do List (2013)
Brandy Klark (Aubrey Plaza) is determined to educate herself on all things erotic before she enters college. Derrick (Donald Glover) gladly volunteers to practice his own skills on Brandy, but while the two are going at it, they get some unexpected commentary from a surprised onlooker.
ADVERTISEMENT - CONTINUE READING BELOW
6.  Anchorman: The Legend of Ron Burgundy (2004)
Sex is often messy and awkward, and it takes place in the bedroom. Ron Burgundy (Will Ferrell) and Veronica Corningstone (Christina Applegate) take lovemaking to its extreme with a montage that's straight out of a trippy video game.
5. Superbad (2007)
McLovin (Christopher Mintz-Plasse) finally gets some loving, but his cop friends (Bill Hader and Seth Rogen) execute an incredibly embarrassing cockblock. Fun fact: Mintz-Plasse was only 17 when Superbad was filmed, so his mother had to be on the set-yup, even during this scene.
4.  Easy A (2010)
To help keep Brandon's (Dan Byrd) sexuality a secret from high school bullies, rumored slut Olive (Emma Stone) pretends to deflower him. It's not real sex (as if any of these scenes on our list are authentic anyway), but it's legitimately hysterical.
3. Bridesmaids (2011)
ADVERTISEMENT - CONTINUE READING BELOW
Jon Hamm stretches his comedic muscles (among other things) in Bridesmaids as Annie's (Kristen Wiig) casual lover, Ted-who's into some weird kinks, like monkey sounds and reliving high school memories, while in the middle of sex. What would Don Draper say?
2. Zack and Miri Make a Porno (2008)
There's nothing quite like good actors pretending to be terrible at acting. This sequence from Zack and Miri leads to an actual sex scene, but the bad puns and bizarre dancing are a total riot.
1. American Pie (1999)
We're so sorry, but how could we not include this all-time classic?
Share this story with your friends!
---
Help us make Spot.ph better!
Take the short survey
Load More Stories