MOVIE REVIEW: Joyce Bernal's Da Possessed
The Vhong Navarro starrer may be seen as propaganda for the embattled star, but it still entertains.
(SPOT.ph) It would take a special kind of callousness to watch the entirety of Joyce Bernal's Da Possessed without even acknowledging the suspicious circumstances behind its being made. Just a few of months prior to the movie' release, its main star, dancer-turned-actor Vhong Navarro, was mauled inside a condominium unit. Speculations were made by the public, who were incessantly bombarded with every bit of news about the sensationalized but most unfortunate event. Navarro, with the help of his enterprising handlers, has turned into some sort of crusader, using the country's legal system for retribution.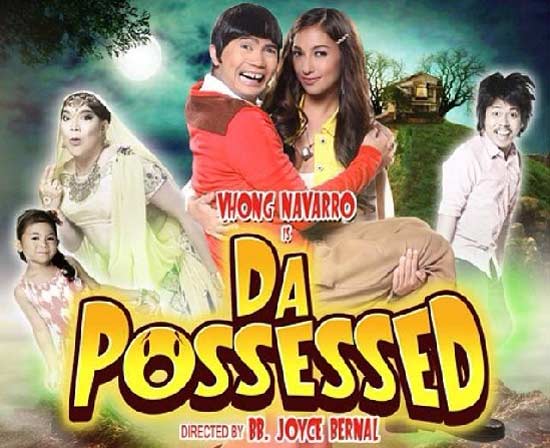 ADVERTISEMENT - CONTINUE READING BELOW
CONTINUE READING BELOW
Recommended Videos
No punch in the face can stop the revamping of Vhong's career. Images from the movie's Facebook page.
Navarro is cowardly Ramon, a landscape artist who happens to waken the vengeful spirits of three murdered individuals, played by John Lapus, Empoy Marquez, and Aaliyah Belmoro, while working. Navarro plays Ramon as a veritable underdog, who is incessantly bullied because of his delicate demeanor but will have to prove his mettle and bravery when defending the ones who matter to him, more specifically his family and his love interest, Anna, a Filipinized version of the sexy Shaider sidekick (complete with her trademark yellow-and-white attire that is generous when it comes to panty exposure) and played with such a joyous disregard for any sophistication by Solenn Heussaff.
Da Possessed, for all the inanity in display, echoes a lot of the themes of Navarro's present predicament. Beneath the jokes and gags, the movie predominantly tackles revenge against an individual who has eluded the law despite his propensity for violence. Navarro, of course, plays his character with indisputable charm and affect, showcasing his trademark talents, whether it be his comedic timing or his dancing moves, to ensure that the actor does not get lost in the character. Navarro, by donning Ramon's clothes and quirks, becomes the unlikely hero who will pave the way for justice to triumph, despite such an immense desire for the more traditional type of vengeance.
ADVERTISEMENT - CONTINUE READING BELOW
The film is an unsubtle propaganda crafted precisely to woo its audience back into Navarro's side. It could be an essential part of the damage control being orchestrated for Navarro, showcasing the fact that despite the recent miserable events, he remains an effective entertainer.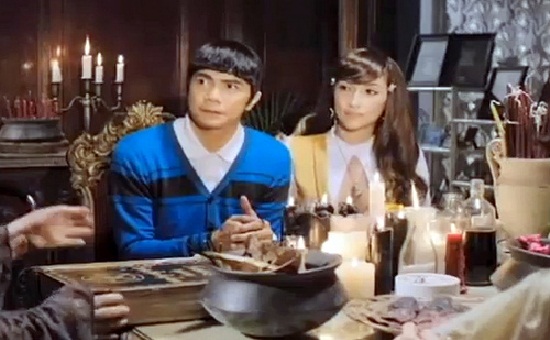 Vhong riffs on his current woes, and Solenn, on Annie, the iconic sidekick of Shaider.
ADVERTISEMENT - CONTINUE READING BELOW
Of course, while Da Possessed is essentially Navarro's show, the movie would not have been as convincing if it were not for his support. Beverly Salviejo, who has been relegated to mostly minor roles in previous films, is utterly delightful as Navarro's mischievous mom. Joy Viado, who plays Anna's strict aunt, proves to be the perfect match for Salviejo's mix of physical comedy and wit. Smokey Manaloto, Matet de Leon, and Joey Marquez add further color to the bunch.
Director Joyce Bernal makes the most of her cast's various styles in comedy, and turns Da Possessed into a spectacle of sorts, with low-brow humor interspersing with slapstick and other types of jokes that are certain to tickle moviegoers. A lot of the jokes are effective, thanks largely to the cast. The movie only loses steam when it decides to abandon its atmosphere of reckless fun for some degree of logic and the off-putting and totally unnecessary moral lesson that seems to be a requisite for Filipino comedies.
ADVERTISEMENT - CONTINUE READING BELOW
In the end, Da Possessed does what most Navarro starrers do. It sufficiently entertains. The entertainment the movie delivers might not be as guiltless as, let's say, Erik Matti's Gagamboy, or Bernal's D'Anothers, or Cathy Garcia-Molina's My Only U, because of the circumstances surrounding its release, but there's more to it than suspicions of exploitation or discomforting underpinnings. It's all good.
RATING: ••• 3 out 5 spots
Da Possessed is currently showing in cinemas.
Load More Stories