DEAR XEREX: Miss Delish (Conclusion)
I want my relationship with Shaun to last. But in our first year, he popped the question. Not THAT question, but something else: Gusto mo ng threesome?
Warning: Content is intended for adult audiences only. By opening this article, you confirm that you are over 18 years of age.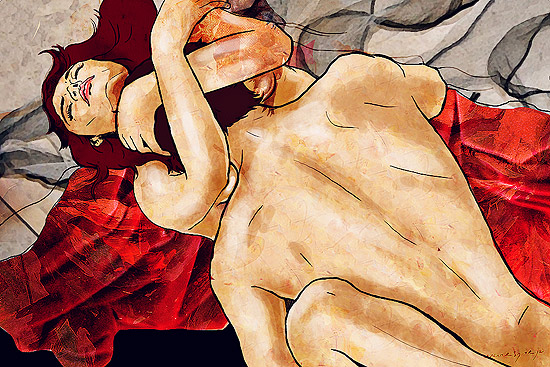 Art work by Warren Espejo
(Huling karugtong ng liham ni Miss Delish)
Pero mahusay gumamit ng labi at dila si Shaun. Maskulado ang mga braso nyang nakayakap sa akin. Parang bitbit niya ako sa clouds!
Sandali lang ang kirot na naramdaman ko. Bawat labas-pasok niya sa akin, nanginginig sa sarap ang muscles ko. Tapos bumilis ng bumilis. At one point,  napahinto siya dahil masyado bumaon yata ang fingernails ko sa butt nya. Hahahaha. I apologized. He acknowledged na kaya ganun ay nasasarapan na daw ako. Yes. Sobrang sarap!
Minutes later, I was squirming in ecstasy. Best orgasm ever!
After that, madalas na kaming lumalabas ni Shaun. Madalas din kaming nagse sex-minsan, three times a week ay nagkukulong kami sa room nya. Madalas din kaming mag- quickie kung saan-saan, sa car, sa toilet, sa moviehouse, sa park, sa swimming pool. Basta may chance and we feel hot, we jump into delirious sex.
ADVERTISEMENT - CONTINUE READING BELOW
I love Shaun. I want our relationship to last. During our first anniversary, we were talking kung paano pa namin mae- enhance ang aming sex life. That was when he popped the question, "Gusto mo ng threesome?"
His idea was, ako ang pipili ng third partner. Ako ang magbibigay ng rules. Ako daw ang bahala. Kelangan daw trusted ko yung person, at hindi siya makakasira sa relasyon namin.
This is my urgent question to you, Xerex. I love Shaun so much and I dont want to lose him. Threesome sounds like a kinky idea for experimentation. I know some friends who regularly do it with their partners.
Do you think I should say yes to this? Please advice.
Much respect,
Miss Delish
--------------------
Dear Miss Delish,
I am glad you have a healthy sex life with your present partner. Conventionally, I should remind you that the most important thing here is having a happy healthy relationship-hopefully, one that would last for a very long time.
But you already know that, and you seem to be a mature, discerning woman. I say, live and let live!
You said you have friends who are into threesome sex. I suggest that you interview them. Find out why and how they do it. Learn from them.
And then, YOU decide. Should you decide to go with it, lay down your rules. Protect your sanity and happiness. Protect your relationship.
I want to shout out to other readers as well. Do you think Miss Delish should go into threesome sex with her boyfriend? What are the pros and the cons?
ADVERTISEMENT - CONTINUE READING BELOW
Dear readers, write please. Speak your mind.
Yours,
Xerex
Readers are invited to email Xerex at orig.xerex@gmail.com.

Load More Stories