10 Landmark Recordings That are Celebrating Their Anniversaries in 2014
Here's a list of debut albums by Yano, Rivermaya, and Hotdog, along with other seminal recordings that have aged well.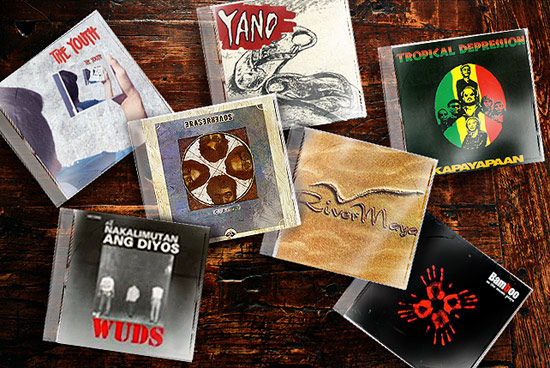 (SPOT.ph) Here's a list of landmark albums in OPM and Pinoy Rock that mark their anniversaries in 2014. Some are 10 years old by now, others are 20, and life begins for one 40-year-old recording in this roster. Time has given these albums a certain, yes, timelessness that is sure to draw listeners in generations to come. And these recordings sustain the diversity of contemporary Filipino music.
ADVERTISEMENT - CONTINUE READING BELOW
CONTINUE READING BELOW
Recommended Videos
10. The Youth - Album Na Walang Pamagat (1994)
It's doubtful that there's anything before The Youth's "Multo sa Paningin (Multong Bakla)" that dared to use the word bakla in its lyrics profusely and from a certain point of view. The playfulness of this grunge trio extends beyond the crass and pedestrian, as evidenced by their musical interpolation of Beethoven's Fur Elise in "Basura."
9. The Wuds - At Nakalimutan ang Diyos (1994)
ADVERTISEMENT - CONTINUE READING BELOW
This album by the triumvirate of Bobby Balingit, Alfred Guevara, and Aji Adriano was released right in the middle of the band explosion scene in the 1990s, finally giving them the exposure that they never received in the 1980s when they were known only in small underground punk scenes scattered across the Philippines. This album introduced the Wuds to a broader if still "alternative" audience. Their aggressive, raw sound and patriotic bent were a potent mix, as exemplified by such songs as "Bayan-Bayanan" and the title track.
8. Freestyle - Live (2004)
There was never any doubt that Freestyle was a competent band live, but the band decided to release this recording of their concert at the Araneta anyway, perhaps to fulfill a request either by the label or their massive following. This album will stand in time as the record that brought us a duet number that could challenge the ubiquity of "Christmas in Our Hearts" at karaoke bars: Tops Suzara and Pop Fernandez' reading of "Bakit Ngayon Ka Lang."
7. Bamboo - As the Music Plays (2004)
At the surface, the release of As the Music Plays seems to be important only because it marked the return of longtime Rivermaya vocalist Bamboo Mañalac to music, but more perceptive fans will remember this album as the great Rivermaya schism: by this time, Rico Blanco had essentially made Rivermaya his primary vehicle for his songcraft, while the other half of the original line up [Bamboo was joined by bassist Nathan Azarcon when the former returned] took a harder yet looser musical direction. It was only a matter of time before Mañalac and Blanco would pursue solo careers. Mark Escueta forged on with Rivermaya, while Azarcon continued to work with the remaining Bamboo members in his new outfit Hijo.
ADVERTISEMENT - CONTINUE READING BELOW
6. Hotdog - Unang Kagat (1974)
Hotdog's first LP is a landmark because of two things. First, its release heralded the forward march of Manila Sound in the '70s. Second, it contains "Ikaw ang Miss Universe ng Buhay Ko," Hotdog's paean to a love interest, written specifically for the Miss Universe competition held in Manila in 1974. The Philippines' Margie Moran was crowned that year as the most beautiful woman on earth, and whether judges were influenced by the magic of Hotdog's now-legendary song or the brutal micromanagement of the Marcos regime remains a curious point of inquiry.
5. Rivermaya - Rivermaya (1994)
Rivermaya's self-titled debut takes the honor among all the band's other records as the lone album that featured the original line-up assembled for Lizza Nakpil and Chito Rono's project band. Perf De Castro's stellar guitarwork on "214" still remains one of the most memorable guitar parts in OPM.
ADVERTISEMENT - CONTINUE READING BELOW
4. Radioactive Sago Project - Urban Gulaman (2004)
Sago's second outing saw the band taking a sharp turn in their musical direction, incorporating Afro-Latin and funk idioms into their writing and arrangements, leaving most of the bebop jazz flavors that characterize their debut. This aesthetic decision resulted in some of the more memorable Sago numbers, most notable of which is "Astro,"  whose video launched the career of Internet action star Ramon Bautista into the stratosphere.
3. Tropical Depression - Kapayapaan (1994)
Reggae had already made inroads into the Philippines by way of bands like Cocojam, but it was Tropical Depression's Kapayapaan that marks the point where reggae hit Philippine mainstream radio. The significance of Tropical Depression (fronted by the late great Papadom Gamboa, who passed away last year) may be likened to how Juan De La Cruz Band appropriated a foreign musical form and infused it with local sentiments expressed in the local language.
ADVERTISEMENT - CONTINUE READING BELOW
2. Eraserheads - Circus (1994)
Like all bands who deliver a solid debut, the Eraserheads was expected to deliver the goods for a second time. Circus is just as seminal as the legendary group's debut not only for the battery of songs that are now part of the OPM canon, but also for the strangely entertaining Punk Zappa stream-of-consciousness monologues by Marcus Adoro, a feat never before attempted in Filipino mainstream music.
1. Yano - Yano (1994)
To this day, Dong Abay's menacing falsettos on "Banal Na Aso, Santong Kabayo" remain one of the most memorable introductions in OPM. The rest of the band's debut, however, shouldn't be relegated as mere bit players:  "Senti" still stands as one of the most emotive and earnest love songs from any period, while the social critiques of "Esem" and "Kumusta Na" still reverberate in the collective consciousness of Filipinos as Dong Abay's piercing observations continue to be experienced today.
ADVERTISEMENT - CONTINUE READING BELOW
Marco Harder plays guitar for the Purplechickens, who will be releasing their third record 'Halang' this year.
Load More Stories