MOVIE REVIEW: The Amazing Spider-Man 2
Definitely more than just your average superhero movie.
(SPOT.ph) The first film of a franchise-the retelling of the origin-is almost always the most boring. We know who Peter Parker is, we know a spider bites him (duh, Spider-Man), and we know that with great power comes great happy endings. In the original trilogy with Tobey Maguire, the second one was the definite fan favorite-the characters have been established and the conflict is deeper. Aunt May and her attempt to get a toaster at a bank? Cue buckets of tears. If the cast and crew of the reboot felt like they had to work extra hard to do better than that to justify the franchise reset, they succeeded. Our cheeks were riverbeds by the end of the film.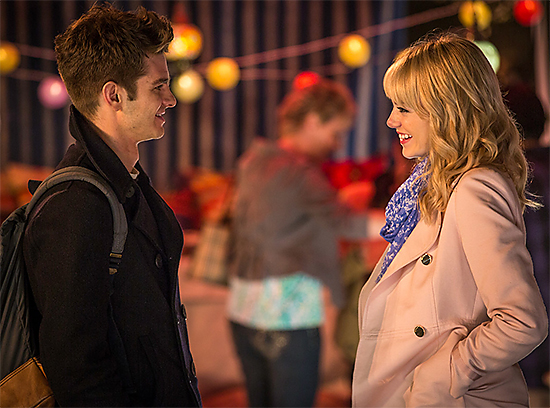 ADVERTISEMENT - CONTINUE READING BELOW
CONTINUE READING BELOW
Recommended Videos
Emma Stone is impeccably dressed throughout the film. Garfield wears spandex.
Pushing the story back to the Gwen Stacy (played by Emma Stone) days in Peter Parker's (Andrew Garfield) life is refreshing-even for...or maybe especially for older fans of the comics. Uncle Ben's wise words have been given the rest they deserve and there's very real tension in the story. We don't mean to spoil you or anything but let's just say that Peter was single when he met Mary Jane Watson. Stone brings such charm to Gwen Stacy, which establishes this feeling of dread as the film nears its conclusion. Why must you be so golden, Gwen? We admire your bravery-the scene where you tell Spider-Man/Peter that nobody makes decisions for you sends a powerful message to women everywhere-but you could have had some sense of self-preservation too. Oh well. Nothing's perfect...and the same can be said about the film.
ADVERTISEMENT - CONTINUE READING BELOW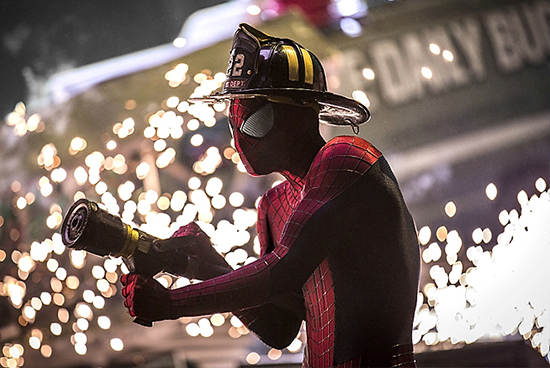 You have to love him for his sense of humor.
It's delightful to watch, particularly in parts were everything is in focus. The 3D works very well in certain scenes, but it forces a distracting blur in some shots. It's a shame that the film needed to throw in some "swag" moments (Peter Parker crossing the street with blatant disregard for traffic) and shaky-cam action sequences, because the plot is strong enough. Garfield as Spider-Man sets the tone immediately with banter between him and a random criminal-making a joke about never being late for dinner. Gwen Stacy's valedictory address elaborates on the importance of time. This is visually complemented by slowing down Spider-Man's people-saving antics. If his timing is off by just a fraction of a second, a fatal tragedy might occur. The climax in the clock tower, with the gears moving around and then falling apart, illustrates this fact with such cruel frankness.
ADVERTISEMENT - CONTINUE READING BELOW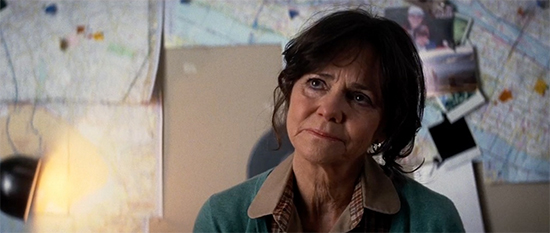 Sally Field as Aunt May. Give this woman another Oscar!
Maxwell Dillon (before he accidentally becomes Electro, played by Jamie Foxx) looks at Spider-Man with envy. In the depths of his loneliness, Spider-Man's life seems infinitely better because Spider-Man gets to be a hero. He gets to save people. Who wouldn't want that? But unlike Max, the audience is privy to Peter Parker's problems and how his decisions affect the people around him. Sally Field as Aunt May is so heartbreakingly human and beautiful in most of her scenes that you forget you're watching a film based on a comic book.
ADVERTISEMENT - CONTINUE READING BELOW
The new trio of screenwriters (Alex Kurtzman, Roberto Orci, and Jeff Pinkner) obviously had a clear vision of what Spider-Man means to fans. He's not quite the messiah that Superman is-he's just a dorky guy trying to be smart enough to do the right thing.
RATING: •••• 4 out 5 spots
Load More Stories