10 Movie and TV Restaurants We Wish Were Real
Not just so we could sample the fine-looking food, but also hang out with our favorite fictional characters-maybe except for Squidward.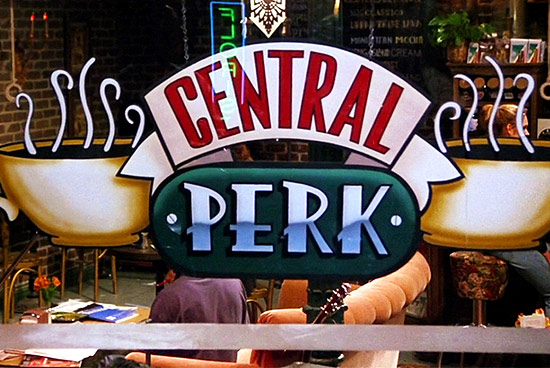 (SPOT.ph) Food places are often the heart and soul of certain movies and TV series. They're usually prime hang-out places or a major character's business. In an alternate universe, we'd be doing reviews of these restaurants featured in TV and film. Alas, we can only dream of what it would be like to taste a real Krabby Patty or to hang out on The Orange Couch.
This list is not ranked.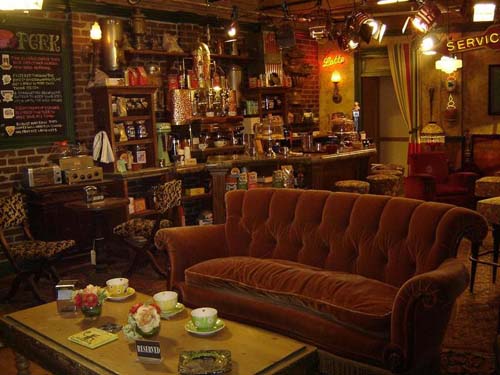 Photo from Friends Central
1. Central Perk (FRIENDS)
This coffee house bore witness to the characters' growth throughout the show's 10 seasons. Rachel (Jennifer Aniston) was a waitress at Central Perk at the beginning of the series and even Joey (Matt LeBlanc) was employed here at one point. The cafe-a jumble of small chairs and tables, varied artwork and lamps, and giant mugs-provided a cozy setting for the friends. It was their home away from home, their second HQ. There was, of course, the Orange Couch, which the group always occupied-even in the opening credits!
ADVERTISEMENT - CONTINUE READING BELOW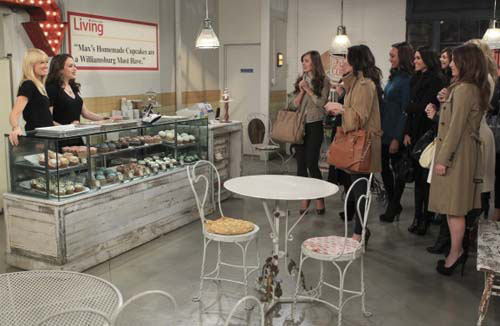 CONTINUE READING BELOW
Recommended Videos
Photo from 2 Broke Girls Wiki
2. Max's Homemade Cupcakes (2 Broke Girls)
Max's (Kat Dennings) delicious cupcakes began at the humble Williamsburg Diner, where she used to wait tables. But when she and Caroline (Beth Behrs) finally got the funds rolling in, Max's Homemade Cupcakes was no longer a dream. The Williamsburg cupcake joint makes some of the best in Brooklyn. We'd love to try some of Max's creations, which include The Chicken and Waffle Cupcake and The Beer Batter Maple Bacon Spring Break Cupcake. Unfortunately, the shop has recently been taken away from the girls and the future of Max's Homemade Cupcakes remains unknown...for now.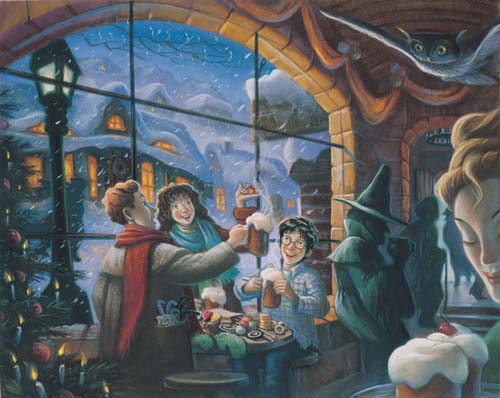 ADVERTISEMENT - CONTINUE READING BELOW
Art by Mary GrandPré
3. The Three Broomsticks (Harry Potter)
Hogsmeade Village is the only all-wizarding town in all of Britain and it houses some of the zaniest shops-a sweet shop called Honeydukes that sells blood lollipops and Zonko's Joke Shop that has nose-biting teacups. The village happens to be quite close to Hogwarts, which allows its students to visit the place a few times each year. Particularly during the winter months, everyone can be found at The Three Broomsticks, a pub known for a delicious concoction called Butterbeer. Many of us muggles have tried to recreate the drink, but we do wonder what the real thing tastes like.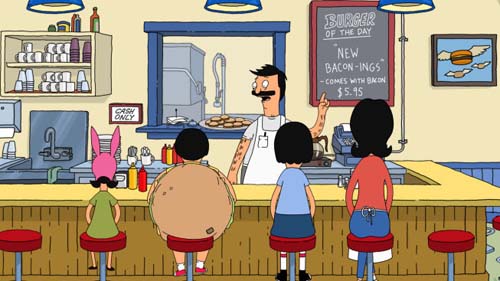 Screenshot from Bob's Burgers' Facebook page
4. Bob's Burgers (Bob's Burgers)
Bob Belcher and his family run Bob's Burgers, a somewhat successful (it's hardly packed, but hey, it's still open!) burger restaurant. One of the running gags in the show is the "burger of the day," which is displayed on the chalkboard and refers to a variety of puns and wordplay. Bob's burgers have actually been certified as delicious by more than one customer and it's clear that he likes to experiment with his cooking. The "Mission A-Corn-Plished Burger" comes with corn and salsa, while the "Shoot out at the Okra Corral Burger," "Girls Just Wanna Have Fennel Burger," and "Eggers Can't Be Cheesers Burgers" have hilarious enough names for us to want to try them out. We can't resist a good pun-and a good burger.
ADVERTISEMENT - CONTINUE READING BELOW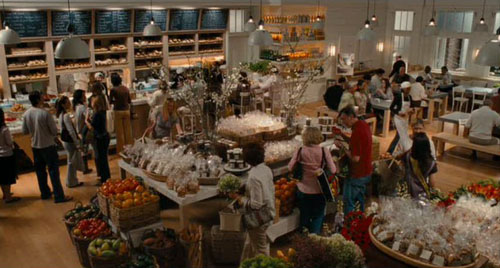 5. Jane's Bakery (It's Complicated)
Jane (Meryl Streep) is a successful bakery owner in Santa Barbara (fun fact: the actual location is in Brooklyn). The place is wide, welcoming, and pretty packed at times. Cupcakes, lemon tarts, macarons, muffins-Jane seems to have the magic touch when it comes to pastries. The movie shows us how the talented chef makes her famous chocolate croissants, a sweet moment she shares with her architect, Adam (Steve Martin). We'd sure love to try some of the croissants-and just be in the amazing Meryl Streep's presence.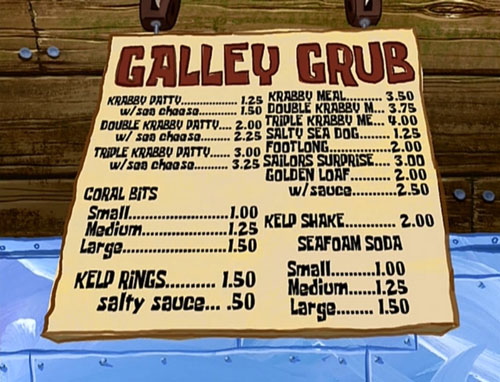 ADVERTISEMENT - CONTINUE READING BELOW
Screenshot from SpongeBob Wiki
6. Krusty Krab (SpongeBob Squarepants)
If you never craved burgers after a Krusty Krab-centric episode of SpongeBob, you're probably lying. Like Mr. Krabs' rival, Plankton, we want to know the great secret behind the Krabby Patty (the secret recipe is supposedly hidden under Mr. Krabs' mattress). It may just be a cartoon drawing (and set underwater), but we have to wonder what makes it so, so, so good that it made even the cynical Squidward eat an entire vault full of it.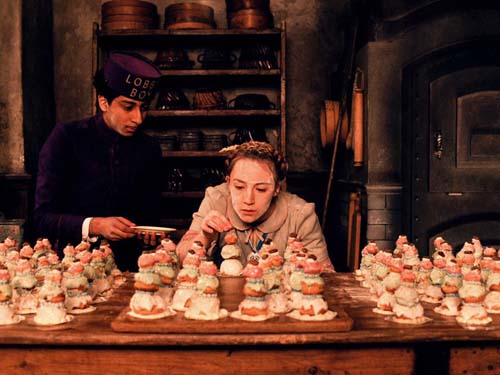 Photo from The Grand Budapest Hotel Facebook page
7. Mendl's (The Grand Budapest Hotel)
If you've seen Wes Anderson's latest movie, you may be familiar with the Courtesan au Chocolat exclusively made by the patisserie, Mendl's. The dessert is made up of three layers of pastry, drizzled in colorful icing-the kind of dessert that's just too pretty to eat. Anderson was kind enough to provide a video of how to make one's own Courtesan au Chocolat, but we're certain we couldn't execute it as perfectly as the fictional Agatha (Saoirse Ronan) does.
ADVERTISEMENT - CONTINUE READING BELOW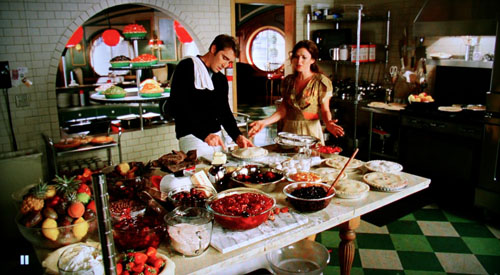 8. The Pie Hole (Pushing Daisies)
Murders, a consulting detective, scrumptiously plated food, a loner with a pet dog-no, we're not talking about Hannibal, although one man, Bryan Fuller is behind both TV series. Ned's (Lee Pace) Pie Hole (naturally, a circular restaurant with a pie crust-like roof) is the stuff of dessert dreams. With his special ability to bring the dead back to life, Ned buys old fruit cheap and with a touch, a rotting strawberry becomes the freshest in town. Olive (Kristen Chenoweth) is the restaurant's chipper waitress and her charm and sincere service alone would probably tempt us to give The Pie Hole five stars.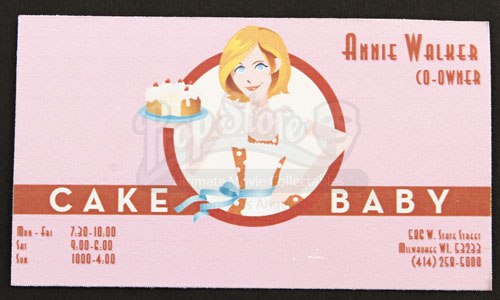 ADVERTISEMENT - CONTINUE READING BELOW
9. Cake Baby (Bridesmaids)
Annie Walker's (Kristen Wiig) dream of a bakery failed, but she never lost her love for baking. That scene where she creates a stunning little cupcake and, of course, that apology carrot cake, show us Annie's talent. We can only hope that with the movie's happy ending, Annie reopened Cake Baby and that she's too busy running the place, which is why Kristen Wiig said she won't appear in the potential sequel.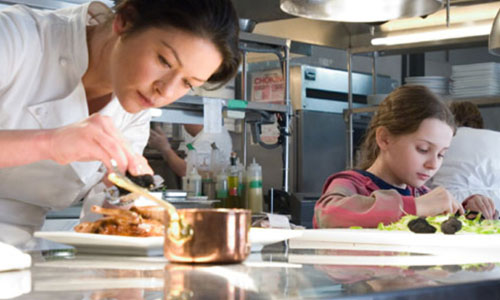 Screenshot from RogerEbert.com
10. 22 Bleecker Street Restaurant (No Reservations)
With a head chef as brilliant and intimidating as Kate Armstrong (Catherine Zeta-Jones), it's no surprise that (nearly) every dish at the trendy 22 Bleecker Street Restaurant is served perfectly. The kitchen quickly becomes chaotic when Nick (Aaron Eckhart) comes in as sous chef. Their two management styles contradict, but, of course, they're attracted to each other. The result is both of them leaving the restaurant and starting their own bistro. So whatever kind of dish those two geniuses can agree on must be good.
ADVERTISEMENT - CONTINUE READING BELOW
Special mentions:
Los Pollos Hermanos (Breaking Bad). The chicken looks yummy, but we couldn't endorse a business that secretly launders drug money.
Dorsia (American Psycho). Fine dining for Wall Street's craziest!
Jack Rabbit Slim's (Pulp Fiction). We want to know if that milkshake was worth $5.
The Double R Diner (Twin Peaks). This place apparently has the best cherry pie in the tri-state area and FBI Special Agent Dale Cooper (Kyle MacLachlan) says they have a damn fine cup of coffee (but he says that about nearly every cup he gets).
Joe's Pie Diner (Waitress). Sad, small-town waitress Jenna (Kerri Russell) makes baking a form of therapy and the results are incredible and inventive pies. The movie's ending is a happy one, with Jenna having a pie place of her own named after Lulu, her daughter. Sadly, the film's director and screenwriter, Adrienne Shelly (who also played one of the waitresses in the film), was killed in the course of a burglary at her New York apartment, and this circumstance gave this movie its poignant coda at the 2007 Sundance Film Festival.
Your guide to thriving in
this
strange new world.
Share this story with your friends!
---
Help us make Spot.ph better!
Take the short survey
Load More Stories