MOVIE REVIEW: The Other Woman
Gross-out humor and recycled material bog down this otherwise funny film
STORY: When principled Manhattan lawyer Carly (Cameron Diaz) discovers that her new boyfriend Mark (Nikolaj Coster-Waldau) is married, she quickly ends the relationship, not wanting to be a home wrecker. Oddly enough, she's then befriended by Mark's needy wife Kate (Leslie Mann), who uses Carly as her proverbial shoulder to cry on. But when the two gal pals discover that Mark is cheating on both of them with a bimbo bombshell named Amber (Kate Upton), Carly and Kate convince Amber to team up with them and teach Mark a costly lesson he'll never forget. The Other Woman is a female bonding comedy rated PG for sexual themes and repeated use of the f-word.
PLUSES
No superheroes in sight! Following after the heavy-handed, visual effects-studded heroics of Captain America: The Winter Soldier and The Amazing Spider-Man 2, a mischievous adult comedy about female empowerment is a welcome change of pace. And though The Other Woman doesn't come close to being a laugh-a-minute gagfest like Airplane or Dumb and Dumber, there are a few chuckles to be had in its 100 minutes. For those who are still in summer beach mode, the scenes filmed in the sun-kissed Bahamas are a bonus.
Leslie Mann as the friendless wife. Previously known (to me) primarily as the voice behind Linda, the human companion of Blu in the Rio movies, Leslie Mann is a revelation here as a woman so desperate for a gal pal that she befriends her husband's mistress. The Other Woman provides solid proof that Mann is as good with her pliable body as she is with her distinct voice, especially in her hilarious drunk scene. I was initially skeptical that the script could convince anyone that a wife would actually want to befriend her husband's mistress, but thanks to Mann's performance, the movie's most potentially problematic plot point turned out to be not a problem at all. As embodied by the gifted comedienne, Kate is believable and relatable. Also delightful is Mann's offbeat line delivery. A scene where she tries to defend her belief in feng shui and a later one where she tells Cameron Diaz to stay away from her hot brother (Taylor Kinney) are both gems of comic timing.
ADVERTISEMENT - CONTINUE READING BELOW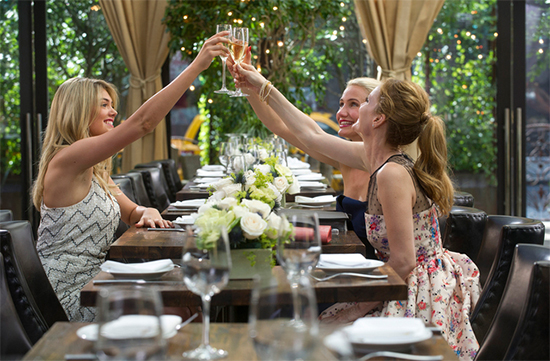 CONTINUE READING BELOW
Recommended Videos
Say no to catfights and make the cheater pay. Cheers!
MINUSES
The desperate use of gross-out humor. Ever since Cameron Diaz used Ben Stiller's ejaculate as hair gel in 1998's There's Something About Mary, the makers of icky comedies have been trying to up the yuck factor in subsequent movies. In the Oscar-nominated Bridesmaids, for example, there was that scene where the gals had a sudden diarrhea attack while shopping for wedding dresses. It was memorable because it marked the first time that women were the ones who fell prey to the runs. In 1994's Dumb & Dumber, it was Jim Carrey who gave Jeff Daniels instant LBM in a pill. And what gross-out gags did the geniuses behind The Other Woman come up with? You guessed it...yet another sudden diarrhea attack! This time, though, the victim is a guy again, played by Game of Thrones heavy Nikolaj Coster-Waldau. Oh, and there's also a "pioneering" shot where a dog is actually shown pooping in Cameron Diaz's classy apartment. If the filmmakers wanted an icky gag that would've enshrined The Other Woman in the gross-out comedy hall of fame, they could've just gone all the way with a subplot that had Kate giving Mark female hormones without his knowing it. The movie mines a few chuckles when Mark complains that his breasts are becoming more pointy, but we're never shown the outcome of the "shrinking genitals" side-effect that his wife also wanted to trigger. It's a gag that could've been a home run, but the filmmakers only took it to first base.
ADVERTISEMENT - CONTINUE READING BELOW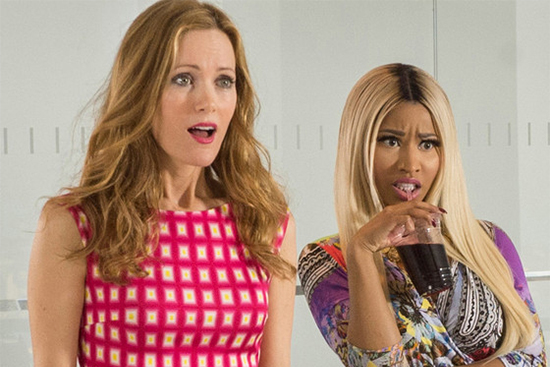 The plus and the minus, all in one frame
The one-note, one-gag supporting cast. Though Nicki Minaj earns a big laugh from a wise observation she makes about selfish people, she and the movie's other supporting actors-Don Johnson and Taylor Kinney-don't bring much else to the picture aside from one-dimensional characterizations. Minaj is simply the sassy secretary (she works for Cameron Diaz's Carly) while Johnson and Kinney are merely in the script to play deus ex machinas who will rescue two women from loneliness by the time the end credits roll.
The philanderer's excessively bloody comeuppance. Since The Other Woman was packaged in its trailer as a harmless, lighthearted comedy, I was quite taken aback by the bloody accident which befalls Mark at the end. The filmmakers probably thought that a mean and violent comeuppance would give their movie that darker, mean-spirited Hangover vibe which was so popular a few years back. All this did, though, was confirm that neither scriptwriter Melissa Stack nor director Nick Cassavetes had any truly original ideas to enliven the film with.
ADVERTISEMENT - CONTINUE READING BELOW
IN BRIEF: The movie's title aside, the best reason to see this gal pal comedy isn't the other woman played by Cameron Diaz, but the wife, played by the hilarious Leslie Mann. That said, the movie could've been even funnier if it had a more consistent tone and didn't rely on gross-out humor, clichéd characters, and recycled situations.
RATING: ••. 2½ spot out of 5
Share this story with your friends!
---
Help us make Spot.ph better!
Take the short survey
Load More Stories