Retro Review: Working Girls
Ishmael Bernal's corporate dramedy from 1984, featuring a vibrant cast led by Hilda Koronel, still has much to say that's relevant to our work environment today.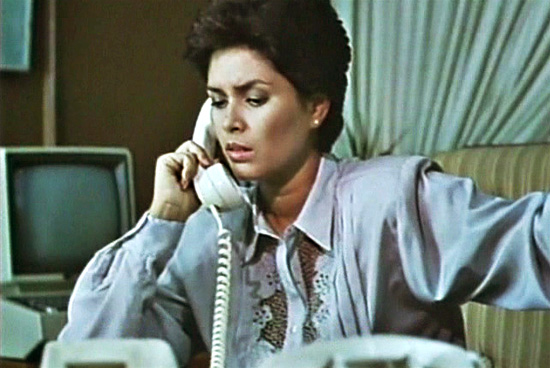 Hilda Koronel as bank executive Carla Asunction. All images and footages from the Working Girls DVD (Ishmael Bernal, 1984; Viva Films, 2010)
(SPOT.ph) This year marks the 30th anniversary of Ishmael Bernal's landmark dramedy, Working Girls. It's a pioneering movie because of its rare spotlight on the corporate milieu, even outdistancing Hollywood by a few years. (Working Girls came out before Oliver Stone's Wall Street and Mike Nichols' Working Girl. ) It's also notable for being written by the late great Amado Lacuesta, an old-timer in Makati business before he embarked on his other distinguished career as a screenwriter.
Viewers seeing this film for the first time may relate to Working Girls because it still has a lot to say about today's work scene. It's also a very sexy movie, and another notable entry in Viva's growing production by this time. Here are 10 highlights of Working Girls.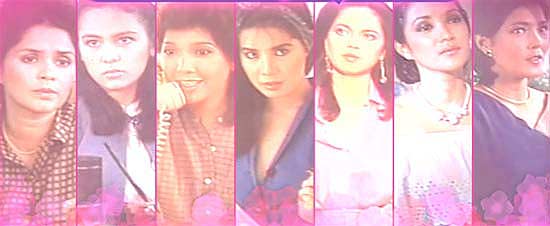 A large ensemble portrays seven distinct, fascinating stories.
ADVERTISEMENT - CONTINUE READING BELOW
1. The working girls, of course.
The movie's lead stars are (in order of credit appearance) Hilda Koronel, Rio Locsin, Chanda Romero, Carmi Martin, Maria Isabel Lopez, Baby Delgado, and Gina Pareño. Seven distinct stories (or subplots) unfold from this big enough ensemble, and here the film shows its chief strength-its surefooted narrative. Hilda Koronel, as bank executive Carla Asuncion, represents the ultimate career woman among this group. The other actresses perform their variations on the working-girl template-with the story of a debt-ridden secretary (Maria Isabel Lopez) forced to moonlight as a call girl being the most touching. But none of these characters represents the so-called corporate bitch, to whom the only match would be the office maldita, another missing stereotype. Their absence suggests how different the office culture must have been before the advent of the Internet, which revved up the corporate environment into the frantic world it is today. (That milieu is the subject of Jose Javier Reyes' 2010 update of the Bernal film, using the same title.)
CONTINUE READING BELOW
Recommended Videos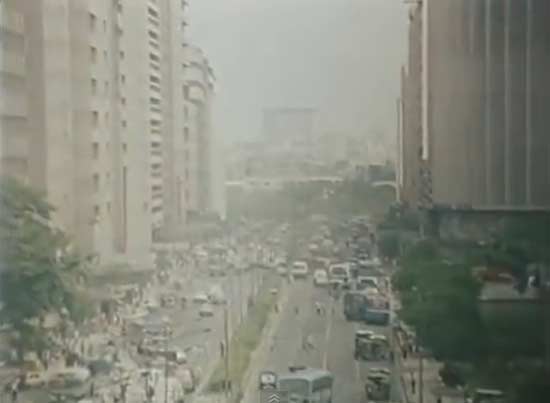 ADVERTISEMENT - CONTINUE READING BELOW
Makati as financial center when this film was released in 1984 (during a financial crisis).
2. The film as social portrait of Makati
Before the BGC and the Tektite trading floor, Makati was the center of this country's corporate universe-the former rice field where Big Business relocated from the Escolta, starting in the '60s. This is the scene examined by Lacuesta's script-one that must look very good on paper because it plays a lot with language. (Lacuesta is the father of multiawarded fictionist Angelo Lacuesta.) More important, Working Girls presents a comprehensive picture of Makati business: from the cocktail banter, to the office gossip in the cafeteria, to the backbiting and politesse in the boardroom. The film's main backdrop (a bad loan leading to a bank run) also reflected the raging public issues at the time. 1984 was a historic nadir in Philippine finance-when the banking sector was caught in a crisis following the collapse of a major bank, aggravated further by the backlash to the Aquino assassination.
3. Lust in the office
The office satyr is represented in this film by Tommy Abuel's playboy executive, Raul, who pursues women, no matter where they stand in the corporate triangle. Here he is, now indulging in lusty office talk with fellow executive Amanda de Luna (played by Baby Delgado), after his recent conquest of Carla's secretary Isabel Rosales (Rio Locsin). Raul would find his comeuppance-and counterpart-in the person of the social-climbing alahera Nimfa (played with gusto by Gina Pareño).
ADVERTISEMENT - CONTINUE READING BELOW
4. This is a Carmi Martin movie.
Carla Asuncion's story may be the main thread of this narrative, but it is Carmi Martin, as the office flirt Suzanne Galang, who steals this film. That kembot scene with the great character actor Raoul Aragon (40 seconds into the video) was something she might have improvised on the spot. And her "Sabel, I'm in love!" moment of lunacy is a fondly remembered caprice in Philippine cinema, included in SPOT.ph's  50 Famous Lines from Pinoy Movies.
5. "I only wish your husband were not your husband."
Perhaps it was in the '80s that the Pinoy melodrama became more sophisticated in its Taglish rhythm, and this business-with-flirting dinner scene-featuring the suave Robert Arevalo and the velvet-voiced Chanda Romero-qualifies as a blueprint for those polished teleseryes currently showing like The Legal Wife.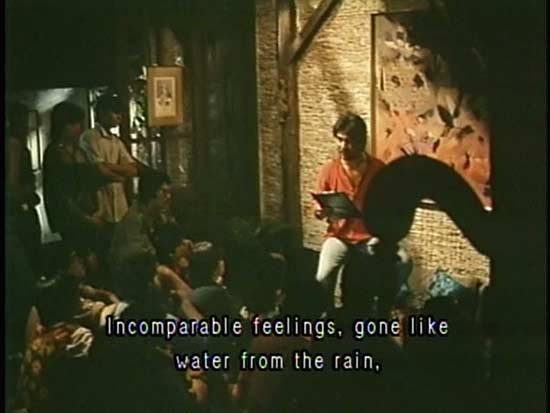 Roy Alvarez as the boyfriend of Hilda Koronel's character reads a cheeky poem.
ADVERTISEMENT - CONTINUE READING BELOW
6. A poetry reading in a film about Big Business?
"Sa isang paghihintay na ang tanging taluktok ay katuparang pagkabigo, dumating, parang hanging baliw-walang pinanggalingan, walang patutunguhan. Naglahong parang bulang tubig, 'sing ganda, 'sing kinang, 'sing rupok." Whew. Ever wonder what Bernal and Lacuesta were smoking, so as to be inspired to make Carla's boyfriend a poet, of all things? We mean that as a compliment, because this all works beautifully, more so with the late great Roy Alvarez as the boyfriend. And, yes, there are actual relationships between artists and corporate people. But some don't last, as the next entry shows.
7. "Life is not a poem, it's a race!"
A quotable-quote moment between Hilda Koronel and Roy Alvarez. We'll let this scene do the talking.
8. ¿Habla español?
Spanish-speaking characters in Philippine cinema are usually depicted as predictable stereotypes-haughty, disdainful, and matapobre. But Working Girls embraces that trite context and lifts it to greater heights. Somebody please tell us who among Baby Delgado's "friends" in the cast (was it Pinky Arambulo, Vicky Suba, or Susan Katigbak?) did the ¿Habla español? Small but sharp moments like this deserve their due credit.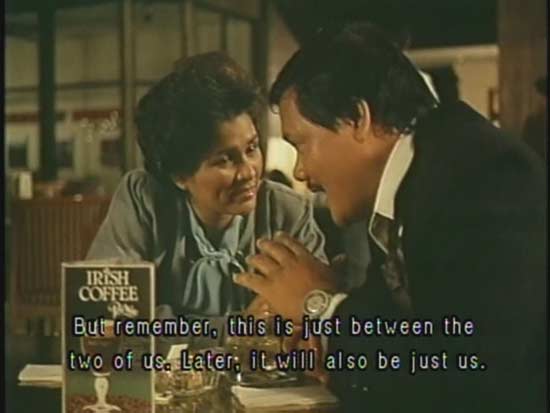 ADVERTISEMENT - CONTINUE READING BELOW
The renowned baritone Gamaliel Viray in one of his character roles in Philippine cinema.
9. Carla's coup de théâtre.
Pardon the fancy term, but that's what Carla pulls off on two occasions in this movie, wielding any given situation against her to her own advantage. Upon learning that her secretary Isabel has been left high and dry by the rakish Raul, she proceeds with dispatch to turn the tables on her associate, crossing over to his room and rendering justice in about as little a time it takes to send out a memo. In another scene, Carla agrees on a night-out with a lecherous client, aiming to fish some information from him, which she manages in the course of getting him drunk as, well, a fish. This career woman can be a corporate shark in financial and other matters.
10. Isabel upholds her dignity.
The most vulnerable character among the working girls, Isabel is often taunted for her unwanted pregnancy by a group of sexist office loafers (among them, a very young Cesar Montano). Eventually she learns strength from her boss Carla and applies this lesson in the office canteen.
Share this story with your friends!
---
Help us make Spot.ph better!
Take the short survey
Load More Stories