Top 10 LSS-inducing Film Scores
Jaws, Psycho, the Star Wars Imperial March: Some scores are too great for our comfort. Here's our dreaded list of last-score syndrome.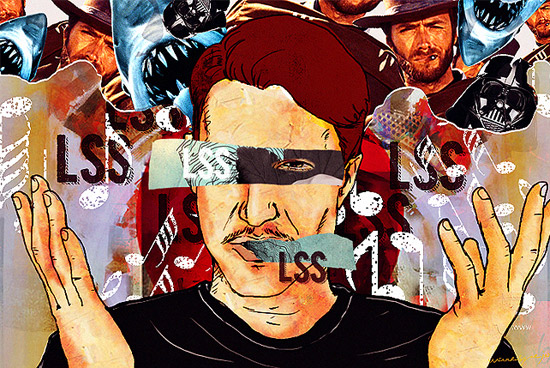 (SPOT.ph) We know how music sets the tone of a film and makes quite an impact on the impression that a movie leaves us. But some scores are just too powerful. Blame that on the geniuses behind the music. We wish we never heard them, because they keep playing in our heads. Enough, enough! Stop it already! Here are our top 10 LSS-inducing film scores.
10. Theme from Beverly Hills Cop (1984) (Music by Harold Faltermeyer)
It's Friday night and you're about to walk out of the office? Even Pangkat Kawayan couldn't resist playing this tune during Obama's arrival in Malacañang.
9. Theme from Rocky (1976) (Music by Bill Conti)
Your call time is 10:00 and you get there at 9:59? Nananaaa. Nananaaa. The ball of receipt you chucked at the bin goes in? Nananaaa. Nananaaa.
8. Theme from The Pink Panther (1963) (Music by Henry Mancini)
Sneaking into class while the professor isn't looking? Climbing over the fence because it's past curfew? Sneaking a glance at the text the person beside you is sending? Duruduru!
7. Theme from Raiders of the Lost Ark (1981) (Music by John Williams)
Rushing to make it to the elevator to get to work on time? Cue music! We tried our best to exclude him but the great John Williams is one composer that keeps blowing our minds-and keeps reappearing in this list like one of his motifs.
6. Theme from Dr. No (1962) (Music by Monty Norman)
ADVERTISEMENT - CONTINUE READING BELOW
Making a beeline for the bathroom because of unforeseen digestive troubles? Trying to make quick and discreet exit after you've done the deed? Daran! Daran! (For a zanier take on James Bond, check out this version by Naked City.)
5. Main Title from 2001: A Space Odyssey (1968)
You were checking out someone else and you turn to see your significant other? TANAN! You're chatting with someone on Facebook and your boss walk by and sees it? TANAN! You thought you farted but something else came out? TANAN!
4. The Imperial March from Star Wars Episode V: The Empire Strikes Back (1980) (Music by John Williams)
Perfect for moments where you feel a surge of power! You're about to break up with the most insensitive jerk you've ever dated? Tan-tan-tan-tan-TA-TAN-tan-ta-TAN! You're a teacher who's just about to give their students the hardest exam they will ever take? Tan-tan-tan-tan-TA-TAN-tan-ta-TAN! Wanna see a Stormtrooper play the piano? (Check out this video.)
3. Theme from The Good, The Bad and The Ugly (1966) (Music by Ennio Morricone)
You see your boyfriend trying to reach for the last fry? It's on.
2. Theme from Jaws (1975) (Music by John Williams)
You're on a bus and you're feeling for your wallet because the conductor is asking you to pay the fare...and it's nowhere to be found. Dundundundundundun.
1. Theme from Psycho (1960) (Music by Bernard Herrmann)
Hello, moments of dread! You doze off during a commute and wake up miles away from your stop? Eek-eek-eek-eek-eek! Your boss doesn't get the punch line to your joke and it just sounds offensive? Eek-eek-eek-eek-eek! You pick up a drink and take a sip but you realize it's not yours? You get the idea. It's actually a pretty score if you check out the BBC Concert Orchestra.
CONTINUE READING BELOW
Recommended Videos
Share this story with your friends!
---
Help us make Spot.ph better!
Take the short survey
Load More Stories