Retro Review: Batch '81
Mike de Leon's unflinching look at fraternities remains a powerful film, and features Mark Gil in his iconic role as the fanatic neophyte Sid Lucero.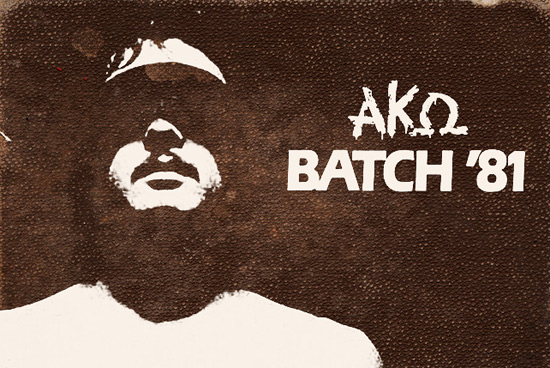 (SPOT.ph) Mike de Leon's Batch '81 immediately sparked controversy and debate upon its release in 1982. The fascination has remained and so has this movie's following; it even has a Facebook page. Yet there has never been a more open condemnation of the fraternity world than this film which drew such a repelled fascination because of its subject. In recent years, this milieu has figured prominently in the news. (Check out this GMA report.) But Batch '81 also goes beyond its story, as this list will explain. And time has been kind to this landmark in Philippine cinema. Here are 10 highlights of Batch '81.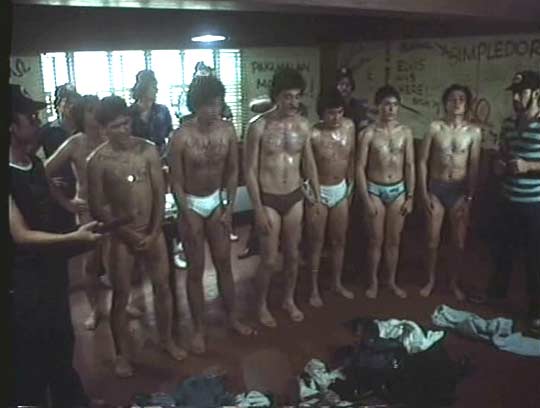 The neophytes of Alpha Kappa Omega. All images and videos from the Batch '81 DVD (MVP Pictures, 1982)
1. The recruits
The most surprising thing about the neophytes of this movie's fraternity, Alpha Kappa Omega, is that none of them look like tough guys. No Ace Vergel or Robin Padilla here-only meek-looking, fidgety types as portrayed by the likes of Noel Trinidad, whom their "masters" describe as "punggok." True enough, their initiation emasculates them at a crucial time in their evolving manhood. The film doesn't have to articulate why they chose this path, because we all understand our impulse to stand out by associating ourselves with any select faction. But by doing so, we actually choose, not individuality, but conformity-and this insight is among the many rich ironies about Batch '81.
ADVERTISEMENT - CONTINUE READING BELOW
2. The systematic indignity
If you look past its powerful subject, Batch '81 has a conventional narrative structure and it proceeds almost like a storybook. But this structure suggests the rigid, prison-like world which the recruits of Alpha Kappa Omega now find themselves in-as they endure the systematic humiliation of hazing as depicted in this film. One of them has lunch at the school canteen, and soon he's joined by his masters who spoil his lunch with their antics. Then there's that beer-drinking session that's so gross it could make you a teetotaler after watching it. Make no mistake. This film is openly hostile to the world it depicts, presenting fraternities as campus-style fascism.
CONTINUE READING BELOW
Recommended Videos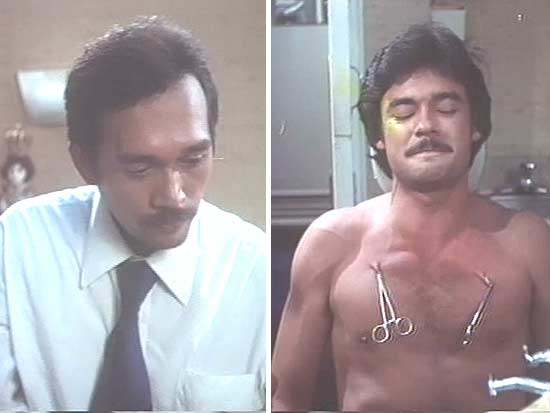 Johnny Delgado in a cameo role as the frat doctor, unmindful of the Sto. Niño behind him, gives Mark Gil a physical.
3. Johnny Delgado
Batch '81 features some established actors in very striking cameo roles-among them, Charito Solis, Armida Siguion-Reyna, and Chanda Romero. Our favorite is Johnny Delgado as the frat doctor-cum-torturer-a bit part in which the late great actor conveyed his unique aura of menace.
ADVERTISEMENT - CONTINUE READING BELOW
4. The shadow of A Clockwork Orange
If there's one thing that some might criticize about Batch '81, it is the movie's taking off from the style of A Clockwork Orange. But this nitpicking is very conventional, because any creative process is valid. A Clockwork Orange is, of course, Stanley Kubrick's 1971 adaptation of the classic Anthony Burgess novel about an ultraviolent dystopia. That film is internationally renowned, so one admires de Leon's confidence in presenting his work in Cannes where it was showcased in the prestigious festival's Directors Fortnight.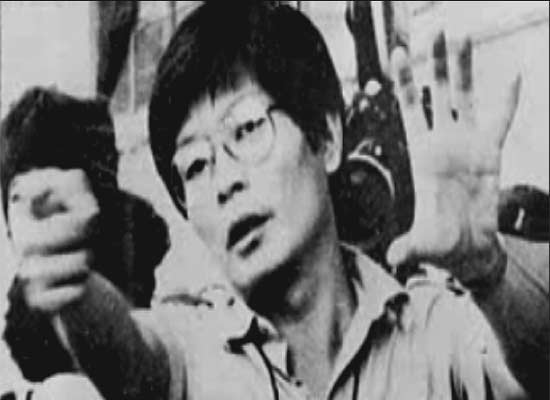 Mike de Leon brought the legacy of his family's LVN Pictures to a different direction.
5.  The director
He will surely deride this compliment, but Mike de Leon is one of the true geniuses of Philippine cinema. From his tropical gothic masterpiece Itim, to his revisionist musical Kakabakaba Ka Ba?, to Bayaning Third World, his ambivalent study on Rizal, de Leon remains widely admired as a visionary, with a distinct identity in any genre that he tackled during his heyday. Released consecutively between 1981 and 1984, Kisapmata, Batch '81, and Sister Stella L. make up an expressive trilogy on violence and tyranny. And then there are his pop romances-Kung Mangarap Ka't Magising (check out Spot.ph's retro review) and Hindi Nahahati ang Langit- which show his artistry when relaxed.
ADVERTISEMENT - CONTINUE READING BELOW
6. The "electric" interview
Another scene that makes Batch '81 a masterpiece-and a clear allegory on the time when it was made: the martial-law era. The film was even bold enough to reference that milieu and have no less than Juan Ponce Enrile's brother-the impeccable character actor Chito Ponce-Enrile-do the referencing. (Juan Ponce Enrile, whose latest chapter in his already storied career is the Napoles scandal, was the martial-law administrator in the early '70s until his authority began to be usurped by his rivals in Ferdinand Marcos' inner circle.) That this torture-interview was staged and had to involve a father and son all the more highlights the folly of fascism in any form.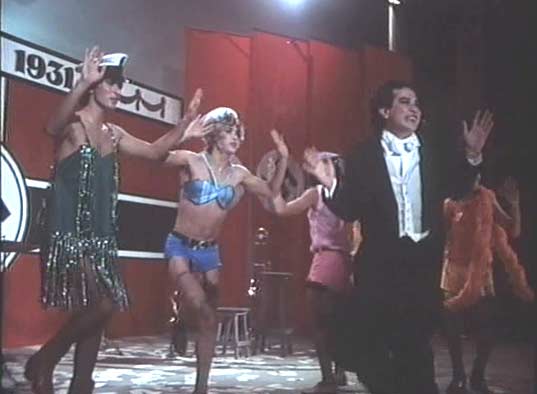 The neophytes of Alpha Kappa Omega go drag in a school presentation.
7. A decadent musical
Batch '81 is set in a university, so at some point the characters do a school presentation. But even without that context, de Leon would have probably insisted on a musical number here anyway. It's so out of place-and all the more reason for it, as the rival fraternities of AKΩ and ΣOΣ riff on songs from Bob Fosse's decadent musical Cabaret. Batch '81 was also probably referencing another decadent classic, Luchino Visconti's The Damned. This entire sequence shows how thin the line between the macho and the transsexual.
ADVERTISEMENT - CONTINUE READING BELOW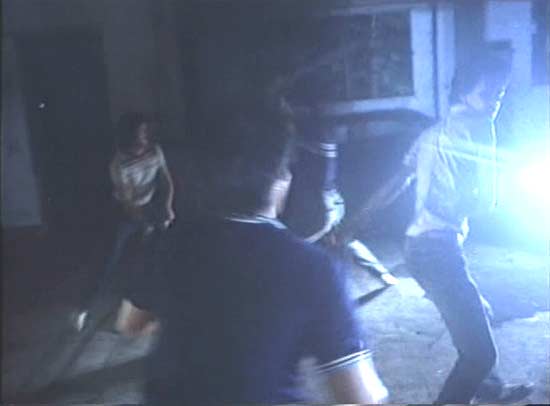 Basagan ng ulo in this film's most harrowing scene
8. The  "rambol"
Perhaps the most elegantly choreographed basagan ng ulo moment in our movies-and, yes, this film's most harrowing scene. There's nothing more that anyone can say except to point out that they were wielding butcher's knives, lead pipes, and iron chains against each other.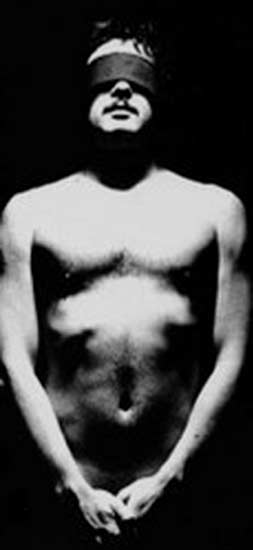 ADVERTISEMENT - CONTINUE READING BELOW
Mark Gil as the iconic frat neophyte Sid Lucero
9.  This is a Mark Gil movie.
With Batch '81, Mike de Leon found his Raoul Aragon (Lino Brocka's great character actor) in the person of Mark Gil, who turned in an eloquent and poetic performance as a fanatic committed to a misguided cause. Gil's character Sid Lucero has become one of the most iconic in our cinema. (His son, Tim Eigenmann, would later adopt "Sid Lucero" as his screen name.)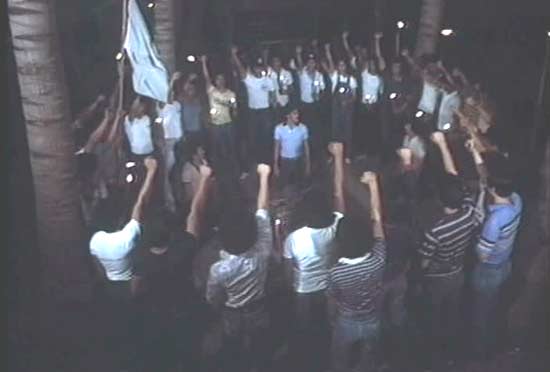 A flash of fascist imagery as the neophytes become masters
10. "Brods na kami. Masters na kami."
The film's conclusion is one of the saddest triumphs in movie storytelling. After a brutal fallout, the remaining recruits are officially inducted as masters and so complete their transformation. This scene is rich with symbolism. The chanting alone resembles a fascist anthem and echoes the New Society theme of the Marcos dictatorship, which was four years away from its downfall when this film was released.
ADVERTISEMENT - CONTINUE READING BELOW
Share this story with your friends!
---
Help us make Spot.ph better!
Take the short survey
Load More Stories