Top 10 Video Game Music Themes
From Final Fantasy's piano versions to Bioshock's suspenseful tracks, these music scores serve to provide the art in digital games.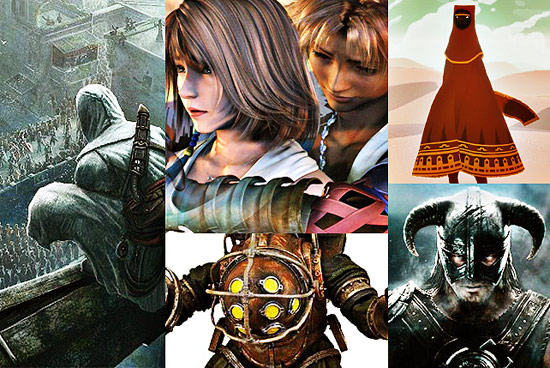 (SPOT.ph) Videogames have made your frantic hands sweat for hundreds of hours battling that annoying stage boss, most of us immersed past midnight when we should've been studying for our preliminaries. Don't worry, no one's judging. Game developers had long since amped their forerunners with intense gameplay and impeccable graphics to woo the fastidious and hectic gaming community. Let's refrain from criticizing the gameplay itself and stick to just the background audio.
Music composers have bled to masterfully create and immortalize tracks onto these games, and if you haven't played a Skyrim OST (Original Soundtrack) while doing practically anything, then Fus-Roh-Damn!
10. Castlevania: Symphony Of The Night
With this Konami 1986 original platform game, you get to play vampire hunter Simon Belmont, wading your way through Dracula's castle to vanquish its evil resident. This soundtrack conveys the unknown darkness that the player is engulfed in. But "Nocturne" (tenth on the playlist) is a finely placed relaxing hiatus for the overall action-themed audio, all created by Michiru Yamane.
9. The Legend of Zelda: Ocarina Of Time
This soundtrack composed by Koji Kundo is inlaid with soothing wind instruments and the weariness of adventure. If you missed playing Link but are fed up with searching for Princess Zelda (Mario feels you), then sit back and listen to this soundtrack that, most often than not, was muffled by your mom telling you for the third time to go downstairs and eat dinner. Thank you, Nintendo.
ADVERTISEMENT - CONTINUE READING BELOW
8. Bioshock
Chaos and fear never waltzed in as magnificently as this. Playing as Jack, whose plane crashes in the Atlantic Ocean, you trudge within the once utopian city of Rapture deep underwater, battling robotic monstrosities "Big Daddies" and finding "Little Sisters" to unlock answers in its recent history before you drown in your own blood. Garry Schyman's composition keeps the dust afloat and the suspense even stiller still as his daunting soundtrack stresses your instincts to the core, preferably tapping your grace under pressure (you're underwater anyway). Welcome to the Circle of Value! Listen to this soundtrack before an important event if you like it better in hard mode.
CONTINUE READING BELOW
Recommended Videos
7. Chrono Cross
Those who've played this seed of Square Enix before probably heard of parallel worlds even before they finished science in elementary school. Here you get to play Serge, the protagonist, in his endeavor to discover truths behind the alternate reality where he died as a child. The music's calming lather is pitted against solid adventure tracks whose dance in the fray unearths a balanced soundtrack; such is the brilliance of Yasunori Matsunada, the game's main composer. "Time's Scar" perfectly resembles the equanimity as the slow tune picks up pace toward its battling feel. Best of both worlds. Unfortunately, Serge isn't.
6. Kingdom Hearts
Who said Disney characters are the only ones that can pitch in good music? The main composer, Yoko Shimomura, together with Kaoru Wada who wrote the orchestral music (performed by the New Japan Philharmonic Orchestra and Tokyo Philharmonic Orchestra) will have you begging to differ. This lovechild of Disney Interactive Studios and Square Enix presents the crossovers of various Disney settings with an epic combative feature. Anyone who would think this action-packed cartoon ambiance fails in deeper emotions will find that they're completely wrong. The longer you play, the farther the attachment sinks in. "Treasured Memories" fully defines that atmosphere.
ADVERTISEMENT - CONTINUE READING BELOW
5. Assassin's Creed
Set in the Third Crusade of 1191, this era is captured in the musical artistry of Jesper Kyd, the game's composer. Ubisoft went through a line of composers before selecting him. He accepted the thrill of melding the past and the future into one godly harmony, and fortunately, his dagger was spot on. The undulating billow of stealth and the gruesome spill of medieval warfare circle carefully throughout this soundtrack like a seasoned assassin. Much like Altair, you'll find that listening track after track is as exhilirating as picking off the lives from templar to templar.
4. Super Mario Bros.

We can't talk about gaming scores and omit this now-classic theme by Koji Kondo, which can be called iconic if the Super Mario Bros. theme were an image. Like all great things, this theme is simple and easily lodged in one's memory. That makes the back story about the challenge behind composing this music all the more intriguing. It's also an inspired bit that Kondo, working with Mario Bros. director Shigeru Miyamoto, went exploring on the other side of the globe, the rhythms of the Western hemisphere. That shows how adaptable Japanese creativity can get, and the result is a franchise that now stands as a pillar in global pop culture.
3. Journey
Nothing comes close to inducing your imagination with sound alone than this indie game with its spectacular scenic imagery. The game's composer, Austin Wintory, definitely succeeds in forming this eargasmic journey for us, with natural sounds like low bellows of wind and the white noise of gushing waterfalls timed beautifully with vivid string and wind accompaniments.
ADVERTISEMENT - CONTINUE READING BELOW
2. Elder Scrolls: Skyrim
This is one of the more refined works from the previous Elder Scrolls series, by none other than the composer of Skyrim. Jeremy Soule worked on this music for the franchise's Morrowind and Oblivion. The main opening theme, "Dragonborn," was sung by a choir of 30 for the game's "Dragon Language." Now that's love for the craft. The adrenaline-pumped audio proudly exclaims the boldness of every battle-cried note. Listening to this in any commute transforms your mode of transport into a legendary dragon. The summer heat feels like dragonfire already.
1. Final Fantasy X
Where do we even begin with this one? Another wondrous gift by Square Enix to their players. Unlike its "unsequeled" brother, Chrono Cross, this long trailblazing phenom heralded the names of Cloud (FFVIII), Squall (FFVII), the tear-jerking relationship of Tidus and Yuna's (FFX) and more, to players' bloated hearts. Bless its miraculous composer Nobuo Uematsu, along with other excellent composers such as Junya Nakano and Masashi Hamauzu who ushered in the timeless soundtrack to glory. One can sense their distinct spectrums of music styles, which cement their collective genius. They even go the extra mile and offer piano versions (such as this track) that are simply heavenly. Promise us you'll sit in a quiet place and just press play in, not just one, but all their piano albums.
Share this story with your friends!
---
Help us make Spot.ph better!
Take the short survey
Load More Stories