Top 10 Lino Brocka Film Actors
On the occasion of his death anniversary, a list celebrating the great director's vision and the actors who brought it to life-among them, Bembol Roco, Hilda Koronel, and Nora Aunor.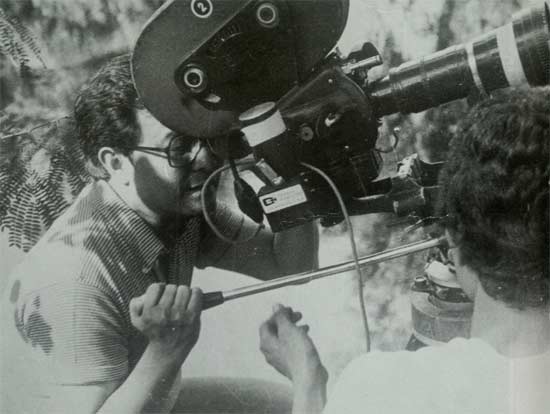 Lino Brocka behind the camera. All photos, except as otherwise indicated, from The Urian Anthology: 1970-1979
(SPOT.ph) There's an independent film called Anak ni Brocka, and there's a group of film directors who have a sideline band called The Brockas, because they fancy themselves as Lino Brocka's children. One can say the same thing about the entire film community today. It's one big family reared by the legacy of the late great film and stage director, whose social-realist films and high melodramas remain a standard for excellence in Philippine cinema.
To commemorate the anniversary of his death (May 21, 1991), we veer from the usual listing of Brocka's classic films (you can find any such list all over the Internet) and instead take a look at his "stock actors," the common term for any actor often tapped by the same director. Brocka was, after all, known as "an actor's director," being more mindful about the performances of his actors than on the film techniques of his crew. After all, great acting is a spectacle all by itself. Here's our Top 10 list of actors who helped realize Lino Brocka's cinematic vision.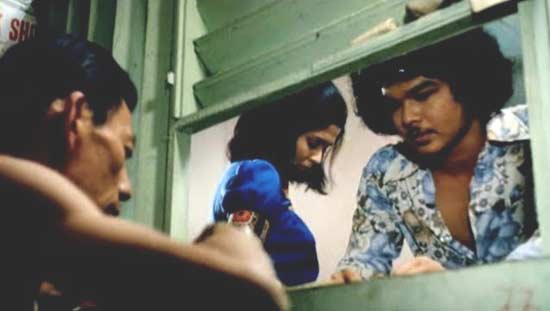 ADVERTISEMENT - CONTINUE READING BELOW
Rez Cortez, together with Hilda Koronel, in Insiang. Still from the 1976 film
10. Rez Cortez
Rez Cortez was never a lead in any of Lino Brocka's films. However, whenever he was cast, he would always be a memorable presence. Cortez has the looks of an everyday goon, especially with his rough face, unkempt curls, and facial hair. In Insiang, he became Hilda Koronel's only hope, who betrays her eventually, turning Koronel into a monster. He again torments Koronel in Angela Markado, wherein he meets a very well-deserved fate at the hands of his victim. He plays similar roles in Kontrobersyal and Kislap sa Dilim. Without Cortez in Brocka's career, Brocka wouldn't have the perfect face to represent everything palpably wrong in society.
9. Raoul Aragon
In the four or five movies that he made with Lino Brocka, Raoul Aragon established himself as one of the greatest character actors of his generation. It was probably because of his surly-looking eyes that he was often typecast as a villain-the anti-Jay Ilagan (yet another Brocka protégé). Aragon played his villain role with relish. In Ina, Kapatid, Anak, he was the devil masquerading as a drifter who seduces adolescent Rio Locsin (check out 9:27 of the video above). But there was also something deeply vulnerable in Raoul Aragon's villains, especially the desperate burglar-for-hire Lando in Kapit sa Patalim. Brocka played with this persona a lot. In the vengeance thriller Angela Markado, he put Raoul Aragon on the side of the law, for a change-and the actor's aura was so mismatched with the part that it became perfect. Brocka brought that inspired miscasting to the hilt with Ina Ka ng Anak Mo. Here, Aragon portrayed with such sensitivity his anguished character, as a loving husband to wife Nora Aunor, who destroys his marriage after a night of infidelity with his mother-in-law (Lolita Rodriguez), of all people.
CONTINUE READING BELOW
Recommended Videos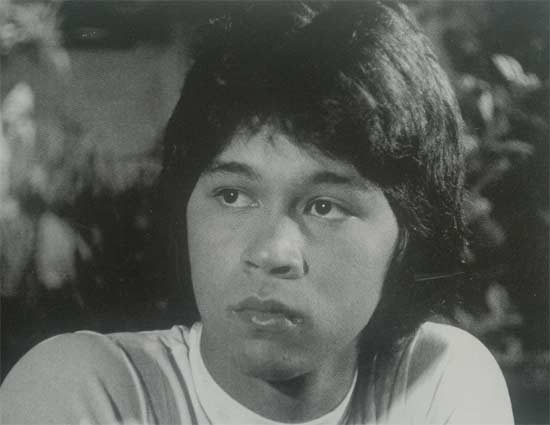 Christopher de Leon in Tinimbang Ka Ngunit Kulang, symbolizing innocence as witness to prejudice and injustice
8. Christopher de Leon
Christopher de Leon's first lead role was in Lino Brocka's Tinimbang Ka Ngunit Kulang. Perhaps due to his inexperience, he portrayed Junior with quite a naiveté that suited the character very well. In fairness to de Leon, however, he was still able to exude such a screen presence despite being supported by many of the Philippines' best actors and actresses then. After Tinimbang, de Leon would work with other distinguished filmmakers like Gerry de Leon in Banaue, Ishmael Bernal in Tisoy, Eddie Romero in Ganito Kami Noon, Paano Kayo Ngayon? and Mario O'Hara in Tatlong Taong Walang Diyos. Brocka and de Leon would be reunited in Dalaga si Misis, Binata si Mister, a rare Brocka rom-com (check out this video) where he was paired with Nora Aunor. Although de Leon's collaborations with Brocka were infrequent, the fact that he breathed life to the young man whose eyes became our eyes to a world of abject hypocrisy in Tinimbang Ka Ngunit Kulang is enough to make him memorable.
ADVERTISEMENT - CONTINUE READING BELOW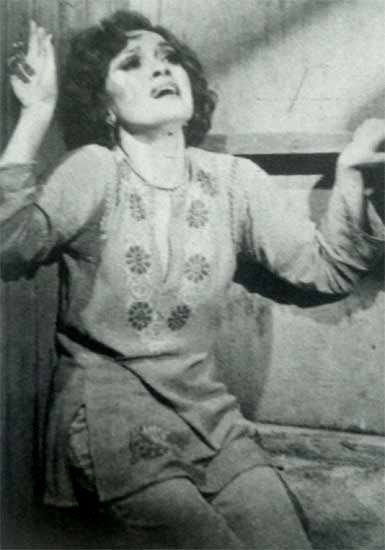 Heartbreak drives Laurice Guillen to insanity in Lunes, Martes, Miyerkules, Huwebes, Biyernes, Sabado, Linggo  (1976), Brocka's unflinching look at the lives of Olongapo showgirls.
7. Laurice Guillen
Lino Brocka referred to Laurice Guillen as her personal Jeanne Moreau, the renowned French actress. She first worked with Brocka in Tinimbang Ka Ngunit Kulang as Milagros, the barrio seductress. With just the subtle movement of her perfectly shaped eyes and discreet twitching of her lips, she was able to leave a young Christopher de Leon burning with his newfound sexuality. Gifted with a face that exudes a variety of expressions, from sternness to sensuality, Guillen would later on portray various kinds of women for Brocka and other directors. Guillen would later on direct her own films, influenced heavily by his experience with Brocka.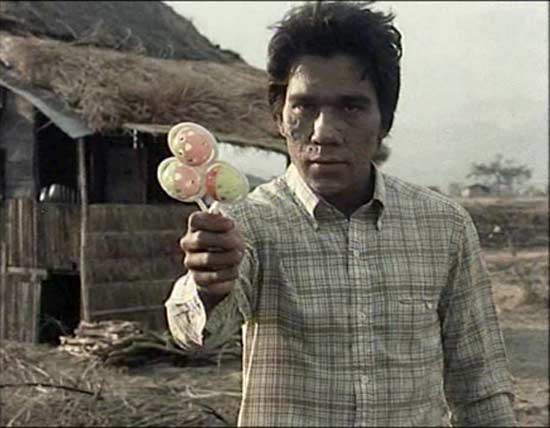 ADVERTISEMENT - CONTINUE READING BELOW
O'Hara as the leper-outcast in Tinimbang Ka Ngunit Kulang
6. Mario O'Hara
More famous as the screenwriter of some of Lino Brocka's greatest works like Tinimbang Ka Ngunit Kulang, Insiang, Rubia Servios, and an episode of Tatlo, Dalawa, Isa, and also as a filmmaker in his own right, the late Mario O'Hara was also in fact a very fine actor. Having first collaborated with Brocka as an announcer in the made-for-television anthology Balintataw, O'Hara went on to develop a multifaceted creative relationship with the acclaimed director as writer and actor. He played a relatively small role in Brocka's lone-actioner Santiago!, starring Fernando Poe Jr. But it was in Tubog sa Ginto, wherein he was forced by the unpredictable Brocka to strip naked for the cameras in front of Eddie Garcia, who played his gay lover, that O'Hara exhibited such exquisite courage in his craft. The trauma of being put on the spot caused by such scene reportedly caused an erstwhile falling-out between O'Hara and Brocka. The trauma wouldn't last long since O'Hara would continue acting for Brocka, producing what could possibly be the most fruitful of collaborations in Philippine cinema. As Bertong Ketong in Tinimbang Ka Ngunit Kulang, he singlehandedly provided the film the epicenter of its scathing social commentary.
5. Nora Aunor
When Lino Brocka released his first film, Wanted: Perfect Mother, in 1970, Nora Aunor was already on her way into becoming a national phenomenon, churning out several films every year just to sate the demand. Aunor and Brocka would only collaborate in 1979 in Ina Ka ng Anak Mo, where Aunor's talents were pitted against the great Lolita Rodriguez. The role won for Aunor the Best Actress prizes in the FAMAS and the Metro Manila Film Festival that year. Aunor and Brocka would again collaborate the following year in Nakaw na Pag-Ibig, and the following year in Dalaga si Misis, Binata si Mister. However, perhaps the most iconic of the few Brocka-Aunor collaborations is Bona, wherein Aunor, already the superstar idolized by legions of fans all over the Philippines, ironically played the obsessed fan to upcoming actor Phillip Salvador's bit-role player. Equally indelible as Bembol Roco's tragic look of desperation are Aunor's raging eyes, partially draped by the steam coming from the boiling water, that would signal the horrific conclusion to the film's odd pairing.
ADVERTISEMENT - CONTINUE READING BELOW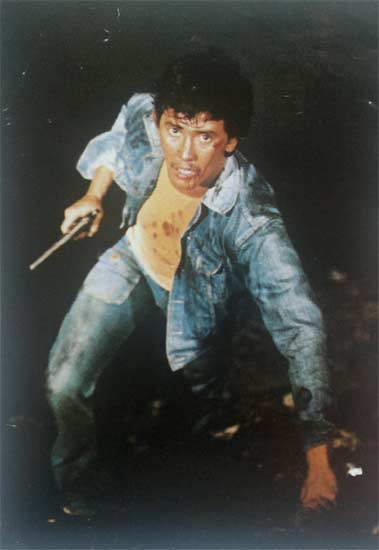 Phillip Salvador as the oppressed security guard in Jaguar (colloquial for guwardiya)
4. Phillip Salvador
As with any fledgling actor, Phillip Salvador's goal as an actor was predictable. He wanted to become Fernando Poe Jr. Lino Brocka, however, had other plans for him. Cast alongside Nora Aunor in Bona, Salvador, a struggling action star then, turned into an icon of misplaced adoration. With a woman who was none other than the one and only Superstar worshipping him, he was the pinnacle of Filipino machismo. In the hands of Brocka, Salvador became more than just the everyday stunts artist or gunslinger, he became a man burdened by the pains of society. He was the oppressed security guard in Jaguar, the lowly laborer in Bayan Ko: Kapit sa Patalim, and the activist in Orapronobis. Brocka turned Salvador into the face of his social struggle, and Salvador, whether he liked it or not, was all the better for it.
ADVERTISEMENT - CONTINUE READING BELOW
3. Bembol Roco
Bembol Roco's face in that moment of stark desperation will forever be immortalized by the indelible ending of Lino Brocka's masterpiece, Maynila sa mga Kuko ng Liwanag. As Julio Madiaga, he perfectly embodies the trope of probinsyano who mistakenly enters the void that is Manila. Although Roco has appeared in other feature films by Brocka such as Lunes, Martes, Miyerkules, Huwebes, Biyernes, Sabado, Linggo, Hayop sa Hayop, Orapronobis, and Gumapang Ka sa Lusak, he never matched the same level of verity and intensity that he exhibited in Maynila. Nevertheless, Roco had already left his mark in Brocka's filmography by lending his exasperated expression on that moment of certain death to represent the madness that is Manila.
2. Hilda Koronel
Starting out as a bit player, she was in fact uncredited in Lino Brocka's first film, Wanted: Perfect Mother. Koronel would continue to play minor roles in some of Brocka's earlier films like Santiago!,Tubog sa Ginto, Cadena de Amor, and Stardoom. Who would have predicted that the young lady that possessed both striking good looks and ample gravitas would represent the many facets of the great director's works? As Ligaya Paraiso in Maynila sa mga Kuko ng Liwanag, she represented that virginal bait that forced Bembol Roco's wide-eyed probinsyano to descend to Manila's hellish underbelly. As iconic Insiang (see 5:35 of the video), she symbolized the Filipina forced to the edge by abandoning all notions of family and femininity to get back at fate's cruelty. As Angela Markado, she transforms from victim to victimizer, vengefully hunting down her vicious rapists and killing them with all the satisfaction of a rabid dog.
ADVERTISEMENT - CONTINUE READING BELOW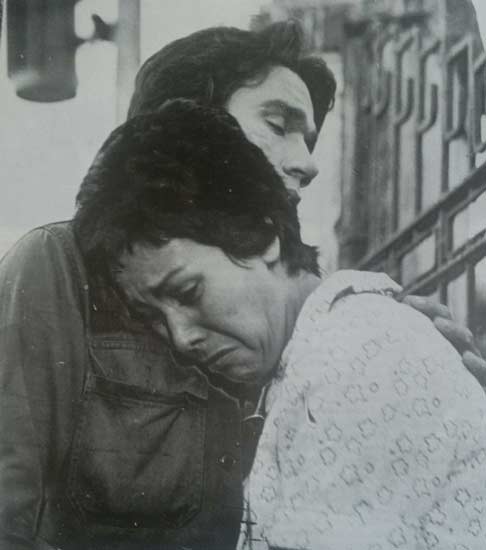 Lolita Rodriguez and Mario O'Hara as fellow outcasts who would become lovers in Tinimbang Ka Ngunit Kulang
1. Lolita Rodriguez
Lolita Rodriguez was already a highly acclaimed actress, even editorialized by the Manila Times (the leading newspaper in the pre-martial law era) when she first collaborated with Lino Brocka in 1971 in Tubog sa Ginto. However, there was something about Brocka's direction that catapulted Rodriguez into the living legend that she is now. After Tubog sa Ginto, she transformed into Toyang, the stage mother whose ambitions for his son results in tragedy, in Stardoom. Soon after that, she falls in love with Mario O'Hara's rogue gardener in Tatlo, Dalawa, Isa ; and again with O'Hara, this time a dejected leper in Tinimbang Ka Ngunit Kulang-where Rodriguez played Kuala, a madwoman and fellow outcast. She would continue working with Brocka in Lunes, Martes, Miyerkules, Huwebes, Biyernes, Sabado, Linggo, and in Ina, Kapatid, Anak-where her understated acting would have its showdown with Charito Solis' explosive performance (see 5:02 of this video). She is then paired by Brocka with Nora Aunor in Ina Ka ng Anak Mo, resulting in perhaps one of the most exciting pairings between two acclaimed actresses.
ADVERTISEMENT - CONTINUE READING BELOW
Share this story with your friends!
---
Help us make Spot.ph better!
Take the short survey
Load More Stories