(SPOT.ph) Opened in 1938 and named after its first owner, the wealthy Doña Emiliana Mortera vda. de Calvo, the Calvo Building is located in front of the once lively Capitol Theater and the site where the splendid Crystal Arcade (a casualty of the Pacific War) once stood. It was also one of the stops in Manila's old tramway system. Now, it hosts an underrated museum dedicated to all things Old Manila and is often overlooked by the usual tours that visit Escolta. Here are 10 reasons why a time travel-like adventure inside this building is worth the trip.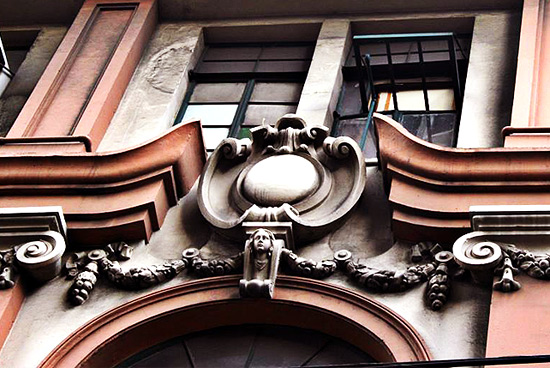 ADVERTISEMENT - CONTINUE READING BELOW
The impressive facade of the Calvo Building, built by Tomas Arguelles and Fernando Ocampo. Photos by Jec Carrillo except as indicated otherwise
1. The Calvo Building is accessible.
The building is just a stone's throw away from the LRT1-Carriedo station, and the up-and-running Pasig Ferry also has an Escolta stop. The Metropolitan Manila Development Authority recently announced that the Pasig Ferry will be extending its operation hours (6 a.m. to 10 a.m. and 2 p.m. to 6 p.m.) and is considering lowering its current fares (P50 if you're coming from Guadalupe and P30 if you're coming from PUP or Plaza Mexico), so commuting should be less of a hassle.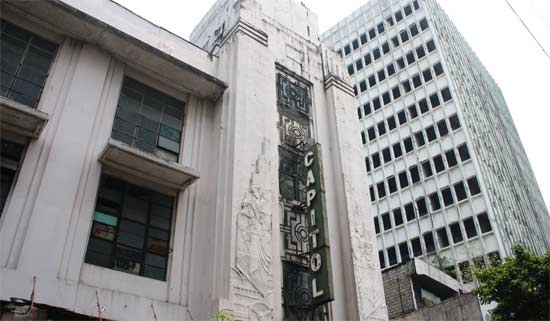 The Capitol Theater, with its facade defying time and modernity. Photo by Warren Espejo
2. It's located in a heritage site: Escolta.
The experience of walking to the Calvo Building is in itself a history lesson and part of the experience. Think of it as the lobby to your actual destination. In the historic district of Escolta are architectural gems like the Regina Building and the old Capitol Theater with their Beaux-Arts or Art Deco designs. Apart from the Crystal Arcade, some of these buildings survived the Pacific War, amid the rampant destruction in the course of Manila's liberation from the Japanese. Today, these buildings face another threat-neglect, amid a prevailing indifference toward heritage.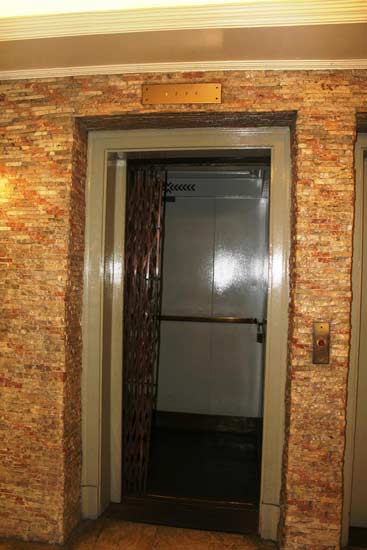 ADVERTISEMENT - CONTINUE READING BELOW
A different box: The Calvo Building's elevator
3. The old elevator.
What's exciting about an old elevator? It's one of the few classic-style Otis elevators still running... which you can ride! There's a risk of getting stuck in those cage-like grills so better make sure that a trained operator is with you when you try it out. It may not be the first elevator in the country ever (a distinguishing facet attributed to the Perez-Samanillo Building), but it's close enough.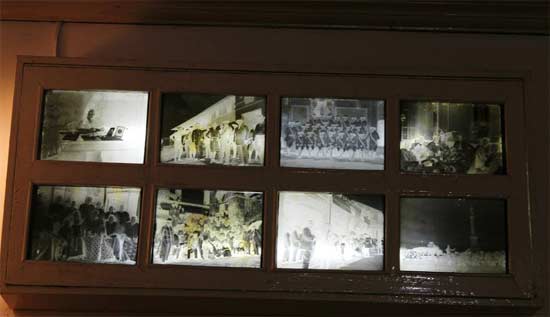 ADVERTISEMENT - CONTINUE READING BELOW
Souvenirs from a bygone era provide viewers with a glimpse of a certain time and place.
4. It houses fascinating memorabilia of Old Manila.
How did the young, the rich, the restless party in Manila during Escolta's heyday? Well, you can check out the collection of photos of socialites and personalities plastered on the lobby walls, which represent a sort of first-generation Facebook. Ironically, the museum may be the only one with a display dedicated solely to the Battle of Manila. Comparing the before and after shots of Manila may be depressing but it's definitely a more effective way to impart the lessons of war on the collective memory.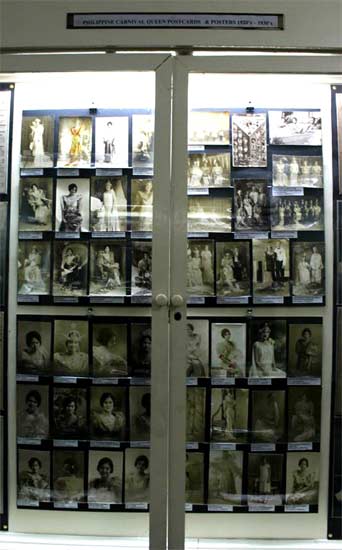 ADVERTISEMENT - CONTINUE READING BELOW
A gallery of beauty queens
5. It has postcards of the Carnaval de Manila beauty queens.
Long before Bb. Pilipinas or Mutya ng Pilipinas, there was the Manila Carnival, the predecessor of our beauty pageants today. Stunners from the city and provinces were brought to Manila to compete in a contest of beauty, talent, and brains. Their legacy lives on in postcards preserved in a special collection found in the museum. It takes a keen imagination to go back in time and see the world represented by these postcards.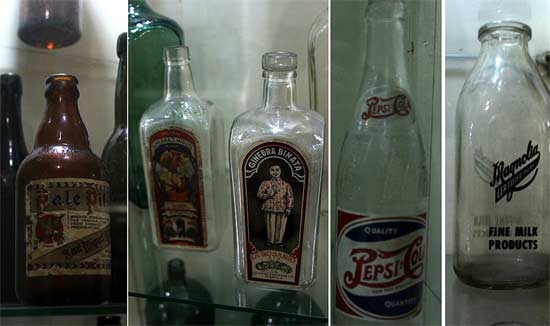 ADVERTISEMENT - CONTINUE READING BELOW
Design was a strong feature of practically anything from vintage Manila.
6. The vintage bottle collection
Not to be mistaken with the cases of beer you and your friends forgot to throw out several parties ago, the Calvo Museum's vintage bottle collection includes milk, soda, medicine, and alcoholic beverage bottles. One of the best known pieces in this display is the 1920s Ginebra bottle, whose label art was designed by no other than National Artist Fernando Amorsolo.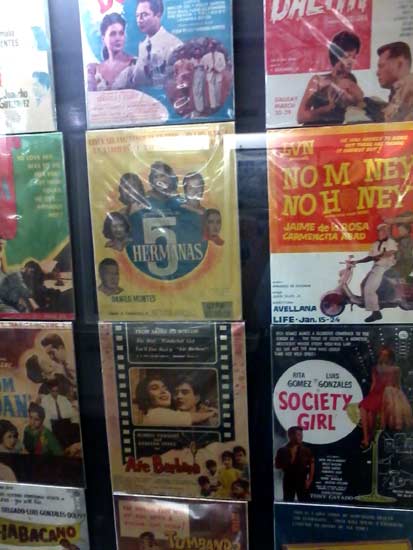 ADVERTISEMENT - CONTINUE READING BELOW
Old Manila also had its movie stars. Photo by Nicai de Guzman
7. The old movie posters
We now have YouTube trailers, made-up scandals, and TV guestings of a movie's cast members to promote a film. Before, hand-drawn movie posters would be the way to go. This forgotten art form also has a display in the museum, boasting well-preserved posters from the box office of yesteryears. Trivia: Did you know that Dolphy's RVQ Productions and Nora Aunor's NV Productions held offices on the fifth floor of the First United Building, just a few blocks away from the Calvo?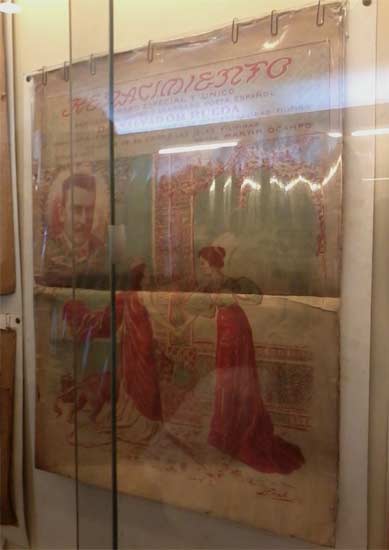 ADVERTISEMENT - CONTINUE READING BELOW
The historic El Renacimiento. Photo by Nicai de Guzman
8. It has a display of historic publications, and it is also the birthplace of GMA (the TV network).
When we say old, we mean publications dating back to the twilight of Spanish rule and the nascent years of America's occupation. Do El Renacimiento, Filipinas, and Republica Filipina ring a bell? The Renacimiento has, of course, acquired the status of legend over the decades; this was the patriotic publication that was effectively shut down in 1907 by a libel case against its now-famous "Aves de rapina" ("Birds of Prey") editorial, which may be read as an eloquent manifesto against colonial rule.This historic building is also where the Kapuso Network was born in 1950, with American journalist Robert "Uncle Bob" Stewart transmitting the first signal of radio station dzBB in one of the offices in the building. Stewart would later expand his media enterprise into television, and Radio Broadcasting System would later be renamed GMA.
ADVERTISEMENT - CONTINUE READING BELOW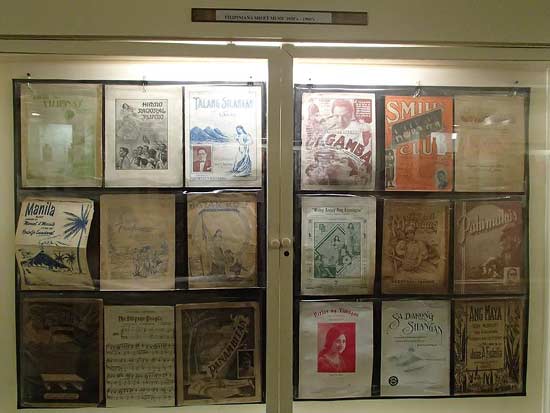 Music sheets were a thriving art form in their own right. Photo by John Ray Ramos
9. It has an "OPM" library.
You think you know OPM? Well, even before the term "OPM" was coined, original Pilipino music was alive and well-and flourishing amid the growth of Philippine broadcasting. Music sheets of songs-"Sa Dakong Silangan," "Ang Maya," and "Awit ng Pag-Ibig," to name some-are kept behind glass cases, complete with their excellent cover art!
ADVERTISEMENT - CONTINUE READING BELOW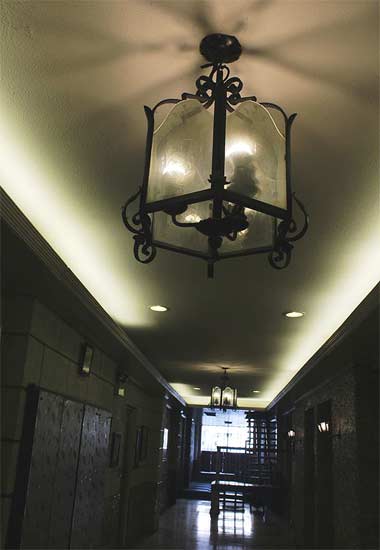 The building's lobby may well serve as a time tunnel.
10. The museum is a portal, giving you a glimpse of how people lived then.
Old advertisements for cars, sporting equipment, shoes, radio sets, and more. Ticket receipts and memos. All these advertisements for "new" instruments and gadgets would make anyone appreciate today's comfortable lifestyle, but it certainly doesn't hurt to look back every once in a while.
ADVERTISEMENT - CONTINUE READING BELOW
The Calvo Building's museum is open Mondays to Fridays, 9 a.m. to 5 p.m. and Saturdays from 9 a.m. to 12 noon. Entrance fees are P50 and, for students, P20. To reserve a special tour, you may call (02)2414762 and (02)2414578. For a guided tour of Escolta and Calvo Museum, you may contact Lem Leal Santiago of the Heritage Conservation Society-Youth and Escolta Commercial Association Incorporated at 09159214334. You can also visit Escolta's Facebook and Twitter pages for more information.
Share this story with your friends!
---
Help us make Spot.ph better!
Take the short survey
More Videos You Can Watch
Load More Stories