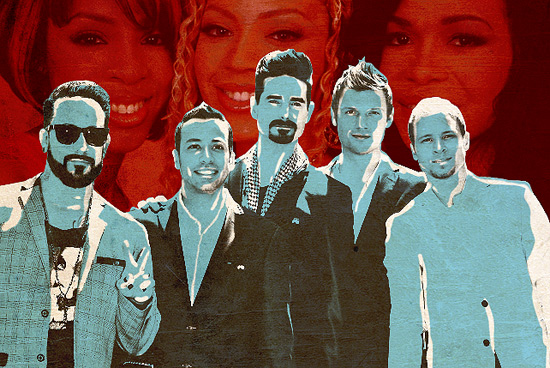 (SPOT.ph) They're not here yet, but fans of One Direction have gone almost completely mental. Fat tears of joy were shed as tickets were purchased, and while "haters" rolled their eyes at the "ridiculous reaction," it's safe to say that we've all been there. Boy bands (and girl bands!) have been casting fainting spells on teenagers since time immemorial. Okay, maybe not, but we've all been hypnotized by synchronized hip-swaying and hands tracing imaginary curbs in the air.
They form, they disband, they reunite, they disband, they regroup, have a hiatus, then they go on a world tour. Here's a look at what has happened to the best of the '90s. Seeing as some of the bands in here are celebrating their 20th anniversary, we get the feeling that 1D's going to be singing about that one thing for a very, very long time.
ADVERTISEMENT - CONTINUE READING BELOW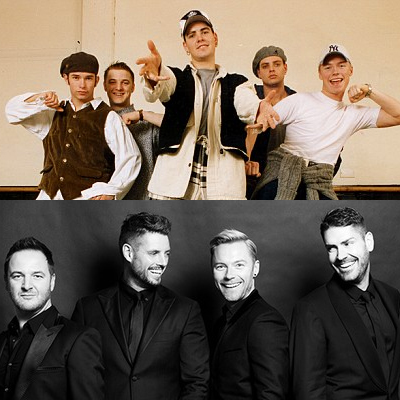 1. Boyzone
The boys have been together since 1993. After a six-year hiatus, they reunited in 2008 and have been together since. The band dealt with grief on October 10, 2009, when Stephen Gately was discovered lifeless in his home. This only served to strengthen their boyband bond, and they celebrated their 20th anniversary together, kicking off their BZ20 Anniversary Tour with a gig in Dubai. The tour concludes in Dublin in August 2014.
ADVERTISEMENT - CONTINUE READING BELOW
Recommended Videos
Band member profiles:
Keith Duffy appeared in several TV programs and a few movies, most notably in Coronation Street from 2002 to 2005, and 2010 to 2011
Mikey Graham released his debut studio album in 2001, Meet Me Halfway. He appeared in various reality shows and competitions, including Eurosong 2010 and Celebrity Apprentice Ireland in 2013.
Shane Lynch was a judge on The All Ireland Talent Show from 2005 to 2010 and was part of Celebrity Masterchef in 2013. Lynch is also an enthusiast of motor racing, which he interestingly combines with his Christian lifestyle ("Christians in Motorsport"). Musically, he is involved with Cruise Control, a project he started with friends outside Boyzone.
Ronan Keating achieved moderate success with his solo efforts, but his Irish luck ran out when he auditioned for The Hobbit.  Keating appeared in the Australian 2013 feature Goddess, a film that wasn't quite as successful as Peter Jackson's epic. He also provided Postman Pat's singing voice in Postman Pat: The Movie.
ADVERTISEMENT - CONTINUE READING BELOW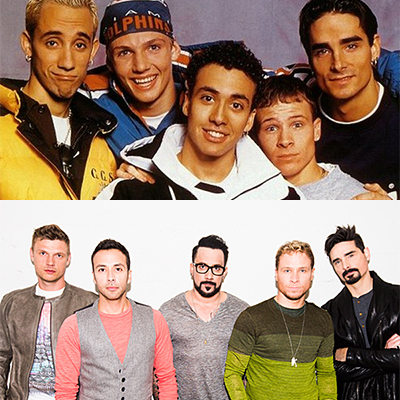 2. Backstreet Boys
They're husbands and fathers now, but they will always be our boys. It's great that they've kept their promise of never breaking our hearts and, more than that, they keep coming back (alright!). The BSB celebrated their 20th anniversary in 2013 and the LA Times said that they still have it going on. They released In a World Like This, their eighth studio album to go along with their A World Like This Tour,  which started in China. The tour is now in the North American leg. (And, hey, did you guys see them in This is The End?  They won an MTV Movie Award for that!)
ADVERTISEMENT - CONTINUE READING BELOW
Band member profiles:
Kevin Richardson took a brief hiatus from the band in 2006 and did not appear in two albums (Unbreakable and This Is Us ), but he rejoined the band when he realized that nothing made him happier than music and singing with the boys. Sweet, right?
A.J. McLean worked with 'NSync's JC Chasez for his solo album, Have It All, which was released in the US in 2011.
Howie Dorough, or "Howie D." as we fondly refer to him, famously collaborated with Sarah Geronimo in 2008.
Nick Carter has two solo albums and one collaboration with Jordan Knight of New Kids on the Block. Carter made casual appearances on TV, but his first love is probably music. On a more serious note, Carter was diagnosed with cardiomyopathy. The diagnosis (and intervention from Kevin Richardson) forced him to rethink his "rock and roll" lifestyle.
Brian Litrell released a Christian album in 2006 and continues to live an active Christian lifestyle outside of the BSB.
ADVERTISEMENT - CONTINUE READING BELOW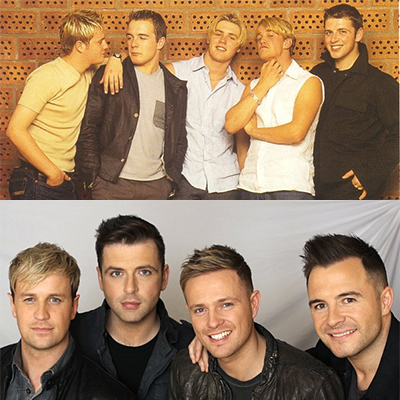 3. Westlife
The band formed in 1998, had a hiatus in 2008, reunited a year later, and finally called it quits in 2012. Nicky Byrne revealed after the split that the band's relations turned a bit sour, and they all felt like working separately was the best way to go. The band stated that they have no plans of reuniting.
ADVERTISEMENT - CONTINUE READING BELOW
Band member profiles:
Brian McFadden left Westlife in 2004 and has released four albums since his departure. He toured with fellow Irish boy band veteran Ronan Keating in 2013.
Nicky Byrne plays football when he can, last participating in Soccer Aid 2010. His current gig is co-hosting The Hit,  an Irish songwriting talent show.
Kian Egan will join Boyzone in their 2014 tour across the UK. He has also released a solo album, Home. Since the band split, Egan has appeared in various reality TV programs, including being one of the four coaches in The Voice of Ireland.
Mark Feehily was engaged to photographer Kevin McDaid for a year, but the couple broke up a year before Westlife did. He plans on releasing a solo album and writing a book, but the singer has been keeping a low profile.
Shane Filan released his first solo album in 2013, a year after his real estate business with his brother was declared bankrupt. He is set to perform in Yeovil in England in July, so he still has music to hold on to!
ADVERTISEMENT - CONTINUE READING BELOW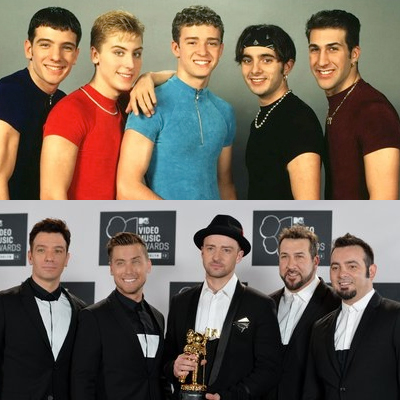 4. 'N Sync
'N Sync formed when Chris Kirkpatrick didn't make it to the Backstreet Boys and still wanted to pursue his '90s boy-band dreams. The group came together in 1995 and went on to record iconic '90s hits like "Bye Bye Bye" and "It's Gonna Be Me." Celebrity, released in 2002, was the band's last album, after which they went on a "temporary hiatus." The future of 'N Sync was up in the air until Lance Bass mentioned in his 2004 autobiography, Out of Sync,  that Justin Timberlake had decided to leave. The gang reunited at the 2013 MTV Video Music Awards, performing old hits like the good old days and trading their denim overalls of yore for sharp suits.
ADVERTISEMENT - CONTINUE READING BELOW
Band member profiles:
Chris Kirkpatrick married his long-time girlfriend last year. He was last seen on TV in 2008 as part of the reality series, Gone Country,  in which celebrities compete to be the next big country singer. Kirkpatrick didn't win, but he impressed the judges and the audience with his songwriting and singing.
Joey Fatone is the host of the cooking competition, Rewrapped.
Lance Bass made headlines in 2006, particularly in People magazine, after he came out of the closet. He recently married artist Michael Turchin. He was an executive-producer for a film, Kidnapped for Christ,  which premiered at this year's Sundance Film Festival. (And he was in Tropic Thunder!)
JC Chasez was set to appear as Pontius Pilate in the North American tour of the rock opera Jesus Christ Superstar,  but the tour has been cancelled.
Justin Timberlake has a new single out, "Not a Bad Thing," from his latest album The 20/20 Experience  - 2 of 2, which came out after a long hiatus when he decided to establish a pretty decent acting career. Once famous for his relationship (and subsequent tumultuous break-up) with Britney Spears, JT is now married to Jessica Biel.
ADVERTISEMENT - CONTINUE READING BELOW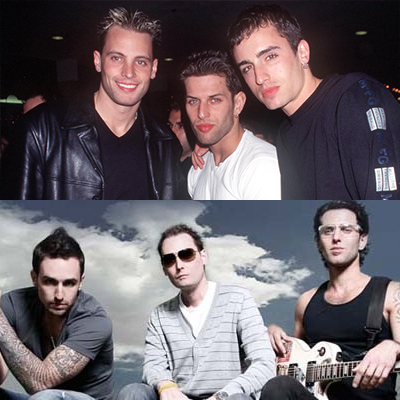 5. LFO
The Lyte Funky Ones got together in 1995 and are best known for the hits "Summer Girls," "Girl On TV," and "Every Other Time." The band parted ways in 2002, but a held a reunion in 2009. There were plans to record new material, but it never pushed through since Rich Cronin died in 2010 after a long battle with leukemia.
ADVERTISEMENT - CONTINUE READING BELOW
Band member profiles:
Devin Lima is currently a barber, according to Brad Fischetti's Twitter. He tweets pretty often and shares amateur videos of him performing new music.
Brad Fischetti's latest hobbies include hanging out outside abortion clinics. This pro-life activist was reported in 2012 to be spending hours praying, taking photos, and yelling at patients outside the Orlando Women's Center.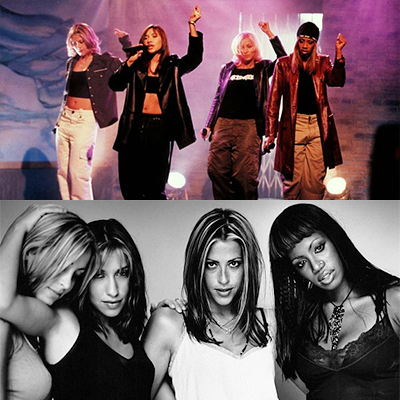 ADVERTISEMENT - CONTINUE READING BELOW
6. All Saints
They reached their peak with their single "Pure Shores," the song that made people think The Beach was a fun film about nice things. They announced that they were taking a break after that success, had a reunion, broke up, had another reunion, declared a final split, but got together to provide support for the BSB's UK tour. One of the original band members, Simone Rainford, died from kidney cancer in 2013.
Band member profiles:
Natalie and Nicole Appleton were briefly known as Appleton until All Saints regrouped in 2006. The sisters were married to two separate Liams, until Nicole found out that her Liam (Gallagher, of Oasis) had fathered a lovechild. Both Appletons appear in various reality programs and talent shows.
Melanie Blatt recorded her first debut album in 2005, but the project was cancelled in favor of an All Saints reunion. She is currently working on a "comeback" album, apart from hosting The X Factor in New Zealand.
Shaznay Lewis appeared as the team captain in the sleeper hit Bend It Like Beckham.  She did the reunion with All Saints, and then got together with the original Sugababes to write new material for their album as Mutya Keisha Siobhan.
ADVERTISEMENT - CONTINUE READING BELOW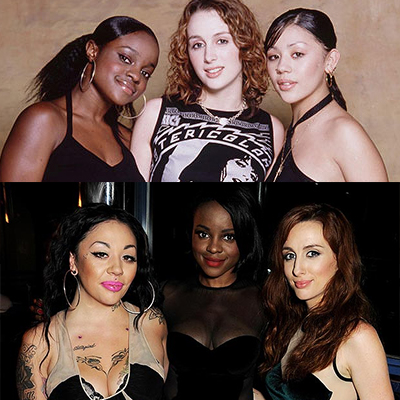 7. Sugababes
First there was Siobhan, Mutya, and Keisha. And then it was Heidi,  Mutya, and Keisha. And then it was Heidi, Amelle, and Keisha. And then it was Heidi, Amelle, and Jade. And then finally, in 2013, the band announced their retirement. Although they only achieved moderate international success, Sugababes has gone through more line-up changes than Destiny's Child. That's quite an achievement.
ADVERTISEMENT - CONTINUE READING BELOW
Band member profiles:
Mutya Buena, Siobhan Donaghy, and Keisha Buchanan (the original Sugababes) formed a girl band with their names on it. They are currently working on their first debut album, while promoting singles on tour...and they might morph into Sugababes again. This girl band is very confusing.
Amelle Berrabah will be releasing her debut album in 2015.
Jade Ewan will also release her debut album, although no date has been set. She appeared recently in Tonight's The Night,  a jukebox musical, to positive reviews.
Heide Range participated in several reality shows, including Dancing on Ice and Celebrity Masterchef.  Like Ewan, Range has also ventured on to a different stage and was the star of the new musical, Happy Days.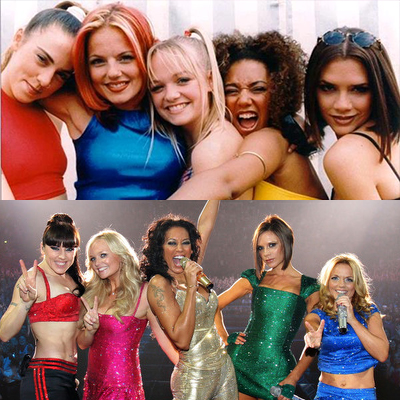 ADVERTISEMENT - CONTINUE READING BELOW
8. Spice Girls
The group that formed in 1994 had young girls all over the world yelling "Girl power!" in Union Jack T-shirts. In 1998, Geri Halliwell a.k.a "Ginger Spice" left the group, but the girls went on to record one more album, Forever,  released in 2000 before they parted ways to focus on solo careers. In 2007, all 5 ladies reunited for a planned world tour that sold out but was eventually cancelled. They did record a comeback single, "Headlines (Friendship Never Ends)." They reunited once more in 2012 to perform at the closing ceremony of the London Olympics.
Band member profiles:
Emma Bunton competed in 2006 in the British reality show Strictly Come Dancing,  where she finished third. Recently, Bunton, along with various artists, took part in the England 2014 World Cup song, "Greatest Day."
Geri Halliwell was a judge in last year's Australia's Got Talent,  where she debuted her first single in eight years, "Half Of Me," during the grand finale. However, the song didn't chart well and Halliwell blogged about possibly quitting the music business.
Melanie Brown had her own reality show for a time called Mel B: It's a Scary World.  Right now she is a daily guest co-host in the Breakfast program on Sydney radio station 2Day FM.
Melanie Chisholm a.k.a Mel C also took part in the recording of the England 2014 World Cup song, "Greatest Day." Outside of music, Chisholm does charity work, having recently traveled to Ghana to support a charity campaign by Procter & Gamble that provides African children with clean drinking water.
Victoria Beckham a.k.a Posh Spice is now known as a fashion designer and a successful one at that. She's also married to that really, really cute football player. When the Beckhams made their move from England to L.A., a one-hour special called Victora Beckham: Coming to America was aired and featured the light and fun side of Posh Spice that we rarely get to see.
ADVERTISEMENT - CONTINUE READING BELOW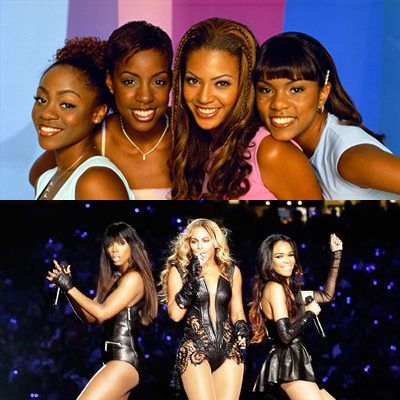 9. Destiny's Child
Destiny's Child's lineup saw a lot of changes since its beginnings in 1990 as "Girls Tyme." The last remaining three members were Beyoncé Knowles, Kelly Rowland, and Michelle Williams. The group disbanded in 2006 after a farewell performance at the 2006 NBA All-Star Game. But the girls got together during Beyoncé's 2013 Super Bowl half-time show.
ADVERTISEMENT - CONTINUE READING BELOW
Band member profiles:
Beyoncé Knowles recently announced the On the Run tour with husband Jay Z.
Kelly Rowland revealed in an interview last March that she has begun recording her fifth studio album. The music video for her song "The Game" will be featured on Pepsi's visual album for the 2014 FIFA World Cup.
Michelle Williams has a new single, "Say Yes", featuring Beyoncé and Kelly Rowland, from her upcoming album, Journey to Freedom.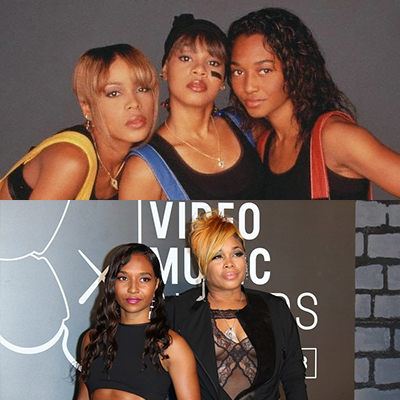 ADVERTISEMENT - CONTINUE READING BELOW
10. TLC
This trio was formed in 1991 and gave the world some seriously funky R&B hits like "Creep," "Waterfalls," and "No Scrubs." The girls face a lot of challenges despite their talent and success, from arson to bankruptcy and the death of Lisa "Left Eye" Lopes in 2002. Their last studio album 3D was still released and in 2003 at Zootopia, an annual concert held by New York radio station Z100, the remaining members appeared for what they announced was their last live performance as TLC. Just last January, "Chilli" and "T-Boz" performed at the Super Bowl Blitz while using Lopes' vocals. They're reportedly working on a new album.
Band member profiles:
Rozonda "Chilli" Thomas competed in last year's season of Food Network's Rachael vs. Guy: Celebrity Cook-Off. She has her own line of handbags, Bags by Chilli.
Tionne "T-Boz" Watkins, together with Chilli, executive-produced the VH1 biopic CrazySexyCool: The TLC Story,  which aired October last year. Watkins has battled serious health problems. In 2002, she was hospitalized for 4 months due to sickle-cell anemia and in 2009, she revealed that she had undergone surgery for a fatal brain tumor that she'd had for 3 years. She and Chilli are working on TLC's fifth studio album, reportedly due out this year.
ADVERTISEMENT - CONTINUE READING BELOW
Share this story with your friends!
---
Help us make Spot.ph better!
Take the short survey
Load More Stories