10 Fresh Tunes to Listen to This June
Beat the rainy days of June with hot tracks by Drake, Usher, Bullet Dumas, B.P. Valenzuela, and more!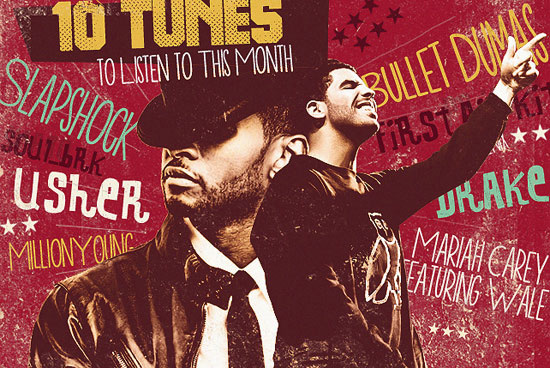 (SPOT.ph) We say goodbye to summer and hello to the rainy days with a fresh set of fine tunes. Listen to Drake's new rap release, Usher's seductive single, Mariah Carey's dance jam, First Aid Kit's country offering, and MillionYoung's groovy ditty. Our local showcase includes Bullet Dumas' unique folk sounds, B.P. Valenzuela's electropop track, Slapshock's latest music video, Soul_brk's feels-heavy treat, and Jireh Calo's jazzy composition.
Song: "0 to 100 / The Catch Up"
Artist: Drake
Drake has released a new song, which seems to hint at a new record come 2015 ("Listen up boy you're better off eavesdroppin'/ We already got spring 2015 poppin'/ PND droppin', OB droppin'"). "0 to 100" is reminiscent of "Started From the Bottom," with a familiar beat that doesn't get old. In "The Catch Up," things slow down and a James Blake sample is infused into the entrancing synths.
Fun fact: The 27-year-old Canadian rapper is also known for popularizing "YOLO" (You Only Live Once).
Song: "Pssst!"
Artist: Bullet Dumas
Bullet Dumas is an act to watch. His unique brand of folk music can be puzzling at first, what with the way it tends to follow no established form. His accented vocals and unpredictable acoustic sound are quick to grow on you, however. Have a listen to "Pssst!" and you'll understand what we're saying.
Fun fact: Dumas is an alumnus of the first ever Elements National Music Camp, held in 2010. He is also a math teacher.
ADVERTISEMENT - CONTINUE READING BELOW
Song: "Good Kisser"
Artist: Usher
Usher's latest release is a tease with the right amount of funk and soul. The seductive beat features Usher crooning falsetto one second and going low the next. The cowbell percussion, handclaps, and jazzy keyboards all add the to sexy attitude of this track.
Fun fact: The R&B icon is expected to drop a new album this year, though no release date has been announced yet.
Song: "Pretty Car"
Artist: B.P. Valenzuela
Eighteen-year-old B.P. Valenzuela has just released her EP, and in it is the electropop delight "Pretty Car." The single is an apt tune to listen to as you slowly let go of summer. The slow buildup and dance-y development, with breezy vocals and layered synths, merit repeated listening.
CONTINUE READING BELOW
Recommended Videos
Fun fact: "Pretty Car" was co-produced by Nick Lazaro of local acts Moonwlk and Twin Lobster.
Song: "You Don't Know What To Do"
Artist: Mariah Carey featuring Wale
"You Don't Know What To Do," off Mariah Carey's latest record titled Me. I am Mariah... The Elusive Chanteuse, starts strong with the songstress' slow and soulful vocals. It quickly picks up as Wale drops his verses, and the track becomes a true pop dance jam.
Fun fact: Me. I am Mariah... The Elusive Chanteuse is Carey's 14th studio album.
Song: "Night Owls"
Artist: Slapshock
Slapshock has released a new music video for their single "Night Owls." The power-packed rock track combines head-bang worthy guitar riffs, explosive percussion, and growling vocals.
ADVERTISEMENT - CONTINUE READING BELOW
Fun fact: The music video was directed by Christopher Erwing and filmed in both Manila and Los Angeles.
Song: "Cedar Lane"
Artist: First Aid Kit
First Aid Kit's new folk single is a treat to the ears. The plucky guitars and the country twang in the vocals are relaxing, making "Cedar Lane" a perfect soundtrack for the quiet, rainy days of June.
Fun fact: First Aid Kit is a Swedish folk duo composed of sisters Johanna Söderberg and Klara Söderberg.
Song: "Superfeelings"
Artist: Soul_brk
The latest from Soul_brk is trippy and filled with feels, thanks to the "Superhuman" (Chris Brown and Keri Hilson) sampling. Each second is subtle yet piercing. It's a sweet kind of torture listening to "Superfeelings."
Fun fact: Soul_brk is a solo project by Leon Esquillon.
Song: "Tell Me"
Artist: MillionYoung
The indie-electronica act from Florida is out with a groovy, soulful, and funky tune titled "Tell Me." In this release, old-school feel and futuristic beats merge to create a catchy end-of-summer anthem.
Fun fact: MillionYoung's upcoming EP titled Materia is set to drop on July 29.
Song: "Stay"
Artist: Jireh Calo
Jireh Calo's smooth vocals stand out in this jazzy track highlighted by slick piano touches. The direction is so unpredictable that it gets you hooked until the very last second.
Fun fact: Calo describes her music as jazz fusion and experimental.
Share this story with your friends!
---
Help us make Spot.ph better!
Take the short survey
Load More Stories