MOVIE REVIEW: Noah
With artistic license firmly in hand, Darren Aronofsky steers Noah's Ark toward epicness.
(SPOT.ph) You know that guy who always rants when a movie adaptation deviates in any way from its source material? Everybody knows somebody like that. Better warn him not to watch Noah. Director Darren Aronofsky and writing partner Ari Handel set out to retell the familiar Noah's Ark story from the Bible, but using as few religious references as possible, and turning it into a fable that can be appreciated by a wider audience.
Obviously, the key elements of the original story cannot be divorced from its Jewish and Christian context. Their adaptation is accomplished with a "palette swap" of sorts. God is known as The Creator; Angels are known as Watchers; The Creator communicates with Noah via visions instead of a booming disembodied voice and a beam of light coming down from the sky; and so on.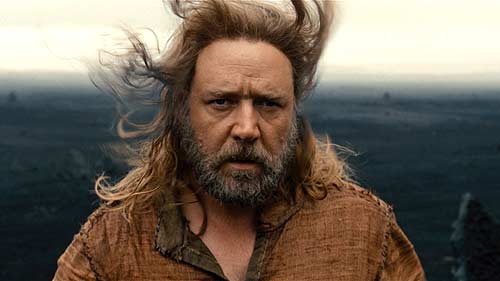 Russell Crowe as Noah confronts his vision
Russell Crowe is perfectly cast as Noah, who learns from an early age to survive in a world destroyed by war and the overconsumption of natural resources. When The Creator gives him a mission through a vision, Noah becomes singularly dedicated to it, even when the mission starts to interfere with his duties as a husband and father. Crowe also shows vulnerability as the consequences of his actions take their toll on his spirit.
ADVERTISEMENT - CONTINUE READING BELOW
Jennifer Connelly, Crowe's wife in A Beautiful Mind, is also his wife in this picture-as the herbalist Naameh who is capable of minor feats of magic. Naameh is silent and supportive through the many hardships that she and Noah must go through. But she can only take so much of The Creator's mission and Connelly voices out everything in one emotionally charged scene. When momma ain't happy, ain't nobody happy.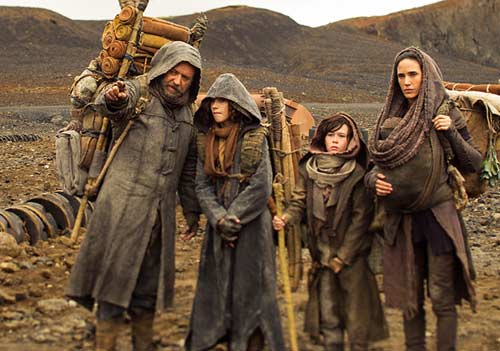 CONTINUE READING BELOW
Recommended Videos
Noah and family plan the future
Gavin Casalegno as Young Shem, Noah and Naameh's eldest child, is given a good chance to shine in his role. But when it is Douglas Booth's turn in the second half of the movie, he is overshadowed by Ham and Ila, not to mention all the other stuff happening (some flood).
Logan Lerman as Ham is all over the place but that's what makes it so effective. One can feel his confusion and frustration at being set adrift without a clear future. Maybe Ham is also coping with middle-child syndrome. There is a striking scene where Ham rescues a girl who drives a wedge between Noah and his son.
ADVERTISEMENT - CONTINUE READING BELOW
Although some may object to Ila, a new character created for this film, she still deserves her inclusion and not just because Emma Watson plays her. She is the adopted daughter of Noah and, alongside her brothers, argues with Noah about trying to save other people from the flood. Later, something happens to make this conflict hit closer to home.
Methuselah, on the other hand, is unnecessary, except maybe to show off more of Iceland, the film's shooting location. But, well, any little reason to watch Anthony Hopkins act is enough, even if the part merely functions as a living plot device.
Fittingly, Ray Winstone is also perfectly cast as the greedy and selfish Tubal-Cain. It is his kingdom that brings death and ecological disaster to the world.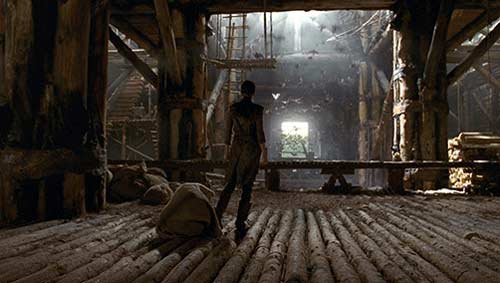 The Ark is ready for the big splash
The back story of the Watchers and the explanation for their decidedly unangelic appearance is ingenious. Hats off to the designer. And of course, an integral part of the Noah's Ark story is the animals. Fortunately, technology provides the computer-generated spectacle yet sidesteps the logistical nightmare of handling that many real live animals.
ADVERTISEMENT - CONTINUE READING BELOW
The movie is predictably laden with visual effects, but the most amazing, created by Industrial Light and Magic and Look Effects, is the staccato time-lapse used in the seed-planting scene and the creation story. It can give one a headache but it's also mind-blowing.
Noah left many questions unanswered. How did just one family build the Ark? How did the animals co-exist? Why do some creatures exist in myth but not in real life? This movie fills in the gaps with answers both logical and fanciful, either based on Aronofsky and Handel's research into non-canonical or even apocryphal Biblical texts, or their artistic interpretation and exploration of the story, creating an entertaining epic.
RATING: •••• 4 spots out of 5
Share this story with your friends!
---
Help us make Spot.ph better!
Take the short survey
Load More Stories