MOVIE REVIEW: 22 Jump Street
A great sequel about bad sequels.
(SPOT.ph) Comedy sequels tend to be cursed, since they always promise to be bigger and better. 22 Jump Street knows this and they have fun with it. Phil Lord and Christopher Miller, who also directed The LEGO Movie, are back in the directors' chairs, so you know you're in good hands.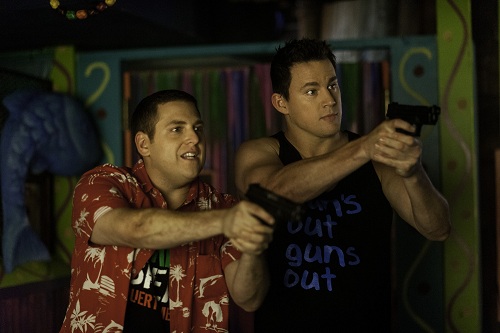 The McQuaid brothers ride again
"Nobody gave a shit about the Jump Street reboot," says Captain Dickson (Ice Cube). "We've doubled the budget, as if that would double the profit." And like comedy sequels, this one recycles the first movie's plot, but it doesn't hope that you'll never realize it. It lets you in on all the jokes in the same delightful, self-aware manner as the first movie.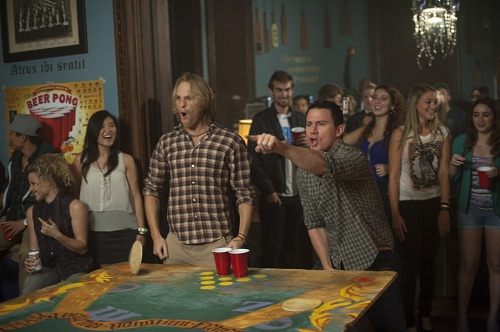 ADVERTISEMENT - CONTINUE READING BELOW
Jenko is the first in his family to go to fake college. Looks like he's having fun.
In this sequel, Jenko (Channing Tatum) and Schmidt (Jonah Hill) assume their previous undercover identities as the McQuaid brothers, but high school has been replaced with college. And yet again, there's a crazy new drug that kids are experimenting with and Jenko and Schmidt are assigned once more to infiltrate before the drug goes viral. True to comedy sequels, our heroes are faced with new challenges that will test their relationship. While Schmidt enjoyed being the perks of being popular thanks to today's new definition of high school "cool," not much has changed for college campus culture. Frat parties, beer pong, football-it's finally Jenko's time to shine. As Jenko bonds with the cool kids, Schmidt is left in the sidelines to do the investigative work.
CONTINUE READING BELOW
Recommended Videos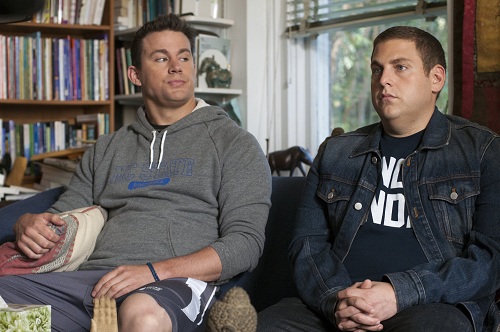 Things take a dark turn for our heroes. They end up in "couples therapy!"
ADVERTISEMENT - CONTINUE READING BELOW
It's a betrayal that the movie plays up to a melodramatic level that leads to great gags ("maybe we should just investigate other people"). Because at the core of all the hyper-aware jokes and ridiculous car chases, the movie will always have you rooting for Jenko and Schmidt's friendship. 22 Jump Street can probably be considered a fine example of a beautiful, platonic male relationship. Or as the kids call them today, "bromance."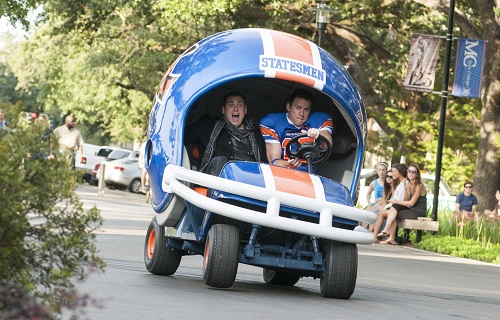 A car chase in a gaint football helmet possibly trumps the first movie's chase in a student driver's car.
Old faces are back like Ice Cube's hilarious Captain Dickson and Nick Offerman (even the 21 villains make an appearance) and the new characters are welcome. Schmidt gets (sort of, since it's Schmidt) lucky in love with an art student named Maya (Amber Stevens), while her room mate, Mercedes, is played by Jillian Bell, who delivers the best deadpan lines. Football player Zook (Wyatt Russell) is Jenko's new soulmate and is as much of a loveable dumb macho.
ADVERTISEMENT - CONTINUE READING BELOW
Ultimately, Lord and Miller have given us one of the best comedies of the past decade and possibly the best end credits ever conceived.
Rating: •••• 4 out of 5 spots
22 Jump Street will be in theaters June 18.
Share this story with your friends!
---
Help us make Spot.ph better!
Take the short survey
Load More Stories