Top 10 Movie Sequels That No One Cared About
Can you count how many Bring It On movies there are?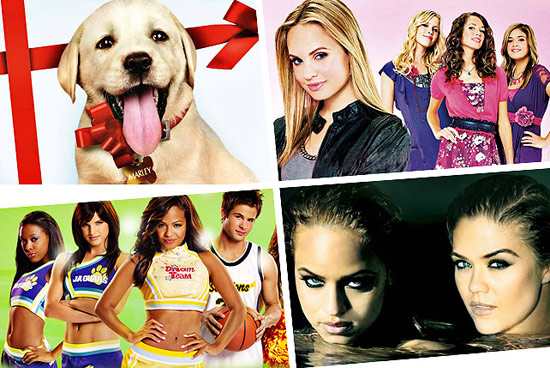 (SPOT.ph) There are sequels that improve on the original film, like X2. Then there are sequels that you want to forget, like X-Men: The Last Stand. But what about sequels that you never even knew about? You know, those quiet little projects that barely reach the big screen and settle for TV just to get a little ripple from the big splash of a profit. With the excitement about Pitch Perfect 2, Dumb and Dumber To, and Dawn of the Planet of the Apes coming out, we have to remember the ones that hardly made an impact-as a reminder that we can always do better.
Remakes and adaptations were not included.
Cruel Intentions 3 trailer
10. Cruel Intentions 2: Manchester Prep (2000) and 3 (2004)
Sarah Michelle Gellar, Ryan Philippe, and Reese Witherspoon's 1999 teenage drama is a cult classic, and the direct-to-video Manchester Prep a year later wasn't half bad. The prequel starred a pre-fame Amy Adams as the evil Kathryn and Robin Dunne as Sebastian. It messes with the timelines and history established in the first movie, but on its own, the drama and premise are pretty good. The third, however, takes the setting from Manchester Prep to a Santa Barbara college. Here, the lead goes to a characted named Cassidy Merteuil, a cousin of Kathryn who inherits her manipulative gene.
Bring It On: In It to Win It is our personal worst.
9. Bring It On (2, 3, 4, 5)
Kirsten Dunst will go down in history for her original cheerleading blockbuster, but producers didn't stop there. You've probably heard of the very quiet college-set sequel (Bring It On Again, 2004). You might have heard of the Hayden Pannettiere-starrer third installment (Bring It On: All or Nothing, 2006). But are you aware of a fourth Bring It On movie (Bring It On: In It to Win It, 2007) starring pre-Pretty Little Liars Ashley Benson and pre-Make It Or Break It Cassie Scerbo in a squad called The Shets? We kid you not. The fifth (Bring It On: Fight to the Finish, 2009) stars Christina Milian and Rachele Brooke Smith (See No. 5) in the competing roles.
ADVERTISEMENT - CONTINUE READING BELOW
8. Grease 2 (1982)
The continuation of what is arguably the greatest movie-musical ever was released four years later but set two years after Danny Zuko and Sandy Olsson graduate from Rydell High. Here, Michelle Pfeiffer plays the wild vixen Stephanie Zizone, the leader of the Pink Ladies. After outgrowing her relationship with T-Bird honcho Johnny Nogerelli (Adrian Zmed), she falls in love with Sandy's equally conservative cousin, Michael Carrington (Maxwell Caufield) who also finds himself equally smitten with the bad girl. The formula is fool-proof in its familiarity, but with songs that are less catchy. The Greased Lightnin' missed its mark here.
CONTINUE READING BELOW
Recommended Videos
7. Save The Last Dance 2: Stepping Up (2006)
This sequel, which joins this list's mostly direct-to-video follow-ups, continues the life of Sara Johnson, with Izabella Miko replacing Julia Stiles, on her first experiences at Juilliard. She and Derek (Sean Patrick Thomas in the first film) have broken up and she opens herself to love once again with her Introduction to Hip-hop professor, Miles Sultana (Columbus Short). This time, instead of being the ballerina thrown in the world of street dance, Sara's shaking up the classical scene with her rad moves. It's not so much the intention than the execution that ruined it for this sequel. Save The Last Dance 2: Stepping Up feels as though it dismantled the message that the original successfully delivered.
6. Legally Blondes (2009)
After the critically panned sequel that is Legally Blonde 2: Red, White, and Blonde (2003), Reese Witherspoon chose to only produce the third installment. Instead of Elle Wood's zany but intelligent quips, we get her English twin cousins, Izzy and Annie Woods (Rebecca and Camilla Rosso, respectively) who move "across the pond" to Elle's former boarding school. Unlike their cousin's Malibu high life, the twins are studying on a partial scholarship-something that is looked down upon at their snobby prep school. After turning their social outcast status into popularity, the primary antagonist Tiffany Donahugh (Brittany Curran) frames them for cheating. The Legally Blondes then use this opportunity to clear their name in a schoolwide case.
ADVERTISEMENT - CONTINUE READING BELOW
5. Center Stage 2: Turn It Up (2008)
Despite the terrible acting largely due to the producers opting for professional dancers instead of actors who had rhythm, Center Stage is one of the greatest dance movies of all time. The sequel, however, was a tiny little blip in the dance-movie world. Ethan Stiefel and Peter Gallagher return to their roles, with the former losing the Cooper Dance Company he set up in the first film due to bankruptcy. Rachele Brooke Smith is a talented dancer with little training due to financial reasons, but with a lot of charm and je ne sais quoi. Kenny Wormand, who also starred in the Footloose remake, meanwhile, is her hunky primo. Smith teaches him emotion on stage while Kenny trains her technique. It was supposed to be win-win.
4. Wild Things 2, 3, 4
The premise of girl-on-girl, steamy scenarios were so effective that they decided to do it again-three times. Wild Things 2 (2004) and Wild Things: Diamond in the Rough (2005), like the first and only hit, feature a similar pair of gorgeous, bikini-clad ladies, but Wild Things 4: Foursome (2010) takes it a step further with three femme fatales and one lucky lad. The last one has a no-holds-barred shower scene. Let's just say if we wanted to see practically naked ladies, we'd rather watch a Victoria's Secret fashion show.
3. Splash, Too (1988)
Just to refresh your memory: Splash (1984) ends with Allan Bauer (Tom Hanks) following Madison (Daryl Hannah) into the ocean and leaving everything behind. In true useless-sequel tradition, the four-year follow-up undos that romantic sacrifice. With the lead roles now played by Todd Warring and Amy Yasbeck, Allan finds himself bored in his beach sanctuary with his finned lover. They return to his home to reunite with Allan's brother and check up on his grocery business, but tensions arise when the two can't seem to find the compromise between water and land.
ADVERTISEMENT - CONTINUE READING BELOW
2. Marley & Me: The Puppy Years (2011)
Nope, Jennifer Aniston and Owen Wilson didn't come back for a sequel and why would they? Their (spoiler alert!) dog died and they're trying to move on. This 2011 film formats as a prequel, with Marley in the hands of his first owner, Bodi Grogan (Travis Turner). Uh, didn't he come from a box in the original movie? What's worse, Marley can talk! Didn't we have enough of this in Look Who's Talking 3? Still, if you weren't a fan of the first's heavy doggie drama, you'll love the sillier approach of this sad reproduction.
1. Mean Girls 2 (2011)
Everyone's always clamoring for a Mean Girls 2, but that's only because no one knows that there actually is one. Okay, so it had a terribly recycled plot and even worse one-liners, but the demand has actually been supplied-albeit with a non-Tina-Fay-sanctioned standalone TV movie. It's pretty similar to the 2004 storyline, but the lead, Jo (Meaghan Martin of the one-season-long 10 Things I Hate About You series adaptation) is the daughter of a racecar mechanic whose big dream is to follow her mother's footsteps to Carnegie Mellon. She tries to fit in "girl world" and figuratively falls flat on her face trying. In the end, they settle the issue by playing flag football. What's sad is that SNL alum Tim Meadows agreed to reprise his role as Principal Duvall.
ADVERTISEMENT - CONTINUE READING BELOW
Share this story with your friends!
---
Help us make Spot.ph better!
Take the short survey
Load More Stories