10 Disney Song Covers to Check Out
Because who doesn't love Disney songs?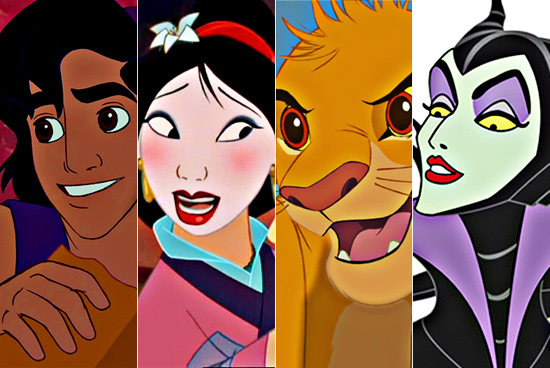 (SPOT.ph) We have the good old House of Mouse to thank for a lot of things, one of which is childhood. Somehow, when you hear the whistling tune of "Heigh Ho, Heigh Ho," you can't help but sing along, snap your fingers, and stomp your feet as you're zoomed back to being a kid again. Disney songs have that magical, hypnotizing, LSS-inducing effect on people-an effect we'd gladly submit ourselves to over and over.
But what Disney does best is inspire-a manifestation of which is the different interpretations of their iconic songs all over the Internet. We rounded up 10 Disney song covers you should check out. Some will have you rolling on the floor laughing, some will have your jaw dropping in utter amazement, and some will make you appreciate the magic of Disney all the more.
The list is not ranked.
ALSO READ:
Top 10 Disney Villain Songs
10 Disney Villain Spin-offs We'd Love to See
TRENDING: Tagalog Versions of Frozen Songs
ADVERTISEMENT - CONTINUE READING BELOW
1. "Kembot Na" (a.k.a "Let it Go-Beki version")
Let's get this out of the way as soon as possible. Frozen has nearly wiped out all other Disney songs with the attention it's been getting lately. The award-winning tune sung by Idina Menzel and penned by Robert and Kristen Lopez has been covered in, God knows, every way possible. Honestly, we're ready to say good-bye to "Let It Go," but before you do, listen to this hilarious beki rendition. Imbyerna chaka naman nila. Eww.
2. Disney and Pixar Sing "Let It Go"
Okay, who are we kidding? There's no escaping it. But seriously, you haven't heard it like this before. Get to listen to your favorite Disney characters belt out this widely popular hit. Too good to be true but hey, this man made it happen and the result had us teary-eyed. It's like Mickey Mouse called everybody in for a grand encore.
CONTINUE READING BELOW
Recommended Videos
3. Belle (Beauty and the Beast) by Nick Pitera
If we could dedicate this whole list to Nick Pitera, we would. He has tons of covers of all the Disney classics we know and love by heart. And he does so with the screen divided Brady Bunch style, singing the parts of each and every character (wait, what?). This one from Beauty and the Beast's opening number is a favorite.
4. "Once Upon A Dream" by Lana Del Rey
It will make you have goosies upon hearing it, we warn you. A sweet song sang by Aurora in the original film gets a dark makeover and a twisted turn with Lana Del Rey's version (making it the perfect anthem for Maleficent). We just can't help but marvel at how hauntingly beautiful the arrangement is.
ADVERTISEMENT - CONTINUE READING BELOW
5. The Lion King Australia: Cast Sings "Circle of Life" on Flight Home
If you thought perfectly synchronized impromptu singing only belonged to movies like High School Musical, it actually exists in real life. An otherwise mundane flight gets a show stopping live rendition of Circle of Life as the Lion King on Stage's cast belt out randomly without missing a tune. Amazing.
6. Disney Princess Singing Impressions
If you're a Disney princess, it's guaranteed that you have a scene either all to yourself (where you sing about your feelings or your morning lineup) or with your prince charming (where you sing about deeply falling in love). Bri Ray captures this and she nails it.
7. Disney Medley II-AJ Rafael & Todrick Hall
From When You Wish Upon A Star to A Whole New World, the seamless transitions and AJ and Todrick's suave voices update Disney classics with a modern vibe. This take still has the same classy, catchy feel to it. It could probably be an easy chart-topper (yes, it's that good).
8. Disney Medley by the UMass Amherst Doo Wop Shop A Capella group
If you're a big fan of Glee or Pitch Perfect, watch this medley and you're in for another ear-gasmic treat. These guys have a lot of fun with it too.
9. Mike Tompkins Sings His Disney Side: "When You Wish Upon A Star"
You just know you've hit jackpot when even all-time greats like Goofy, Sully, Pluto, Captain Hook, and the face of Disney himself, Mickey Mouse, are putting their groovy shoes on to jam with you. Enter Mike Tompkins' rendition of this hit classic and you'll know why the House of Mouse loves it.
ADVERTISEMENT - CONTINUE READING BELOW
10. One Man Disney Movie (Disney Medley) by Nick Pitera
One entry from this guy is not enough. He can voice an animated film by himself or even have a one-man choir. Here, he sings the part of heroine, hero, sidekick, chorus, and villain in one huge medley. And we're seriously in love with it.
ALSO READ:
Top 10 Disney Villain Songs
10 Disney Villain Spin-offs We'd Love to See
TRENDING: Tagalog Versions of Frozen Songs
Share this story with your friends!
---
Help us make Spot.ph better!
Take the short survey
Load More Stories