10 Fresh Tunes to Listen to This July
Your July mixtape featuring Bon Iver, Ed Sheeran, Paranoid City, Musical O, and more!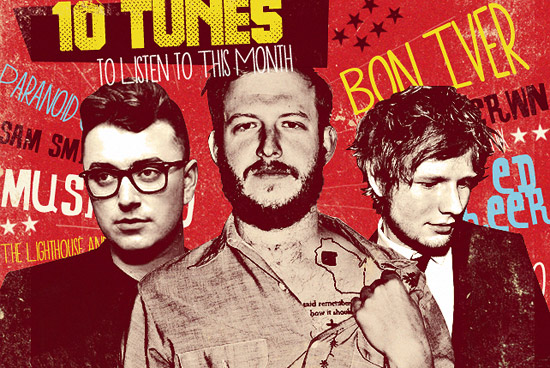 (SPOT.ph) This July, we bring you Bon Iver's meditative track for the new Zach Braff film, Ed Sheeran's JT-inspired single, Sam Smith's take on a Whitney Houston original, The Lighthouse and the Whaler's catchy folk-pop ditty, and How to Dress Well's dreamy electronic tune. Plus, we list local music you'll love by Paranoid City, Musical O, Ian Paolo Acosta, Shy Club, and C R W N. Happy listening!
Song: "Heavenly Father"
Artist: Bon Iver
Bon Iver has unveiled a new track for Zach Braff's new film, Wish I Was Here. The tune is contemplative, reflective as expected. Angelic vocals accentuate the ethereal electronic background. Another Bon Iver tune, "Holocene," is also part of the soundtrack.
Fun fact: The movie's soundtrack, also featuring The Shins, Cat Power with Coldplay, and The Weepies, is set for release on July 15. The movie comes out on July 18.
Song: "Pompoms and Miniskirts"
Artist: Paranoid City
Paranoid City's new single, "Pompoms and Miniskirts," is a synth-dance-rock delight. It's a let-loose track that's easy to just carelessly enjoy and sing to. We're pretty sure you won't be able to help but go, "Go on, go on, go on..."
Fun fact: Among the band's influences are The Killers, Bloc Party, OMD, and Human League.
Song: "SING"
Artist: Ed Sheeran
For "SING," English singer-songwriter Ed Sheeran teamed up with Pharrell Williams. The Justin Timberlake influence can't be overlooked, too, with such strong pop and R&B elements. Sheeran even sounds like JT in considerable parts of the track. Love it or hate it, you have to admit it's catchy as hell.
ADVERTISEMENT - CONTINUE READING BELOW
Fun fact: "SING" is Sheeran's lead single for his second studio album, x.
Song: "Quatro Quatro"
Artist: Musical O
If you listen closely, there's more to the jangly beats of this new single from Musical O. The lively guitars and popping percussions, along with meditative lyricism, make you think and feel. The changing tempo throughout the track takes you from one musical experience to another.
Fun fact: Marco Dinglasan (vocals and guitar), Chino Soliman (bass), Mario Consunji (guitar), Miggy Abesamis (drums), and Rap Soliman (guitar) make up Musical O.
Song: "How Will I Know"
Artist: Sam Smith
CONTINUE READING BELOW
Recommended Videos
No one can resist Sam Smith's rendition of this Whitney Houston original. The soul, the feelings, the realness are all there. There's no surprise the contemporary soul singer is getting bigger and bigger in and out of the UK.
Fun fact: Sam Smith's latest album, In the Lonely Hour, was released last May and contains 15 tracks, featuring collaborations with Disclosure and Naughty Boy.
Song: "Sa Hirap at Ginhawa"
Artist: Ian Paolo Acosta
Local solo act Ian Paolo Acosta is out with a jazzy, R&B tune filled with sweet, delicate guitars and powerful vocals. Listen to him go from soft whispers to soulful growls.
Fun fact: The artist describes himself as "a singer-songwriter who loves his bluesy-jazzy guitar tunes." His track, "Aagawin" made it to the top 100 of the 2014 Philippine Popular Music Festival.
Song: "Venice"
Artist: The Lighthouse and the Whaler"
Indie-folk-pop group The Lighthouse and the Whaler has released "Venice," a catchy and poetic single about lost first love. There's stark contrast between the upbeat, jangly melodies and the slightly dark yet sweet lyrics.
ADVERTISEMENT - CONTINUE READING BELOW
Fun fact: Michael LoPresti, Matthew LoPresti, Mark Porostosky, and Ryan Walker make up the Ohio-based band. The band has performed at Rock'n'Roll Hall of Fame, SXSW, House of Blues, and Mercury Lounge, to name a few.
Song: "Yoncé"
Artist: Shy Club
Shy Club does not produce club anthems for music loving partyphiles. In this mix, he delivers a melancholic theme with a chill sound to boot. We seriously wish the track went on longer.
Fun fact: Shy Club is law student and producer Gio Limjoco.
Song: "Face Again"
Artist: How to Dress Well
"Face Again," off electronic artist How to Dress Well's latest LP titled What Is This Heart?, is a dreamy and ambient composition with dark undertones. The artist howls and croons in between distortions and synths.
Fun fact: How to Dress Well is the stage name of American musician Tom Krell.
Song: "Late"
Artist: C R W N
C R W N's "Late" is beyond pleasant to the ears. It's smooth, sexy, and just cuss-worthy good. The pulsating beats and sleek synth merge to create a chill-out tune that will make you sit back and think only of the good things.
Fun fact: C R W N, also known as King Puentespina, also plays the drums for She's Only Sixteen.
Share this story with your friends!
---
Help us make Spot.ph better!
Take the short survey
Load More Stories