Top 10 Romantic Leading Men We've Fallen in Love With
These fictional hunks give real men a run for their money.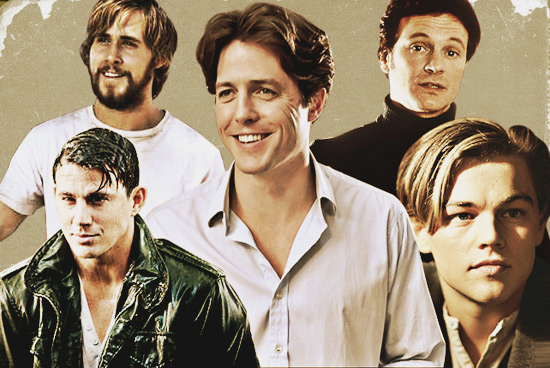 (SPOT.ph) You're probably happy with the man you're with right now. First, because he loves you, and second, because he's real. While you've accepted the quirks in your relationship, admit that you still secretly pine for that Ryan-Gosling-in-The-Notebook treatment. You imagine the haunting tenderness of Sam Wheat (from Ghost, remember?). You dream about being Pretty Woman, except for the shopping and prostitute part. You want the whole '80s song and dance number.
Fiction sets an impossible standard for reality sometimes, and these 10 leading men are no exception.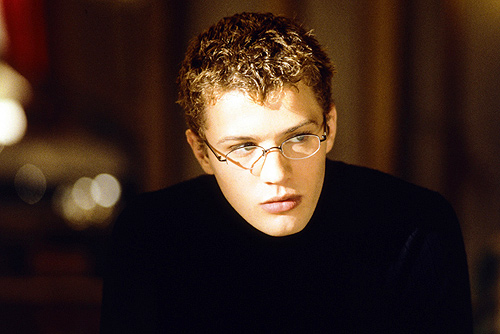 10. Sebastian Valmont in Cruel Intentions (1999)
Played by: Ryan Philippe
Pick-up Line: "The truth of the matter is that being with you was the only time I have ever been happy. My whole life has been a joke. I prided myself on taking joy in others' misery. Well, it finally backfired. I succeeded in hurting the first person I ever loved...Please give me another chance. I'm a wreck without you."
ADVERTISEMENT - CONTINUE READING BELOW
It's interesting how falling in love can easily change a person. The headband-wearing ladies of Gossip Girl would have fallen under the spell of the sex prince of the Upper East Side. Sebastian could get anyone so long as he puts his mind to it. The more difficult the prospect, the more effort he puts into the conquest. But when he falls for Annette Hargrove, the rest is history. He takes his determination and turns it to sweet, sweet love. Who could forget that escalator scene in the subway? We're impressed.
CONTINUE READING BELOW
Recommended Videos
9. Leo Collins in The Vow (2012)
Played by: Channing Tatum
Pick-up Line: "I vow to fiercely love you in all your forms, now and forever. I promise to never forget that this is a once-in-a-lifetime love. And to always know in the deepest part of my soul that no matter what challenges might carry us apart, we will always find our way back to each other."
ADVERTISEMENT - CONTINUE READING BELOW
Leo shows unyielding commitment to his wife, who, after a terrifying car accident, loses a significant chunk of her memory-the part that involves him. When she awakens from her coma, she remembers only her old life as a well-to-do, meat-eating law student-cum-socialite with blonde hair and a planned future. Nothing at all like the laidback, artistic vegetarian household she's been living with Leo. He doesn't give up whatsoever and continues to pursue her all over again.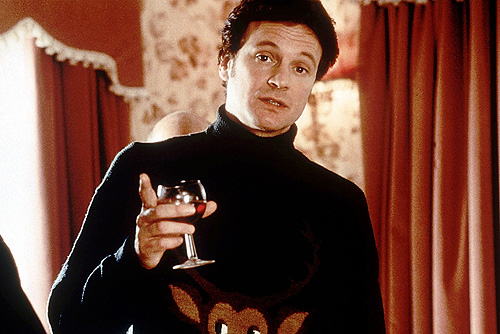 8. Mark Darcy in Bridget Jones' Diary (2001) and Bridget Jones: The Edge of Reason (2004)
Played by: Colin Firth
Pick-up Line: "I don't think you're an idiot at all. I mean, there are elements of the ridiculous about you. Your mother's pretty interesting and you really are an appallingly bad speaker. And, um, you tend to let whatever is in your head come out of your mouth without much consideration of the consequences. But the thing is, um, what I'm trying to say, very inarticulately, is that, um, in fact, perhaps, despite appearances, I like you very much. Just as you are."
ADVERTISEMENT - CONTINUE READING BELOW
We have to hand it to our reindeer-sweater-donning barrister. Keeping up with Bridget Jones is no easy feat. He's serious but that's only because he's seriously smitten with his awkward heroine. He's great in the kitchen and greater at law. There's method to his madness as well. Didn't his "a verbally incontinent spinster who smokes like a chimney, drinks like a fish, and dresses like her mother" insults push Bridget to better herself? No man is perfect but at least his bumpy spots motivate! We'll never forget how he generously (and coyly) saves his accident-prone girlfriend from involvement in international drug-trafficking-and makes it seem like it's no big deal. In fact, he doesn't even tell her that he negotiated with Interpol, Mi5, and the British Government! This is a man who doesn't ask for anything back. Best of all, he likes her just the way she is.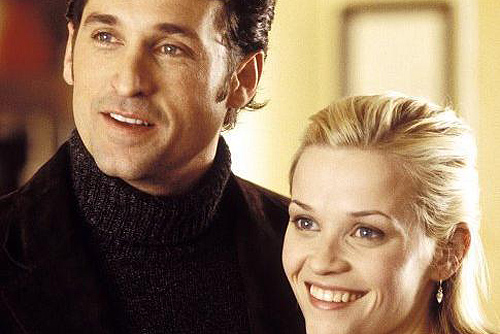 7. Andrew Hennings in Sweet Home Alabama (2002)
ADVERTISEMENT - CONTINUE READING BELOW
Played by: Patrick Dempsey
Pick-up Line: "So...you have a past. I mean, who doesn't? What I need to know is if there's a place for me in your future. Will you marry me?"
New York's First Son is near perfect. He's handsome, kind, generous, and romantic. At the beginning of the film, he proposes to Melanie Smoother/Carmichael at a Tiffany's, allowing her to choose whichever ring she wants. He doesn't respond well to the shock of learning his fiancée's life is completely fabricated (who would? It just makes this dream boy human), but he comes back and accepts and loves her for who she is. He's actually perfect save for two things: a lack of airtime and the fact that (spoiler alert) she doesn't choose him in the end. How lucky is Felony Melanie to have two absolutely wonderful men falling for her? Some people don't even get one.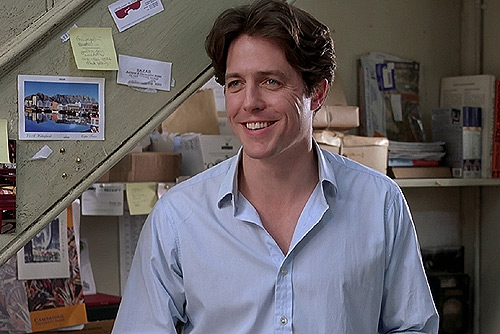 ADVERTISEMENT - CONTINUE READING BELOW
6. William Thacker in Notting Hill (1999)
Played by: Hugh Grant
Pick-up Line: "You can stay forever."
English travel bookstore owners who live in houses with blue doors. Those are one in a million. Now consider English travel bookstore owners who live in houses with blue doors and who fall in love with the world's most sought-after movie star. What are the odds? William gives us hope. Sometimes, that's all you really need in a man. We'll have to teach him the difference between Leonardo DiCaprio and Leonardo DaVinci though. (See No. 5.)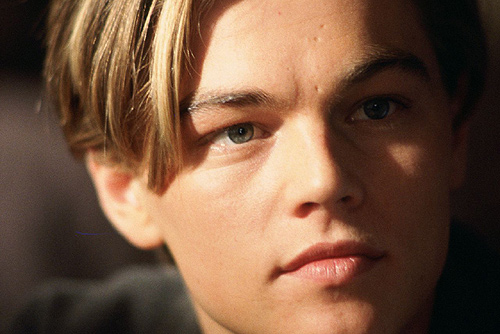 5. Jack Dawson in Titanic (1997)
Played by: Leonardo DiCaprio
Pick-up Line: "I've got 10 bucks in my pocket. I have nothing to give you and I know that. I understand. But I'm too involved now. You jump, I jump, remember?"
There is enough room (and buoyancy) on that door to carry them both, but no, Jack has to give it to his Queen of the World so that she'd be comfortable in freezing waters. Don't you love a guy who gives you space? He's a penniless artist who shows you there's more to life than reputation, the fortune of a 30-year-old fiancé, and side-saddle. He'll save you even if you're a spoiled brat, he'll teach you how to spit and ride like a man, and he'll blushingly draw you buck-naked because he knows how to be professional.
ADVERTISEMENT - CONTINUE READING BELOW
4. Patrick Verona in 10 Things I Hate About You (1999)
Played by: Heath Ledger
Pick-up Line: "You never disappointed me."
Gentlemen, pay attention. This is how you get angry ladies to forgive you: "sacrifice yourself on the altar of dignity and even the score." This Aussie rebel, who, by the way, didn't really eat an entire live duck-not even the feet and beak-can match your every whim. He's a tough guy who can touch you with surprising tenderness: like the way he calls in a favor to get Kat Stratford's favorite band to play at prom, the way he takes good care of her during her stunning digestive pyrotechnics, the way he buys her a guitar to start her band, and, of course, the way he screws up by falling head-over-heels in love with her.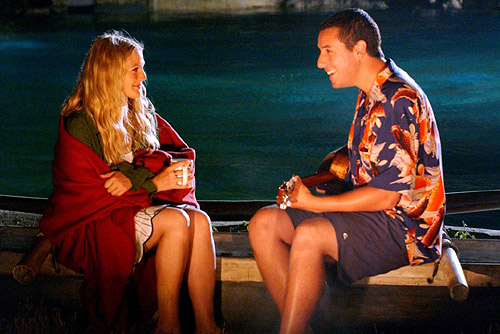 ADVERTISEMENT - CONTINUE READING BELOW
3. Henry Roth in 50 First Dates (2004)
Played by: Adam Sandler
Pick-up Line: "You erased me from your memories because you thought you were holding me back from having a full and happy life. But you made a mistake. Being with you is the only way I could have a full and happy life. You're the girl of my dreams...and apparently, I'm the man of yours."
You know how they say you should love someone like every day is the first day of your relationship? This walrus expert's story is kind of like that. He loves a girl whose memory is wiped clean every night, and to stay with her, he has to make her fall in love with him every single day. Every. Single. Day. Sometimes he woos her with adorable penguins, sometimes at the expense of his friends, sometimes with impressive waffle architecture. Sometimes, it doesn't work, but he always has something creative planned in that egg-shaped head of his. Forget about love fading, he's not going to let that happen.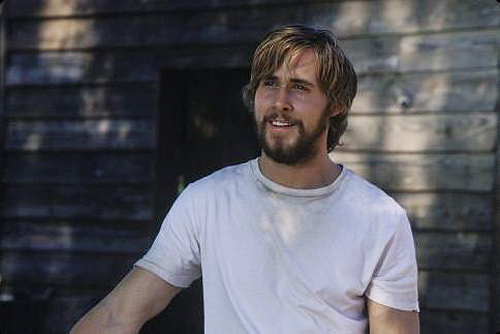 ADVERTISEMENT - CONTINUE READING BELOW
2. Noah Calhoun in The Notebook (2004)
Played by: Ryan Gosling
Pick-up Line: "The best love is the kind that awakens the soul and makes us reach for more, that plants a fire in our hearts and brings peace to our minds, and that's what you've given me. That's what I hope to give you forever. I love you."
We have to admit that this iconic bearded character isn't the best Ryan Gosling has looked (have you seen him shirtless in Crazy Stupid Love?), but hey girl, he's just proving that love is never skin-deep. Climbing a moving Ferris wheel, which felt like such a show of devotion at one time, turns into shallow feats of mere puppy love when matters of the heart are converted to building a house with blue shutters and a wraparound porch with bare hands. Noah Calhoun didn't have much by way of money and family history, but he was completely and utterly committed to his beloved Ally-so much so that he had unrelenting faith that he could always make her come back to him. Yes, Ryan Notebooked us.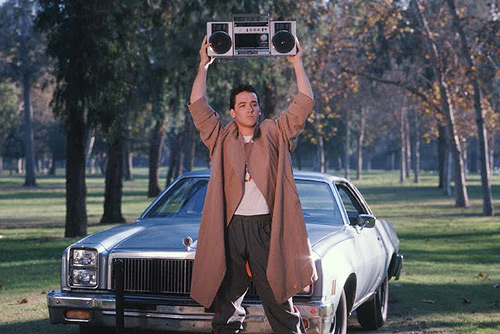 ADVERTISEMENT - CONTINUE READING BELOW
1. Lloyd Dobler in Say Anything (1989)
Played by: John Cusack
Pick-up Line: "What I really want to do with my life, what I want to do for a living, is I want to be with your daughter. I'm good at it."
The dare-to-be-great athlete of the future who fell in love with the brain trapped in the body of a game-show hostess. Lloyd Dobler isn't the ideal partner in real life: he doesn't want to sell anything, buy anything, or process anything (and the permutations of which) as a career. He's a kickboxer with neither potential matches nor other professional options except to romance Dianne Court. But hey, at least he's a lover and a fighter! In the world of '80s rom-coms, we'll take his capital of love and kindness over financial security. He shakes when he's deliriously in love after making love, he holds a boom box under your window all night just to get your attention, he points out (and kicks away) glass for you to avoid. Swoon. We've been hit by the Dobler Effect big time. He's movie-world perfect.
Share this story with your friends!
---
Help us make Spot.ph better!
Take the short survey
Load More Stories