MOVIE REVIEW: Under the Skin
"Without much dialogue, Johansson's slow-burn performance crawls with the tenderness of a kiss but with a silent ferocity of a knife in the dark"
(SPOT.ph) Jonathan Glazer's Under the Skin opens with a sequence that is straight out of Kubrick's visual style: a light beam slowly builds up from the center of the screen while orb-like objects move around a featureless cosmic void. A harrowing sound floods your eardrums as a female voice in the background starts to speak in syllables, seemingly trying to learn a language that is not hers. The abstract images hover around with machine-like precision as the entire sequence ends with an extreme close-up of a human eye, staring blankly. The intergalactic feel of the orbs and the rawness of the human eye set the tone for the succeeding story-a creepy tale about an alien life-form looking at the world through human eyes.
Based on Michel Faber's surrealist novel of the same name, Under the Skin is raw, erotic, and disturbing. Shot on-and-off over the course of 10 years, this masterstroke of a film underscores sci-fi as a medium for deep contemplation on humanity-much like how Stanley Kubrick's 2001: A Space Odyssey changed the game decades ago. But to say this means we are only touching the surface of Glazer's intriguing artistry-something that has started attracting attention since his polarizing film on reincarnation, 2004's Birth.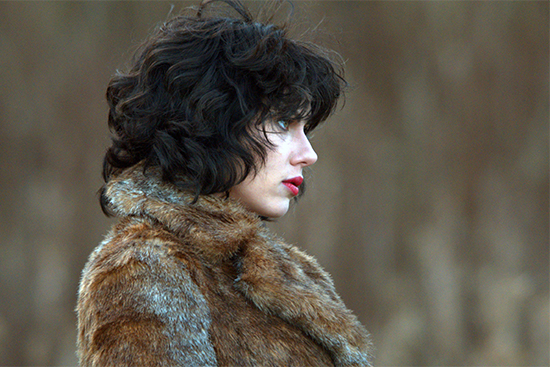 ADVERTISEMENT - CONTINUE READING BELOW
There's more to this movie than Naked Johansson
This mysterious sci-fi noir establishes a clear path early on: an extra-terrestrial being (played by Scarlett Johansson) inhabits a dead woman's body in order to carry out a job on Earth. And that job is to seduce unwitting men in Glasgow, Scotland to snatch away their skin while their innards are carefully lined up and disposed of. There isn't much evidence of what end the protagonist is trying to achieve here-fogging the viewer's perception of where these routine abductions lead or what they're for. All we know is that the predator, with the help of an unknown male companion, must continue capturing as many men as possible, but to what extent we do not know-or perhaps not yet.
CONTINUE READING BELOW
Recommended Videos
Glazer neither tells us the origin of his story nor its destination, at least not explicitly. The rest of the experience is purely intuitive, rather than didactic-as the English director seemed more concerned with how than what. With a script co-written by Walter Campbell, Glazer tells the story mostly through fantastical imagery and strikingly juxtaposed shots to make the viewer feel his film's obscure message. And there is triumph in this attempt, though not entirely.
As for Johansson's character (who goes by the name of Laura), her voluptuous body and smoldering sexual demeanor allows her to stalk the streets of Glasgow in her white minivan, picking up men. It must be noted that during the filming of her sidewalk scenes, the director chose to have real people-ordinary pedestrians-as Johansson's targets. With hidden lenses strategically placed in and around her vehicle, the alien femme fatale parks in front of Scottish men and tries to convince them to come with her-and some of them actually do. If this is not evidence of Johansson's acting talents, nothing is. You gravitate towards her not because she is seductive, but because she knows what to say and when to say it-without losing grasp of the material she is taking her inspiration from.
ADVERTISEMENT - CONTINUE READING BELOW
Without much dialogue, Johansson's slow-burn performance crawls with the tenderness of a kiss, and then with the silent ferocity of a knife in the dark. But as the film progresses, we get to see her other side: her thousand-mile stare, the canine innocence in her eyes, and the lapses in her judgment all suggest that the human life she is trying to imitate is slowly creeping, well, under her skin. This magnificent act of cunning and innocent self-discovery in one character could be considered as a visual companion to Johansson's award-worthy vocal performance as a romantic and curious operating system in Spike Jonze's Her (2013).
Glazer chooses to have the highly experimental Mica Levi (Micachu and The Shapes) as the film's musical composer. This decision pays off well as Levi's eerie and disturbing musical cross between score and sound effects serves as the glue that sticks together Glazer's surreal narrative, which otherwise threatens to fall apart at certain points.  And that's the dilemma of this polarizing piece:  it works on an almost subconscious level-the same surrealist style that has made David Lynch, Terence Malick, and Stanley Kubrick notorious with the critics. But to film purists and enthusiasts, this Kubrick-esque sci-fi masterpiece will surely be a treat. And though it might seem challenging for casual movie-goers to appreciate this puzzling film, our advice is to simply hang on-as it will prove to be a visually stunning and highly cerebral experience before it ends.
RATING: •••. 3½ out of 5 spots
Under the Skin is currently showing in theaters.
ADVERTISEMENT - CONTINUE READING BELOW
Duane Lucas Pascua is the filmmaker behind Musa, Kontra: Alternative Film Project Best Film of 2013. He is an artist, MMA fighter, and excellent salsa dancer.
Share this story with your friends!
---
Help us make Spot.ph better!
Take the short survey
Load More Stories