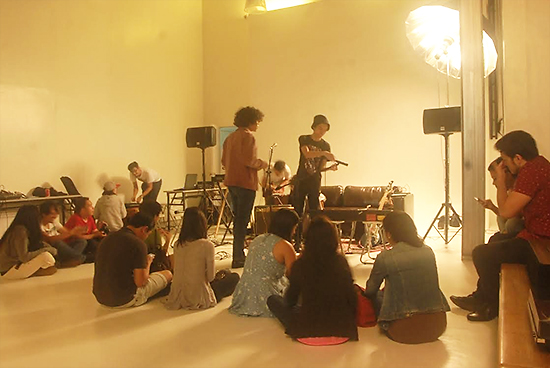 (SPOT.ph) What is Sofar Manila and what is so special about it anyway? A gig is a gig is a gig, right? Sofar sets itself apart from most of the local productions in Metro Manila with its deliberate and unrepentant desire to cater to a very exclusive audience [i.e. those people who go to shows for the music first and foremost].
Sofar-songs from a room, abbreviated-was an idea brought to life by Rafe Offer, Dave Alexander, and Rocky Start, growing out of their frustration with the typical modern musical concert. They were tired of shows that were mounted in big venues that put a literal distance between the audience and the music (and performers), or small club shows where the music would end up in the background. The three friends had the idea of hosting a semi-secret show in a living room, by invitation only, to filter out those people who typically go to gigs for things other than the music.
ADVERTISEMENT - CONTINUE READING BELOW
The shows are promoted with an air of mystery: for this one, there was a teaser tweet. There was no line-up and no venue: all it contained was a link to the site containing the instructions for signing up to the organizers' mailing list so that you could be notified of the venue, time, and the lineup.
We signed up for the  mailing list and got the details of the venue three days before the show, as they had promised. The line-up was kept secret up to the actual show date, which also upped the stakes for both organizers and attendees: the risk for disappointing and disappointment was clearly high.
But disappoint it did not.
Upcoming electropop act BP Valenzuela started the night with songs from her recently released EP, backed by an ensemble assembled from bits and parts of indie acts Ourselves the Elves and The Buildings, among other groups. A 10-minute bathroom break then ensued, which allowed people to get some beer, or have a cigarette. Check their phones. Upload proof of participation.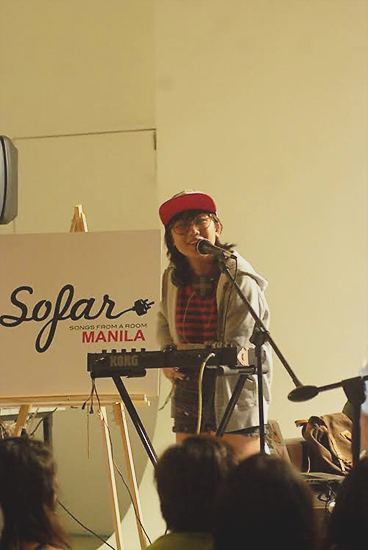 BP Valenzuela, whose EP is part of our 10 New Local EPs and Albums Worth Checking Out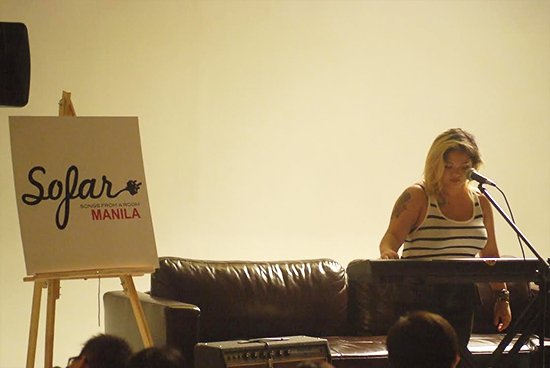 ADVERTISEMENT - CONTINUE READING BELOW
Toni B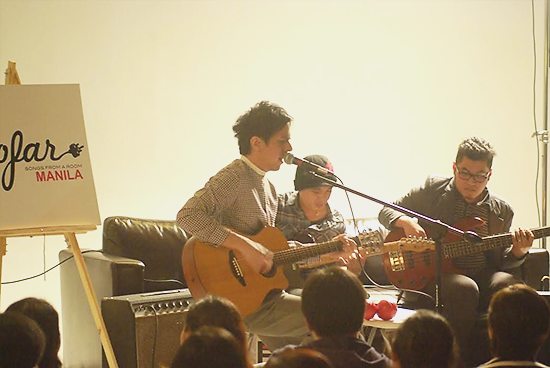 Japsuki
Toni B then took the stage and showcased her vocal prowess in a short set, which, while not appealing to all, clearly left some audience members in awe. Again, the customary 10-minute intermission was given and surprisingly enough, this practice didn't seem to thin the crowd. If anything, it gave people room to talk to other people while there wasn't any music, which somehow made for both a good musical and social experience.
ADVERTISEMENT - CONTINUE READING BELOW
The last act was Japsuki, Japs Sergio's solo project. Based only on the length of his set, it appeared that he was pegged as the main act. Shutterspace provided a really great venue for this run of Sofar Sounds Manila. While not a living room, it did provide enough space for people to comfortably sit. This particular Sofar show brought in about 70 to a hundred folks in spite of the rain, a sign that the Philippine run of Sofar  seems to be gaining some traction among local music fans.
Photos inside the article by Marco Harder. Main photos from SofarMNL's Facebook Page. Marco Harder is a musician and documentary photographer. He plays for The Purplechickens and is part of Marcus Adoro's touring team for The Eraserheads.
Also read:
WTH Goes on...at a Polo Match?
Share this story with your friends!
---
Help us make Spot.ph better!
Take the short survey
More Videos You Can Watch
Load More Stories