10 Tunes to Listen to This August
New tracks from The Drums, Sam Smith, Alt-J, Pupil, and Radioactive Sago Project!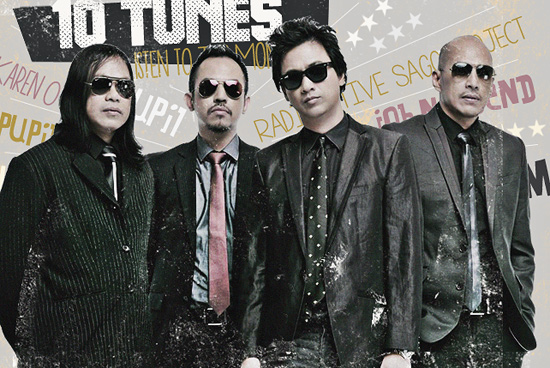 (SPOT.ph) New month, new set of tracks. This August, we bring you Karen O's impressive solo debut, John Legend's soulful new single, Sam Smith's heartbreaking ballad, The Drums' newest release in three years, and Alt-J's latest single with a Miley Cyrus sampling. Let our very own Pupil, Radioactive Sago Project, The Purplechickens, Eyedress, and Pastilan Dong! amaze you with their newest tracks, too. Happy listening!
Song: "Rapt"
Artist: Karen O
Yeah Yeah Yeahs' Karen O has just unveiled her solo single "Rapt," and fans everywhere are happy. The indie rock band's frontwoman is set to release a solo LP soon, and if this single is representative of the entire record, then it's definitely something to watch for. We love the intimate lo-fi sound combined with Karen O's haunting yet delicate vocals.
Fun fact: Karen O will release her debut LP,Crush Songs, on September 9.
Song: "Out of Control"
Artist: Pupil
Contrary to its title, Pupil's new single has everything under control. Every guitar riff, every lyric and layer seems carefully calculated to build up and culminate in a pleasing explosion of familiar sounds.We can't be happier to hear this from Pupil.
Fun fact: A futuristic-themed music video for the single has just been released. The video features model Ornusa Cadness and is directed by Erin Pascual.
Song:"You & I (Nobody in the World)"
Artist: John Legend
The ladies love John Legend and for a good reason; he's soulful and sexy, and his tunes make every woman feel like a queen. In his latest single, Legend bares his soul against a mellow and simple arrangement. The music video has gained attention, too, for its heartwarming visuals.
ADVERTISEMENT - CONTINUE READING BELOW
Fun fact: John Legend will perform live at the Araneta Coliseum on September 26.
Song: "Utak Garapata"
Artist: Radioactive Sago Project
Radioactive Sago Project is at it again with a new album. The band didn't need to build hype, as its new singles should prove the new record to be just as good as the past ones. "Utak Garapata," in particular, retains the band's unique fusion of rock and jazz, plus in-your-face lyricism and unpredictable direction.
Fun fact: Ang Itlog at ang Demonyo, Radioactive Sago Project's newest album, was released last month.
Song: "I'm Not the Only One"
CONTINUE READING BELOW
Recommended Videos
Artist: Sam Smith
Sam Smith is breaking hearts with his latest single. "I'm Not the Only One" speaks to anyone who has been cheated on. Smith has been compared to his fellow Brit singer Adele - not just for his soulful vocals but also for the heartbreaking themes in his songs. This slow, creeping ballad with Smith's angelic falsetto will stick with you.
Fun fact: The music video stars Glee's Dianna Argon and The Mindy Project's Chris Messina.
Song: "Dayami"
Artist: The PurpleChickens
The track's opening is catchy and intriguing. It sounds all the more delicate and vulnerable once the sound of pleading vocals kicks in. The guitar-driven single seems to point at a longing for something, with words that are likely to provoke introspection.
Fun fact: Aldus Santos (vocals and guitar), Marco Harder (guitar and vocals), Mikey Abola (bass and vocals), and Zig Rabara (drums) make up The Purplechickens.
ADVERTISEMENT - CONTINUE READING BELOW
Song: "Magic Mountain"
Artist: The Drums
The Drums has released their first single in three years titled "Magic Mountain." The tune is manic and dance-y (though with an unpredictable pacing), psychedelic and absolutely feel-good. Pierce's unique singing stands out above all elements.
Fun fact: The new The Drums album, Encyclopedia, is set for release in September.
Song: "Would You Do the Same for Me?"
Artist: Eyedress
Eyedress' latest synth release is a delight to the ears, thanks to the shimmering electronic beats and Alyana Cabral's sweet vocals. Listening to and enjoying "Would You Do the Same for Me?" requires little to no effort at all. It's just that good.
Fun fact: Eyedress' influences include Vincent Gallo, Cody Chesnutt, Flying Lotus, Broadcast, Ariel Pink, and My Bloody Valentine, to name a few.
Song: "Hunger of the Pine"
Artist: Alt-J
In "Hunger of the Pine," indie trio Alt-J samples controversial pop star Miley Cyrus' "4x4." The slow-tempo, electronic track may seem all over the place at first, but it grows on you. There's no grand explosion of sounds, just Joe Newman's tamed vocals, and we're okay with that.
Fun fact: Alt-J's forthcoming album, This is All Yours, drops September 22.
Song: "Bell Spell"
Artist: Pastilan Dong!
Pastilan Dong!'s "Bell Spell" is a tight composition held together by a solid guitar line. The buildup is slow but spot on, with each element complementing each other. Though we know a lot of work went into the making of this track, we just love how effortlessly good it sounds.
ADVERTISEMENT - CONTINUE READING BELOW
Fun fact: "Pastilan Dong!" roughly translates to "damn, son!"
Share this story with your friends!
---
Help us make Spot.ph better!
Take the short survey
Load More Stories