10 More Movies We Can't Wait to See in 2014
Zombies, space adventures, and dwarves. What else are you anticipating on the silver screen?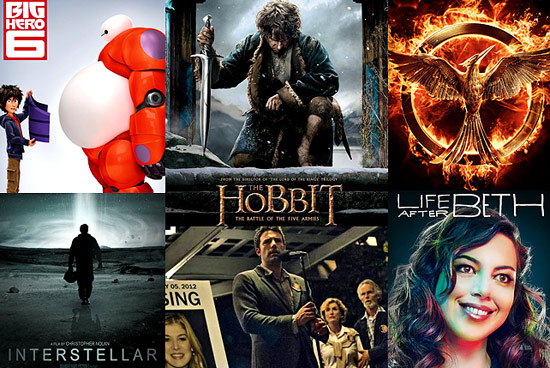 (SPOT.ph) Can you believe it? We're four months away before the year comes to an end. But four months still leaves us plenty of time for great new movies. So mark your calendars, because we've rounded up some films that will certainly have you making a beeline for the nearest movie theater.
ADVERTISEMENT - CONTINUE READING BELOW
1. Life After Beth (September 3)
Not another zombie movie! But Life After Beth isn't exactly just another zombie movie. It's a zom-rom-com. A zombie romantic-comedy. Yes, the undead have feelings too! After she dies from a snake bite, Beth (Aubrey Plaza) comes back to life. And while her boyfriend, Zach (Dane DeHaan), is thrilled to have her back, he has to deal with Beth's newly acquired taste for human flesh. Will true love prevail? We're just excited to see more of Dane DeHaan after he wowed us in The Amazing Spider-Man 2.
2.  The Maze Runner (September 17)
And now...not another dystopian YA movie adaptation? Hey, give this one a shot. It's like Lord of the Flies, but more messed up (if possible). A group of (very good-looking) teenage boys have no memories of their past, but only of their names and their life in the Glade-the center of a maze that none of them can figure out. What's outside the maze? Why were the boys placed in it? And why is there suddenly (gasp) a  girl? Pick up the book by James Dashner or wait for the movie to hit theaters to answer all your burning questions.
ADVERTISEMENT - CONTINUE READING BELOW
3. Gone Girl (October  2)
If you haven't read Gillian Flynn's gripping thriller yet, do it now! With the guy behind Se7en directing the film adaptation, we're guaranteed a movie that could be as entertaining as the book. Not to mention it stars Ben Affleck as the number one suspect of his wife's disappearance (and possible murder), the stunning Rosamund Pike (who'll inevitably earn a few award nominations for her performance) as the titular gone (or dead?) girl, and a new suprise twist ending (according to Flynn, who also wrote the screenplay).
4. Annabelle (October 8)
Remember that creepy doll in The Conjuring? She's gotten her own spin-off. We're not sure if the appropriate reaction should be "Finally!" or "Please, no!" Because just in case you'v forgotten, Annabelle the doll is a true-to-life figure in the Warren Occult Museum. Although the real thing isn't that terrifying-just a soft, typical Raggedy Anne doll and nothing like the giant, wooden, wide-eyed creature the films have created. If you want to prep for the movie (and give yourself an extra scare), read the true story of the doll here.
ADVERTISEMENT - CONTINUE READING BELOW
5. This is Where I Leave You (October 8)
If you're looking for something lighter, then guess what? Tina Fey has a new movie! Jason Bateman, Adam Driver, Corey Stoll, and Jane Fonda round up the rest of the family, who are re-united for their father's funeral. But after they lay their father to rest, they now very grown-up kids stick around-because their mom has grounded them. Expect plenty of laughs (and a few tears) along the way.
6. The Boxtrolls (October 22)
Unleash your inner child with this movie about cave-dwelling, trash-collecting trolls. Doesn't sound appealing enough? It's in stop motion (and from the same brilliant guys who brought us Coraline and Paranorman)! It also has the voice talents of Isaac Hempstead-Wright, Elle Fanning, Toni Collete, Simon Pegg, Nick Frost, Richard Ayoade, and Ben Kingsley.
ADVERTISEMENT - CONTINUE READING BELOW
7. Big Hero 6 (November 5)
There's still one more Marvel hero flick before the year ends (sort of)! No, the new Avengers movie isn't coming early-Disney's animated Big Hero 6 is inspired by the Marvel superhero team of the same name. All you need to know is that there are robots, crime-fighting kids, and it's set in the near-future city of San Fransokyo. Now watch the trailer and prepare to have your pants charmed off of you.
8. Interstellar (November 6)
Christopher Nolan (The Dark Knight trilogy, Inception) is back in the director's chair and this time he's taking us to space. What we've gathered from the trailer and online reports is that Earth has run out of food and there's a newly discovered wormhole. Matthew McConaughey is an engineer who embarks on the mission to explore the wormhole, along with Anne Hathaway. What will they find in the wormhole? What surprise, heart-wrenching twist has Nolan prepared for us once more? We can't wait.
ADVERTISEMENT - CONTINUE READING BELOW
9. The Hunger Games: Mockingjay (November 19)
The Mockingjay lives! When we last saw Katniss (Jennifer Lawrence), the rebellion had just begun, but the Districts are now in full uproar against the Capitol. This is only the first part of the final movie, but we're looking forward to seeing District 13, meeting President Coin (Julianne Moore) and brainwashed Peeta (Josh Hutcherson), and seeing Katniss leading the rebellion as the Mockingjay.
10. The Hobbit: The Battle of the Five Armies (December 17)
And come Christmas time, we're getting the gift of the final Hobbit film. The previous one ended with Smaug flying from the depths of the Lonely Mountain. But forget the dragon-we've got a battle between five armies to worry about. Five armies. The Goblins and the Wargs of Moria, Gundabad and the Misty Mountains against the Men of the Long Lake, the Elves of Mirkwood, the Dwarves on and near the Lonely Mountain and the great Eagles of the Misty Mountains. We all know Bilbo (Martin Freeman) goes home rich and happy, but not before we get one last epic Middle Earth battle.
ADVERTISEMENT - CONTINUE READING BELOW
Recommended Videos
Load More Stories