MOVIE REVIEW: A Million Ways to Die in the West
There are poop jokes here, but they're not crappy
(SPOT.ph) The opening billboard of A Million Ways to Die in the West sets the tone of the film properly: it is a clear homage to classic comedies like Sleeper, Airplane! and Ace Ventura. Mixing satire with slapstick, director and co-writer Seth MacFarlane might not have delivered a hard-hitting or heart-warming message at the end of the silliness...but that's life. One can only hope that there are good bits between the beginning and the end.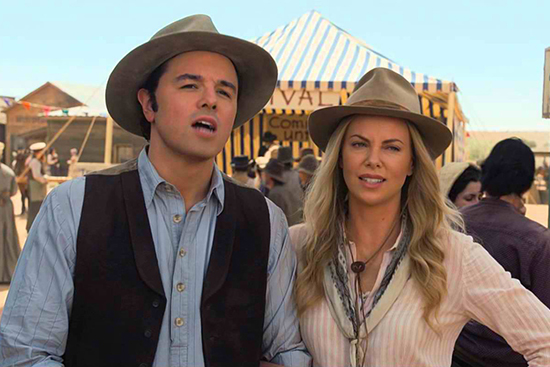 ADVERTISEMENT - CONTINUE READING BELOW
They make a cute couple.
The film starts with Albert Stark (MacFarlane) trying to talk his way out of a duel. We find out that he's the old West equivalent of a wuss, but only if by "wuss" we mean a man who prefers to do away with brutish displays of machismo and be nice instead. He finds nothing in the West that he likes and lives only to please his girlfriend, Louise (Amanda Seyfried). She dumps him, of course. Otherwise, we wouldn't have a story to watch...although there really isn't much "story" in it. There's a scene with Clinch Leatherwoood (Liam Neeson), the most hardcore outlaw in and out of town, who is passed out with his butt exposed. His wife, Anna (Charlize Theron) sticks a flower in it, before she flees to be free. If you find this funny, buy a ticket right now and you will be rewarded with dancing CGI sheep (creating a tinkle fountain).
ADVERTISEMENT - CONTINUE READING BELOW
A Million Ways to Die in the West is more like a series of gags with something that resembles a plot tying it all together. There's plenty of toiler humor, absurd situations (Sarah Silverman plays Ruth, a prostitute saving herself for marriage), and visual jokes we've seen plenty of from old Tito, Vic, and Joey movies. Training montage, scenes of tripping out-it's all there and it's all good.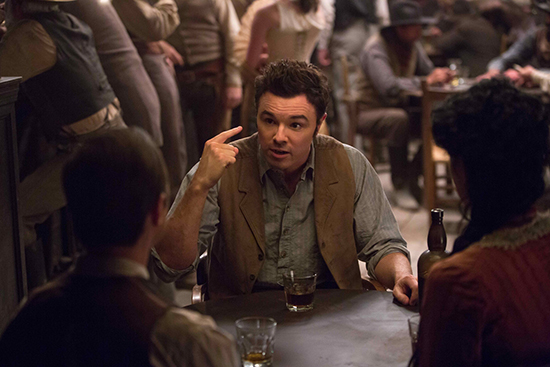 ADVERTISEMENT - CONTINUE READING BELOW
Supplied dialog: "Look at my eyes. They are so dead."
The characters, though never fully developed, are likeable. We believe, however, that Neil Patrick Harris deserves more than a Barney Stinson rehash in his next film. As an actor, MacFarlane suffers from the dead-eye syndrome (there's just nothing in them in some scenes), but as a humorist, he knows enough to borrow and steal from the best. As his stint as the host of the 2013 Academy Awards suggests, his style is an acquired taste-we're just not used to a cocktail of different ways to make people laugh happening all at once. MacFarlane needs a little refinement but let's face it, he's a funny guy. He'll mature into a better, classier act (maybe). For now, we tip our hats off to him for making this really funny film.
RATING: •••• 4 out of 5 spots
Photo from Universal Pictures. A Million Ways to Die in the West opens in theaters on September 3.
ADVERTISEMENT - CONTINUE READING BELOW
CONTINUE READING BELOW
Recommended Videos
Share this story with your friends!
---
Help us make Spot.ph better!
Take the short survey
Load More Stories