10 New Albums We Can't Wait to Hear
Mark your calendars for some new tunes to groove to.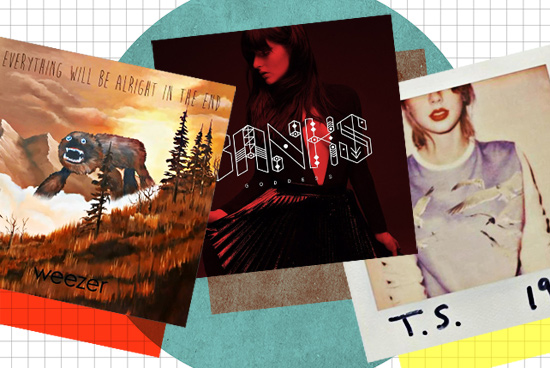 (SPOT.ph) The "Ber" months may have just begun but that doesn't mean you'll run out of new music to look forward to. We're giving you a rundown of artists whose album releases you should pencil into your calendar, from catchy, LSS-inducing pop music to great indie gems worth checking out.
What albums are you excited about? Sound off in our comments section below.
Goddess, Banks
Release date: September 5
American singer Jillian Banks, known simply as "Banks," is all set to finally release her first studio album. Her sound has been described as dark and melancholic R&B, with a dusky voice that croons unflinchingly honest and vulnerable lyrics on love and doomed relationships.
Crush Songs, Karen O
Release date: September 9
It's an album name that draws you in. If her name doesn't ring a bell, her band probably will. She has been the show-stopping frontwoman for indie rock trio Yeah Yeah Yeahs for almost 15 years, and her new album, Crush Songs, is her first foray as a solo artist. The album is a time capsule to 2007, like an intimate diary full of tumultuous despair, heartache, and romantic hope. It's 15 songs built on the concept of love, a theme that is sure to resonate to listeners, new and old.
ADVERTISEMENT - CONTINUE READING BELOW
Fun fact: Karen O was nominated for an Oscar for her song, "The Moon Song", taken from the Spike Jonze film, Her. She also previously collaborated with Trent Reznor and Atticus Ross to cover Led Zeppelin's "Immigrant Song" for the David Fincher film, The Girl with the Dragon Tattoo.
Like Knives, SunDownMuse
Release date: September 13
Pinoy indie band SunDownMuse's sound is a combination of elements from jazz, funk, rock, blues, and folk music. Unsurprisingly, the band cites a colorful list of influences, ranging from Sting to The Doors to Carole King. Give their diverse music a spin at their Soundcloud profile.
This Is All Yours, Alt-J
Release date: September 22
After critics raved about Alt-J's award-winning debut album, the English rock band is ready to beat the sophomore slump with their second full-length album. This Is All Yours is said to be a "more mature" album that is every bit as groundbreaking as their first. True to their style, their new tracks will feature interesting and out-of-the-box song samples, including one from Miley Cyrus.
ADVERTISEMENT - CONTINUE READING BELOW
Autotelic's mini album
Release date: September 27
While the album title still remains a mystery, loyal fans of Pinoy pop rock act Autotelic will have something to look forward to at the end of the month. The band churns out music that pulls listeners to the feet and straight to the dance floor, with charming lyrics that are still distinctly Filipino.
Tough Love, Jessie Ware
Release date: October 6 (U.K.) and October 21 (North America)
Jessica Lois "Jessie" Ware's follow-up album to her highly successful debut Devotion already has plenty of hype surrounding it. She has enlisted the help of big names like Miguel, Ed Sheeran, and Benny Blanco (who has previously worked with Rihanna and Katy Perry), just to name a few. Exciting.
Everything Will Be Alright In The End, Weezer
Release date: October 7
Nine albums and 22 years later, one begins to wonder how Weezer still manage to have something up their sleeves. Apparently, they still do. The band's new music is inspired by "being locked up" with fans for five days during their Weezer Cruise. The love and support from their passionate fans fueled them to write songs that reflect their vibe and energy from their early days, but still explores something new.
ADVERTISEMENT - CONTINUE READING BELOW
No One Is Lost, Stars
Release date: October 12
Indie music enthusiasts are no strangers to this Canadian group. Stars is back with a new album, the eighth one in their roster of music that has taken many forms, from thrumming dance music to dreamy and eloquent ballads on death. The album's chipper first single is a preview of what fans can expect.
Hungry Ghosts, OK Go
Release date: October 14
The guys from OK Go are more than just their quirky and creative music videos (although we admit to enjoying those a lot). Their newest studio album is the first in four years, and has been described by the band as "pretty stylistically diverse" compared to their previous works. Watch out for a more electronic tracklist, influenced by '80s acts like Prince and INXS.
1989, Taylor Swift
Release date: October 27
We haven't been able to get Taylor Swift's "Shake It Off" out of heads since it premiered about two weeks ago. 1989 is Swift's fifth studio album, a reference to her year of birth and the era where she found her musical inspiration. The record is an all new sound for the singer, a departure from her usual country pop style.
ADVERTISEMENT - CONTINUE READING BELOW
CONTINUE READING BELOW
Recommended Videos
Share this story with your friends!
---
Help us make Spot.ph better!
Take the short survey
Load More Stories