10 Favorite Eraserheads Songs
Punk Zappa!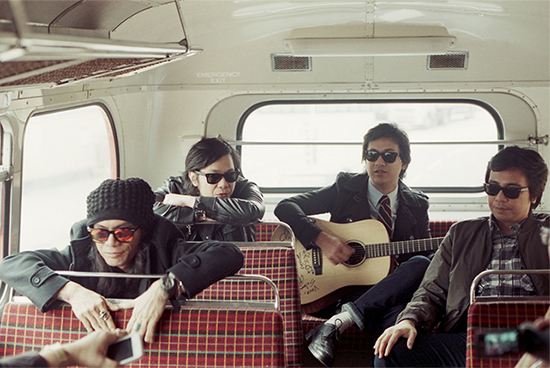 (SPOT.ph) We can just go straight to 1995 and play Cutterpillow to get this list over with-from "Superproxy" to "Overdrive (Reprise)," that album contained songs that represented all the sensibilities of an entire generation. There was a time when we were all singing "please, please come back to me" in vehement denial that the Eraserheads were no more. End of an era for friends, fans, and fellow musicians.
But in 2008, there was a reunion, which involved, among other things, Ely Buendia being rushed to the hospital (not fun) and burning the piano from the Sticker Happy album cover (fun). All of the negative vibes about their break-up dissipated discreetly as the band toured outside the country-Dubai, Singapore, and London, where they recreated an iconic Beatles photograph on Abbey Road.  However, the Eraserheads is more than just a mimicry of a great band.
We're picking the best Tagalog tracks from the Philippines' favorite band-a list of all the songs from all of the albums that are not just an anthem of an age group. These are songs that are waiting for new people to discover them.
1. "(Walang Hiyang) Pare Ko" from Ultraelectromagnetic Pop! (1993)
Favorite line: Andito ka ay ayos na.
Of course we're starting with this. Duh.
2. "Ligaya" from Ultraelectromagnetic Pop! (1993)
Favorite line: Gagawin ko ang lahat pati ang thesis mo, huwag mo lang ipagkait ang hinahanap ko.
This song contains the sweetest line in all of Philippine music history. Other songs promise the moon, the stars, and going to hell and back...but all of that pales in comparison. This is a guy who is offering to do something feasible but insanely difficult. Pangako pa niyang igagalang ka!
ADVERTISEMENT - CONTINUE READING BELOW
3. "Alapaap" from Circus (1994)
Favorite line: That effing intro, man!
They're a good band because they make good songs with good melodies. This is a song that proves that. Also, it's pretty cool that people sing it like it's not illegal to be as high as a kite. Hinga ng malalim, tayo'y lalarga na.
4. "Kailan" from Circus (1994)
Favorite line: Kailan ako lalaya, sa anino ng pag-iisa?
Poetry. Poetry right there.
5.  "Overdrive" from Cutterpillow (1995)
Favorite line: Gusto kong matutong mag-drive! Kahit na wala akong kotse!
There's no real point to this song. It's just sheer earnestness, frustration, and determination. College days, what's up?
6. "Ang Huling El Bimbo" from Cutterpillow (1995)
Favorite line: Sa panaginip na lang pala kita maisasayaw (followed by ugly crying, nay, bawling)
Remember that moment when you realized that a song can make you cry? We do. Vividly. Tissue, please.
7. "Para Sa Masa" from Sticker Happy (1997)
Favorite line: Naalala niyo pa ba? Binigyan namin kayo ng ligaya.
This song gets better every year and the "La la la" part changes every time. Plus, damn it, this is for all of us. It gives us the damn chills every time we listen to it...on a good day. We cry when it's a bad day. More tissue, please!
8. "Huwag Kang Matakot" from Natin 99 (1999)
Favorite line: Ikaw ang hari at diyos ng iyong mundo. Matakot sila sa iyo.
CONTINUE READING BELOW
Recommended Videos
Most empowering song ever. It talks about the power of love without being sappy. How the bleating goat do they do that?
9. "Maselang Bahaghari" from Natin 99 (1999)
Favorite line: Akala ko ay cool ako, may ulap na sa ulo.
This song is what outer space sounds like.
10. "Maskara" from Carbon Stereoxide (2001)
Favorite line: Napipilitang magpanggap na ako'y isang ganap na tao.
It's a song that perfectly describes a day in the life of anyone, because let's..ah, face it, we put on masks daily. Multiple ones. We also hold this song dear to our hearts, as this is the last Eraserheads video with Ely...not counting, of course, the two new videos for "1995" and "Sabado."
We're tempted to wish for a new album, but they've already given so much. We're sure we've left out a couple of favorites (like "Minsan" and "Sembreak") so feel free to tell us which tracks are your favorites in the comments!
Photo by Marco Harder
Share this story with your friends!
---
Help us make Spot.ph better!
Take the short survey
Load More Stories