Stars Then and Now: Disney Edition
See how much these Disney child stars have changed over the years.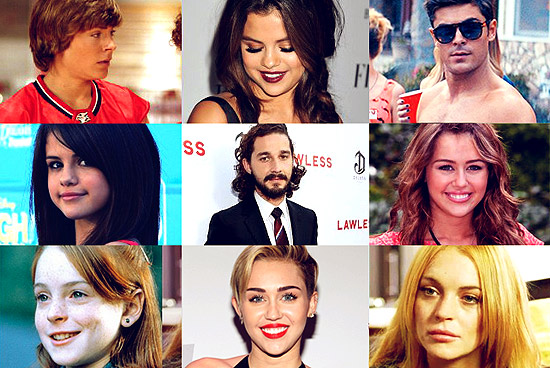 (SPOT.ph) When puberty hits, it hits hard. Unless you're famous, you're more likely to end up with what genetics gave you. Disney stars usually have graceful aging down pat, though it could also be the handiwork of a very talented stylist. On the other hand, some did not age well as we thought they would, despite their fame and fortune.
Whatever the reason, it's not easy growing up in front of a camera. Here are some Disney stars who have changed a lot over the past few years.
Note: Actors who still look more or less the same have not been considered. We still love you, Hilary Duff.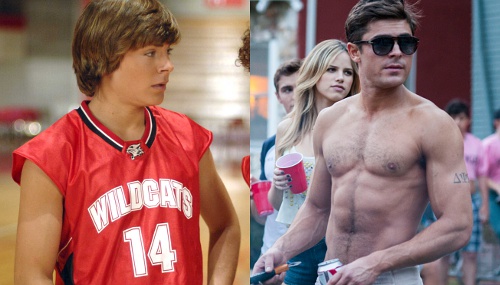 1. Zac Efron
In the 2014 raunchy comedy Neighbors, Seth Rogen perfectly described Zac Efron in one sentence: "Something a gay guy designed in a laboratory." We couldn't agree more; those eyes, that smile, that sculpted body... it's almost hard to imagine that he once had a terribly awkward phase.  He gives humanity hope that we too, can outgrow unfortunate features, even if we don't end up looking as perfect as he now does.
ADVERTISEMENT - CONTINUE READING BELOW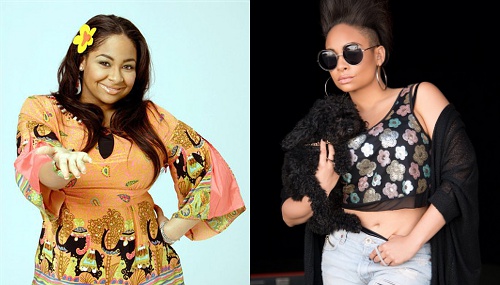 Right photo from Raven Symone's Instagram profile
2. Raven Symone
Raven Symone has spent most of her formative years in front of the cameras, with roles in The Cosby Show when she was only three, and later, the lead in the successful Disney comedy, That's So Raven. In 2011, she made headlines due to her dramatic 70-lb weight loss, which she attributed to a healthier diet and elliptical workouts at least four times a week. She recently came out on Twitter after more states legalized same-sex marriage. She also dated former America's Next Top Model contestant Azmarie Livingston, although it's rumored that they have broken up.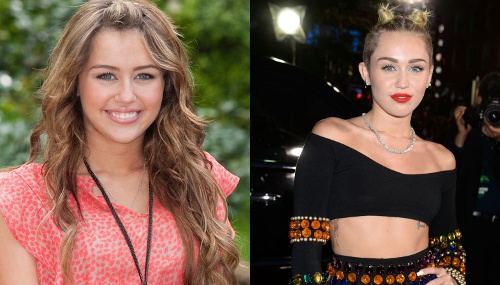 CONTINUE READING BELOW
Recommended Videos
3. Miley Cyrus
If we're talking about drastic transformations, Miley Cyrus licks the competition. Get it? The controversial singer is no stranger to change. She dropped her innocent rock star persona with an alter-ego then released a number of successful albums, went on to star in a Nicholas Sparks movie, ended an engagement with her movie's co-star, experimented with her hair several times, and then twerked. A lot.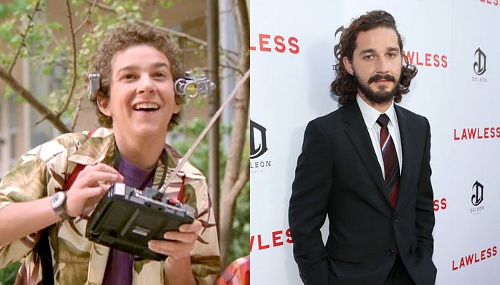 4. Shia LaBeouf
He was well on his way from Disney goofball to box office moneymaker after working with big names like Steven Spielberg and Michael Bay. He had a mind-boggling "I'm not famous anymore" meltdown in February following plagiarism charges against him. LaBeouf then completely uprooted his image with naked appearances in Icelandic band Sigur Rós' music video and the Lars von Trier four-hour sex flick, Nymphomaniac. We saw much, much more than we wanted to, honestly. It's also worth noting that his Even Stevens co-star, Steven Anthony Laurence or "Beans," didn't really fare well in the aging process.
ADVERTISEMENT - CONTINUE READING BELOW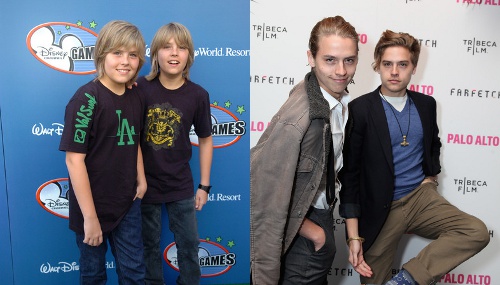 5. Dylan and Cole Sprouse
Continuing the trend of male nudity is Dylan Sprouse, whose naked selfies accidentally leaked online late last year. True to his comedic roots, he took the leak in stride, tweeting, "Whoops, guess I'm not 14 and fat anymore." His brother, Cole responded, "Cold in that bathroom, huh?" Burn. Nude jokes aside, the twins have come a long way since The Suite Life of Zack and Cody. They now live relatively low-key and normal lives as college students in New York University.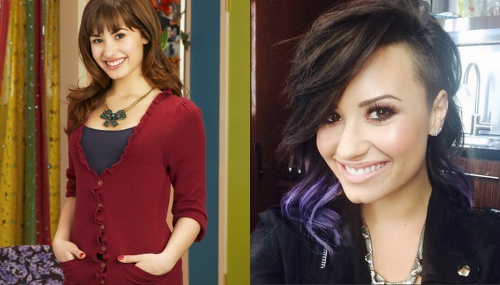 ADVERTISEMENT - CONTINUE READING BELOW
Right photo from Demi Lovato's Instagram profile
6. Demi Lovato
A lot has changed for Demi Lovato since starring in the Disney musical Camp Rock and the comedy Sonny with a Chance. She's moved on from the harsh bangs to more daring and eye-catching hairstyles that she switches up every now and then. (Lately, she's been sporting dark, short hair with blond tips.) The former X-Factor judge and mental health advocate also recently urged Congress to pass a comprehensive mental health bill, to which we loudly say bravo.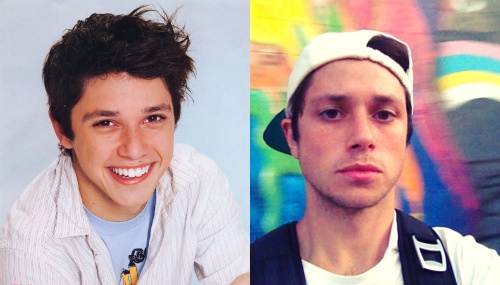 Right photo from Raviv Ullman's Instagram profile
7. Raviv "Ricky" Ullman
Some Disney shows are memorable, even past their expiration date. Phil of the Future wasn't one of them. Ricky Ullman played the lead and much like his program, he's not much of a household name. He seems pretty happy with occasional stints in TV, movies, and even Off-Broadway. Ricky, who now goes by his real name Raviv, also dabbles in photography and music with the band Reputante, which he promotes on social media every now and then. He grew up really well, but we still don't know how to feel about the time he grew his hair out.
ADVERTISEMENT - CONTINUE READING BELOW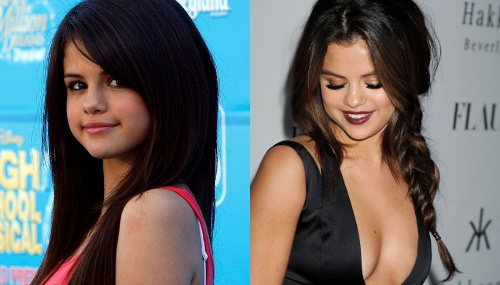 8. Selena Gomez
It was probably a shock for anyone who watched Wizards of Waverly Place to see Selena Gomez suddenly all grown up and canoodling on the beach with Justin Bieber. While their relationship status still remains a mystery to many (we just can't keep up anymore), she's shed her clean Disney image and ventured into more mature projects, like her recent album Stars Dance and the movie Spring Breakers.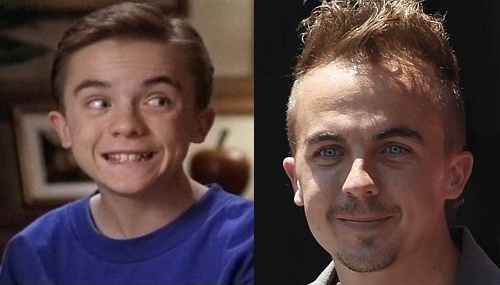 ADVERTISEMENT - CONTINUE READING BELOW
9. Frankie Muniz
Frankie Muniz is best known for his role in Malcolm in the Middle, but he also starred in the Disney Channel Original Movie, Miracle in Lane 2. His filmography may not be the most stellar, but he earns points for branching out in his career, including joining an indie band and becoming a professional racecar driver. On the question of whether the 27-year-old has aged well or not, you be the judge.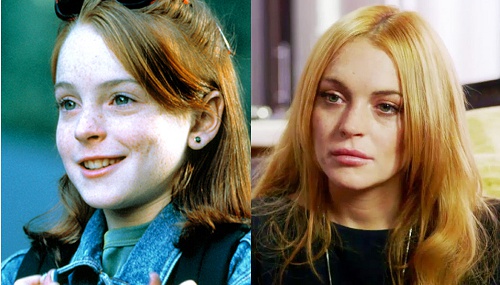 10. Lindsay Lohan
What's a Disney roundup without Lindsay Lohan? Her drug and alcohol problems coupled with multiple run-ins with the law have provided a lot of tabloid fodder over the years. She attempted to revamp her struggling image with a reality show on Oprah's television network, and is currently trying to revitalize her career with... get this, a stage debut on the West End this year.
Share this story with your friends!
---
Help us make Spot.ph better!
Take the short survey
Load More Stories