10 Tunes to Listen to This September
We've got our ears glued to our headphones thanks to Taylor Swift, Michael Cera, Maroon 5, and more!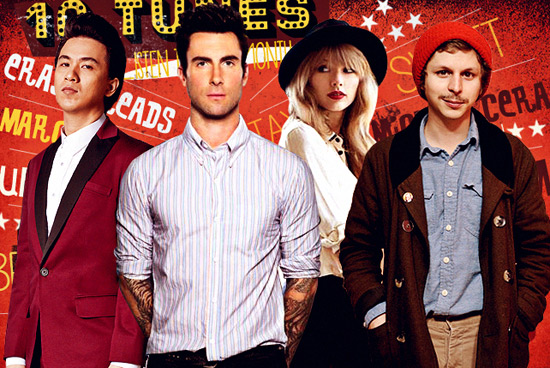 (SPOT.ph) It's the beginning of the "Ber" months, and we're addicted to Taylor Swift's LSS-inducing single, Michael Cera's Blaze Foley cover, Maroon 5 and Gwen Stefani's collab, Jessie Ware's disco-inspired track, and Stars' sunny ditty. Plus, get a load of the latest releases from Eraserheads, Tandems'91, Jensen and The Flips, We Are Imaginary, Ebe Dancel, and Abra.
Song: "Shake it Off"
Artist: Taylor Swift
Taylor Swift claims "Shake it Off" as her first official pop song. In this full-on pop single, there are no traces of her country roots at all, but the signature sassy lyrics we all love are pretty much present. "Haters gonna hate," but the radio-friendly ditty is no doubt catchy.
Fun fact:1989, Swift's fifth studio album, drops on October 27.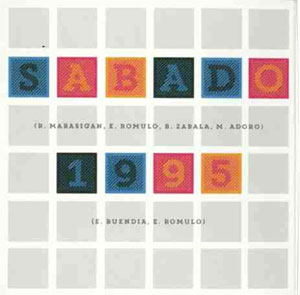 Song: "Sabado" and "1995"
Artist: Eraserheads
The Eraserheads are out with a couple of new singles, exclusively available in CD format when you purchase a copy of this month's Esquire. Ely Buendia, Raymund Marasigan, Buddy Zabala, and Marcus Adoro have come together to bring fans new music after they disbanded in 2002.
ADVERTISEMENT - CONTINUE READING BELOW
Fun fact: Fans can also stream the new Eraserheads music through the digital magazine format. More details are on the Esquire Philippines Facebook page.
Song: "Clay Pigeons"
Artist: Michael Cera (Blaze Foley cover)
Actor Michael Cera surprised us all when he dropped an album filled with melancholic, lo-fi music. Most tracks are instrumental, but the Blaze Foley cover gives us a sample of Cera's smooth and controlled vocals.
Fun fact: The whole album true that can be streamed at michaelceramusic.bandcamp.com.
Song: "Finally"
Artist: Tandems'91
Tandems'91 combines sounds of the past and of the future in his music. "Finally" is an irresistible disco ditty with a delicate touch of futuristic electronic that explodes towards the end.
Fun fact: Tandems'91 is a music project by Aaron Cruz, whose influences include Giorgio Moroder, Hall and Oates, Prince, and VST & Co., to name a few.
Song: "My Heart is Open"
Artist: Maroon 5 featuring Gwen Stefani
This Maroon 5 and Gwen Stefani collaboration is a piano ballad opened by frontman Adam Levine. Stefani enters on the second verse with very held-back vocals. The single isn't as exciting as we expected, but it has an undeniable appeal to the adult contemporary audience.
Fun fact: Maroon 5's new album titled V dropped just last September 2.
Song: "LoveChild"
Artist: Jensen and The Flips
"LoveChild" is a feel-good throwback mix of soul and R&B. Frontman Jensen Gomez, no doubt, has the right sound for the particular genre. The official music video is set for release this month.
CONTINUE READING BELOW
Recommended Videos
Fun fact: The Flips stands for "Freaky Little Island People."
Song: "Want Your Feeling"
Artist: Jessie Ware
For the single "Want Your Feeling," Jessie Ware collaborated with Dev Hynes aka Blood Orange. The songstress' sultry, ethereal yet breezy vocals carry the disco-flavored tune. With the pre-released singles so far, we're convinced Ware's new record is worth all the anticipation.
Fun fact: Ware's new album titled Tough Love drops on October 6.
Song: "Sunny Where You Are"
Artist: We Are Imaginary
We Are Imaginary's new track doesn't try too hard because, well, it doesn't have to. It takes its time, just as everything flawless requires care and caution. There's a slow and satisfying build that lets you listen with so much ease.
Fun fact: The band's influences include The Smiths, Death Cab for Cutie, Pixies, Nirvana, and The Cure.
Song: "From the Night"
Artist: Stars
The Canadian indie rock band is out with "From the Night," a chirpier track compared to their mostly gloomy and doomy ballads. Amy Millan and Torquil Campbell sound great together as usual, and there's a refreshing sunnier vibe overall.
Fun fact: Stars' new album No One Is Lost drops October 14.
Song: "Halik sa Hangin"
Artist: Ebe Dancel and Abra
It's a pleasant surprise hearing Ebe Dancel's vocals amid a backdrop of slow R&B melodies. Abra chimes in at the right time, contrasting Dancel's smooth crooning with his quick verses.
Fun fact: The track is one of the final entries in the 2014 Himig Handog P-Pop Love Songs contest.
ADVERTISEMENT - CONTINUE READING BELOW
Share this story with your friends!
---
Help us make Spot.ph better!
Take the short survey
Load More Stories