10 Quick TV Show Recaps to Help You Catch Up Before the New Season
Previously on...your favorite show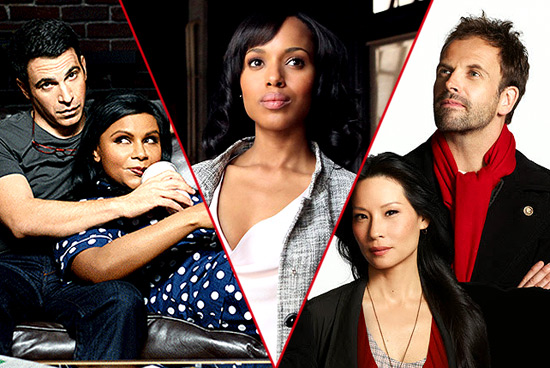 (SPOT.ph) So much has already happened this year in the world of television-Suits and True Detective have wrapped up their latest seasons, while Masters of Sex is sadly poised to end soon. It's almost hard to imagine that there are more TV shows still on the horizon. We give you a quick lowdown on some returning shows, perfect for when you're too busy or lazy for a rewatch.
A word of caution: Do not proceed if you haven't caught up! Spoilers abound.
The Mindy Project
Airing on: September 16
After watching Mindy Lahiri go from one guy to the next, we've all started to wonder when she will finally settle down with Danny Castellano. In rom-com land, bickering always leads to complicated, pent-up feelings, and the second season was full of the usual fleeting glances and sweet moments. A game-changing kiss on a plane leads to a relationship that sadly falls apart before it could really begin. The season finale, a rom-com tribute to familiar favorites, ends with a romantic kiss on top of the Empire State Building.
Downton Abbey
Airing on: September 21
Some people have commented that the fourth season of Downton Abbey was rife with soap-opera cliches. The show however, manages to close this chapter on a high note. This ending is all about new beginnings: Isobel's relationship with Lord Merton is blossoming, Lady Edith decides to keep her baby, Rose MacClare is formally launched in high society with a ball, and Mary's love triangle kicks off while she gains a new perspective on life. Also, everyone is still eagerly waiting for Bates and his convoluted storylines to die. It is still unclear if the show can keep this momentum going into its fifth round.
ADVERTISEMENT - CONTINUE READING BELOW
Marvel's Agents of S.H.I.E.L.D.
Airing on: September 23
Admittedly riding on the success of its silver screen counterpart is Marvel's Agents of S.H.I.E.L.D. which focuses on the heroes behind the franchise's world-saving organization. It was considered underwhelming, especially when compared to the films that inspired it. It all changed when Captain America: The Winter Soldier was released and the plot tied in with the movie's destruction of S.H.I.E.L.D. Suddenly, the show's storylines were about danger, betrayal, and agents going rogue.
Two agents, Leopold Fitz and Jemma Simmons, were trapped in a box under the ocean, which naturally led to a romantic confession. Nick Fury (Samuel L. Jackson) comes to save the day, but Fitz remains unconscious and his fate is still unclear. It turns out that Agent Grant Ward is a secret Hydra operative and at the end of the season, is in the custody of the U.S. government. Skye narrowly misses death with the same serum that revived Agent Coulson after he was killed in The Avengers movie. The long-term effects of the serum may cause some alien-related devastation in season two.
Scandal
Airing on: September 25
The third season of Scandal was a rollercoaster ride of murder, secrets, and love triangles. We are still tired of President Fitzgerald "Fitz" Grant and Olivia Pope's unhealthy back-and-forth shtick. It just needs to stop, okay? Fitz's son, Jerry Jr. is publicly killed while Harrison is good as dead, according to creator Shonda Rhimes. More importantly, reporter James Novak is killed off, even when he seemed to be an integral character in the universe. A threat on the president's life cements the idea that his chief-of-staff, Cyrus, would do literally anything to keep him in office, even if he now sees himself a "monster." This plot also allows for Eli Pope to take back the reins as a complex "villain."
CONTINUE READING BELOW
Recommended Videos
We also watched the First Lady, Mellie, get raped by her loathsome father-in-law just before Fitz's first presidential campaign, which explains some of her behavior and certain aspects of her relationship with her husband. After Jake's traumatizing stint as "Command" in the shady top-secret government organization B613, he repeatedly begs Olivia to save him. The finale ends with the two getting on a plane and heading for a new life together. Olivia's the star of the show, so they're bound to be back in D.C. soon enough.
Brooklyn Nine-Nine
Airing on: September 28
You could say that Brooklyn Nine-Nine's solid first season is a comedy ensemble done right...so right that it nabbed the Golden Globe for Best TV Comedy. When we last saw Jake Peralta, he was hot on the trail of noted philanthropist Lucas Wint, who launders money through charity work. He ends the season by going undercover for six months with the FBI-but not before he makes a surprising "romantic styles" confession to Amy Santiago (who is in a steady relationship with Teddy).
While Jake is, for the most part, still immature, he has found a solid and trusting relationship with the precinct's captain, James Holt. Boyle looks to have moved past his obsession with terrifyingly tough cop, Rosa, but there seems to be an equally terrifying prospect of him and the office secretary, Gina. Oh, and we also find out that Gina loves emojis. ("The English language cannot fully capture the depth and complexity of my thoughts, so, I'm incorporating emoji into my speech to better express myself.")
ADVERTISEMENT - CONTINUE READING BELOW
The Vampire Diaries
Airing on: October 2
Nearly everyone in Mystic Falls has kicked the bucket once or twice, and have come back via spells, resurrections, or becoming a ghost. Our favorite supernatural beings are preoccupied with the Other Side, where Stefan is currently trapped. His brother Damon plans to save him by blowing up a restaurant: this ensures that the Travelers (who want to rid the town of all supernatural entities) die and all their loved ones can return from the Other Side.
It's like a reset of sorts. Familiar faces whom we thought have gone like Tyler (who is no longer a werewolf) and vampire hunter Alaric return to the real world. Sadly, it doesn't work out for Damon and Bonnie, as they remain trapped in the Other Side. What makes it truly painful is Elena's heartbreak over Damon's death. The ghost version of Damon appears to her and says, " The fact that I got to die knowing I was loved is the epitome of a fulfilled life. It is never going to get better than this. I peaked." Ow.
Arrow
Airing on: October 8
Season two of Arrow was a look into Oliver Queen or The Arrow's journey from vigilante to full-fledged hero. In the last episode of the season, he comes face-to-face with his nemesis, Slade Wilson. The scene is intercut between the two men's past and present, and underscores Oliver's transformation throughout the series.
The prospect of Oliver and Felicity has continuously taunted viewers but in the finale, he finally declares his love for her...except it was later revealed to be a plot meant to fool Slade. Some have speculated that there are actual feelings somewhere in there, but fans have to wait for the show's return to find out.
ADVERTISEMENT - CONTINUE READING BELOW
The Walking Dead
Airing on: October 12
The last season of The Walking Dead showed Rick Grimes and his fellow zombie outbreak survivors trying to live a quiet life in a prison-slash-sanctuary. The first half has them facing various threats to their new, idyllic life including more zombies, a virus outbreak, and an evil villain named The Governor.
After the prison falls, they manage to escape and they follow a line of railroad tracks that supposedly lead to a safe zone called Terminus. In the finale, Rick and his group are ambushed by walkers and a group of survivors called The Claimers (Rick rips out a guy's neck with his teeth). They finally arrive in the mysterious Terminus, where an epic showdown with the leader, Gareth takes place. Though heavily hinted, it isn't revealed if Terminus is the comic book-equivalent of the Hunters (people who have turned to cannibalism to survive). We'll just have to wait and see.
Elementary
Airing on: October 30
Elementary's second season was intent on shaking up the show's status quo. Throughout the series, Joan Watson has always been written as a character independent of Sherlock Holmes, even if she is his respected peer. The latter's intriguing genius is likened to a planet's gravitational pull and she is a moon caught in its orbit. Despite this, Joan asserts her independence and decides to move out of the home she shares with Sherlock. The visit of Sherlock's brother, Mycroft, is an even bigger catalyst as she starts a romantic relationship with him.
ADVERTISEMENT - CONTINUE READING BELOW
The season ends with two big cliffhangers: Sherlock's decision to join MI6 may threaten his working relationship with the NYPD, and in a more shocking twist, he may or may not have fallen off the wagon with heroin. Sherlock's struggle as a recovering addict has been a consistently key point in his character, and the possible loss of his sobriety looms well into the next season.
The Newsroom
Airing on: November 9
The second season of HBO's The Newsroom had a season-long arc: a new journalist on the team, Jerry Dantana is given a tip about a U.S. government black ops mission called Operation Genoa. Throughout the season, the News Night team look for sources and poke holes to prove the story's accuracy. Dantana conducts an interview with a source that was present during the mission, who confirms the existence of sarin gas but does not say that it was used during Operation Genoa. Once the story is aired, revelations from different sources cause the staff to question its accuracy. It's revealed that Dantana has edited the interview video with the source, and that other sources are also questionable.
The team also covers other 2012 headlines, including the 2012 elections and the devastating earthquake in Japan. Meanwhile, love is in the air for Don and Sloan, who have been dancing around each other all season. Maggie and her former roommate and best friend, Lisa find a way to patch things up, while Will and Mac get engaged.
ADVERTISEMENT - CONTINUE READING BELOW
Share this story with your friends!
---
Help us make Spot.ph better!
Take the short survey
Load More Stories