(SPOT.ph) Oddly enough, you might feel your heart thudding in your chest nervously as the title sequence appears onscreen. Consider it a side effect, if you loved Gillian Flynn's bestselling novel, or an indication of director David Fincher's ability to convey exactly the right mood for the story that's about to unfold. You can tell, after all-whether it's from the book cover or the poster or the first few scenes-that Gone Girl is going to be dark and disturbing.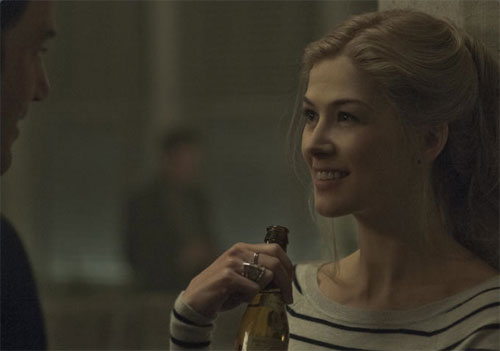 The Meet Cute
Some might say it's something out of your worst nightmares: Amy Elliot (Rosamund Pike) and Nick Dunne (Ben Affleck) are two writers living in New York who meet, fall in love, get married. Their first couple of years together are blissful-"We're so cute I want to punch us in the face," Amy jokes. But a recession causes a chain of events that ultimately looks like it's made them hate each other, and by the morning of their fifth anniversary, Nick has no qualms about his twin sister Margo (Carrie Coon) calling his once-perfect wife a bitch. It seems harsh, but you wonder what could have happened that's made everything so different. Things take a darker turn when Nick goes home to discover that Amy has disappeared, leaving signs of a struggle in their living room.
ADVERTISEMENT - CONTINUE READING BELOW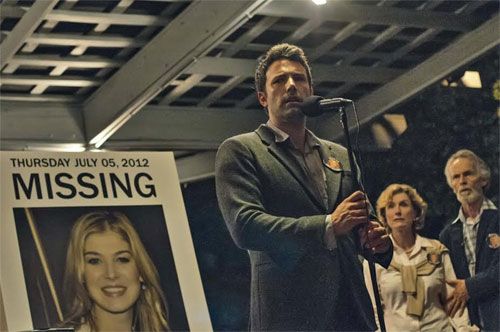 Nick Dunne takes on a skeptical crowd
You don't need to have read the book to figure out that Nick is going to be considered the prime suspect, and Affleck has the kind of face-not quite expressionless, not quite unlikeable-that will keep you wondering whether you should despise him or feel sorry for him. But what will keep you riveted is Pike's portrayal of Amy-beautiful but relatable, vulnerable but ruthless, brilliant but crazy. She pulls off all of those contradicting qualities while still managing to stay sympathetic. The casting was well considered even for the supporting roles, with Neil Patrick Harris as rich, obsessive Desi Collings, Kim Dickens as no-nonsense Detective Rhonda Boney, Casey Wilson as clueless best friend Noelle Hawthorne, and Tyler Perry, who plays lawyer Tanner Bolt so well that he will stick out in your head as one of the few defense attorneys in film who are not just slick sleazebags out to make a buck.
ADVERTISEMENT - CONTINUE READING BELOW
Recommended Videos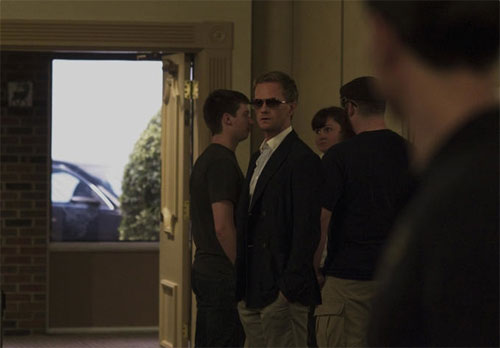 Desi Collings: stalker or good guy?
Whether you know what's coming or not, most of the movie will put you in that state of feeling torn between rooting for one character or wanting them to go down in flames for their actions. It's confusing and exhausting and emotionally challenging-and that's exactly what a story like this is supposed to be.
RATING: ••••• 5 out of 5 spots
Gone Girl opens in cinemas on October 8
Share this story with your friends!
---
Help us make Spot.ph better!
Take the short survey
Load More Stories